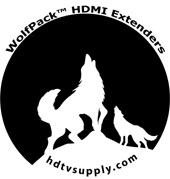 HDTV Supply's WolfPack™ 4K60 HDMI Transmitter Over HDBaseT uses the latest HDBaseT technology which featuring no compression, no losses and no latency over an HDMI signal transmission via single UTP or STP CAT5e/6/7 cables. The HDMI Transmitter Over HDBaseT can can work with other HDBaseT equipment that send an HDBaseT signal such as an HDBaseT Transmitter or HDBaseT Card.
Our HDMI Transmitter Over HDBaseT are received by one single CAT5e/ CAT6/ CAT7 cable and for 1080p it can receive to a distance of 100m (330 feet) and for 4K60Hz (4:4:4) it can up to 70m (220 feet). The HDMI Transmitter Over HDBaseT is compatible with all the HDTV resolutions because it supports the HDCP2.2 protocol. The HDMI Transmitter Over HDBaseT Power Over Cable (POC) allowing users to power only one side, either the TX or the RX, if the transmitting HDBaseT device supports POC.
Using this 4K60 HDMI Transmitter Over HDBaseT with UTP cables allow you to run uncompressed 1080p high-definition HDMI signals upwards to 330 feet.
NOTE: This 4K60 HDMI Transmitter Over HDBaseT is a Transmitter (TX) only and requires an HDBaseT receiving device like our WolfPack HDBaseT Modular HDMI matrix product or devices that have an HDBaseT input and conform to the specs of the transmitter.
What sets this 4K60 HDMI Transmitter Over HDBaseT apart from others:
Supports both 4K 30 and 4K 60
Includes mounting clips
Secure screw-on AC adapter
Works with CAT5e, but CAT6 preferred
4K60 HDMI Transmitter Over HDBaseT Features:
Supports the highest quality audio and video:

1080p (4:4:4) up to 330 feet with CAT5e/6/6a/7 cable
4K 60 (4:4:4) up to 220 feet with CAT6/6a/7 cable
4K 30 (4:4:4) up to 220 feet with CAT6/6a/7 cable

Supports 720p and 1080i also
Support RS232 for the HDbaseT card
Supports FULL HD, UHD and 3D at 4K60Hz
HDCP 2.2 & HDMI 2.0 Compliance
Supports 7.1 DTS Master HD & Dolby True HD
LED indicators
EDID pass-though
Supports the DDC2B protocol
36-bit Deep Color
x.v.Color
Supports 3D
Comes with mounting clips
Supports CEC (Consumer Electronic Control) compatible devices
NOTE:
HDTV Supplys implementation of the HDBaseT technology adds virtually zero latency to the HDMI audio & video signal, less than 7 microseconds (0.000007 sec) over 220 feet of CATx cable. At 100 feet you are talking about 3 microseconds (0.000003 sec). This means for example, in a church or auditorium, the speakers lips are always in synch with the video image on all the TVs & projectors 100's of feet away.
Why not buy our 4K60 HDMI Transmitter Over HDBaseT today?
4K60 HDMI Transmitter Over HDBaseT Features:
Output: 1 - RJ45
Input: 1 - HDMI,
Protocol: Supports HDMI 2.0 and compatible with HDCP2.2
Supported Resolution:

1920x1200,
1680x1050,
1360x768,
1280x800,
1920x1080,
1600x900,
1366x768,
1280x720,
1024x576,
1920x1200,
1680x1050,
1360x768,
1280x800,
4096x2160@30Hz,
3840x2160@30Hz,
3840x2160@60Hz

Bandwidth: 18 Gbps
Dimension: 115*84*16(mm)
Weight: 120g
Power AC: 100-240V 50/60Hz 1.5A Max DC: 12V 1500mA
Consumption: ≤11W
Working Humidity: 10%-90%
Working Temperature: 0℃-50℃
Storage Temperature: -20℃-75℃
4K60 HDMI Transmitter Over HDBaseT Package Contents:
1 - HDBaseT Transmitter (TX)
1 - User Manual
1 - Power adapter for HDBaseT with POC
Why not buy our 4K60 HDMI Transmitter Over HDBaseT today?
Color Space Conversion (CSC) Technology in HDBaseT: Due to the data rate of HDBaseT technology being capped at 10.2Gbps, it is unable to pass the latest native 4K UHD resolutions of 4K 60Hz 4:4:4. We have implementedCSC (Color Space Conversion) technology into our latest products to ensure 4K HDR signals can now be supported over the 10.2 Gbps infrastructure of HDBaseT.
Color Space Conversion reduces the data rate of the HDMI signal by converting the color space (or Wide Color Gamut) from 4:4:4 or 4:2:2 to a lower format. Within the Color Space Conversion technology the native resolution, frame rate and color depth all remain constant from end to end. The only part of the signal that is converted during transmission is the color gamut.
HDTV Supply HDBaseT CSC products do not support HDR10+ or Dolby Vision due to the way these specific variations of HDR are encoded. These codecs transmit repeated metadata packets throughout the transmission of any media making it impossible at this stage to convert in the same way using CSC technology.
Why not buy our 4K60 HDMI Transmitter Over HDBaseT today?
Control
When one is designing an HDMI Matrix Switch the most important initial specification is the number of inputs and outputs you will need in your facility. The next, and often forgotten, is how the user wants to control those inputs and outputs. HDTV Supply has your back when you're buying one of our WolfPack Family of Modular Matrix Switchers as we have dozens of way to control the inputs and outputs and are shown at
Controlling WolfPack Modular Matrix Systems
, as well as below:
For an up-to-date listing of all the methods to control our WolfPack Matrix Switchers go to
Ways to Control Our WolfPack Family Of Modular Matrix Systems.
Control Drivers
DirecTV Controller
Apps
Q: I have no image output?
A:
Check the LED indicator status to make sure all connections are good and stable.
Q: How is HDBaseT technology different than others?
A: Unlike other HD distribution technologies, HDBaseT is the only technology which enables CAT5/6/7 connectivity from 70 meters to 100 meters, depending upon the specific product, for uncompressed full HD multimedia content and up to 100 watts of charging power via a single cable. HDBaseT is optimized for video applications and can connect all HDBaseT enabled home entertainment devices. Also, HDBaseT technology has the capacity to deliver double the resolution available today to future 2K and 4K formats. Other existing solutions also require a specific cable and/or a new proprietary connector while HDBaseT utilizes the existing Ethernet infrastructure.
HDMI HDbaseT Extender Helpful Tips & Recommendations:
Keep cables away from any equipment with an electromagnetic wave, e.g., mobile phone, microwave, radio equipment, fluorescent lamp, high voltage power lines, etc.
CAT5/6 cables should not exceed 220 feet or (70m).
Please adhere to the TIA/EIA568B standards when terminating network cables in the field.
Shielded CAT5/6 with metal RJ-45 connectors are recommended to safeguard against random video flashes caused by electromagnetic interference (EMI).
Why not buy our 4K60 HDMI Transmitter Over HDBaseT today?