Features
HDTV Supply's
WolfPad
is a 10-button IP enabled keypad controller aimed at providing customers simple control solutions of their presets when using a WolfPack Matrix Switcher. With built-in PoE, it can receive power from PoE enabled ethernet switch. The keypad can control devices like presentation switches through a LAN (PoE) port or an RS232 port. It also supports a system firmware update via its web UI.
Here is an example that we created for a yacht that wanted each of 4-rooms to have the capability to change the inputs to the matrix from that room. This example can be used in other applications like multiple conference rooms, training rooms, school rooms, and more. The 10-button POE IP enabled keypad controller can be located up to 450 feet away from the matrix switch and each key can be created with the proper description.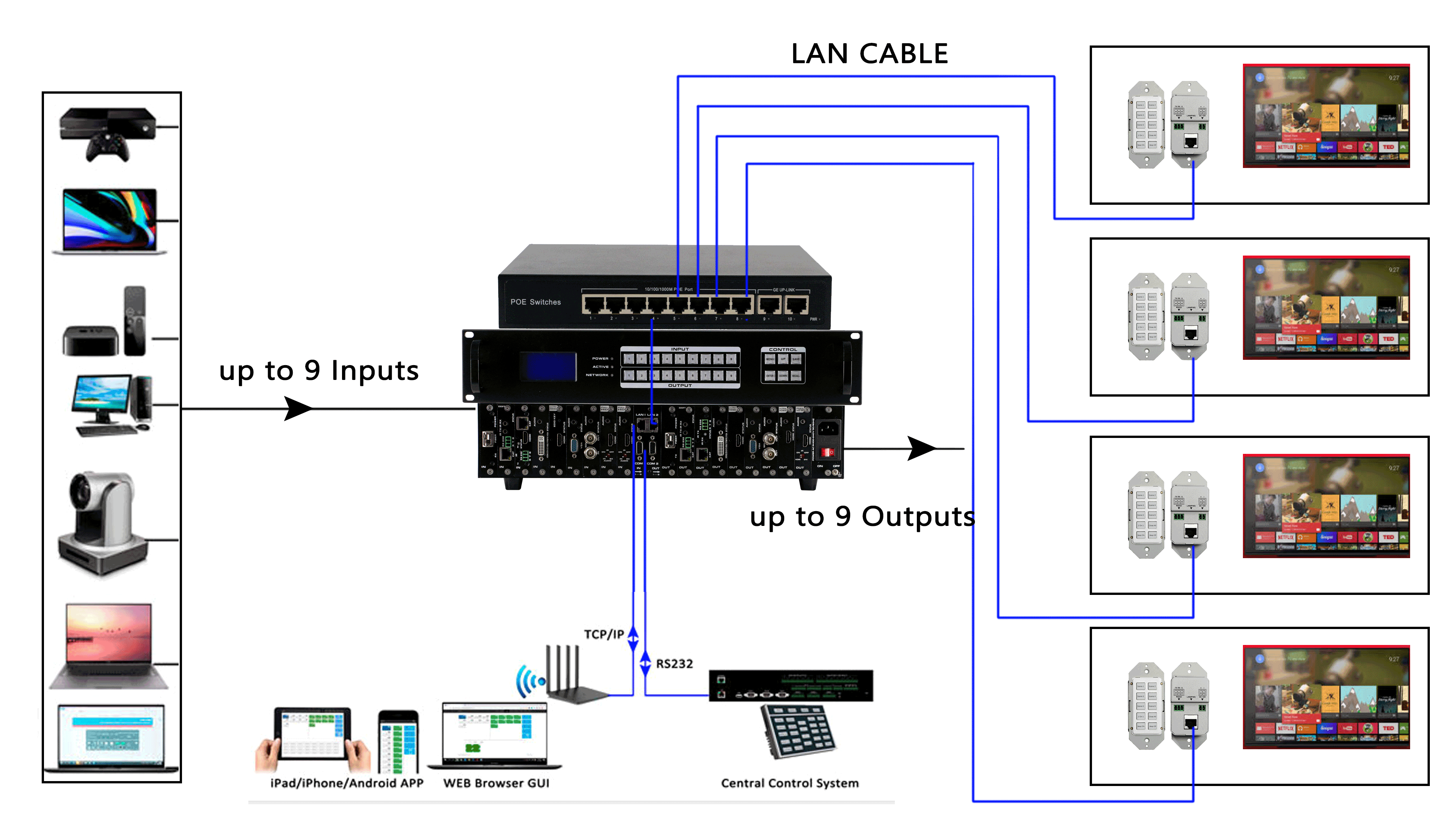 WolfPad Keypad Features:
WEB GUI programming
Ten-button
Supports TCP/IP and RS232
Supports PoE function
Any number can be used when used with a POE Ethernet switch
US or UK single panel for selection
This WolfPad 10-Button Keypad (shown) has labeling and functions (recalls 6 scenes, 1 on 1, close all, and Beep function) to work with our WolfPack family of matrix switchers. The WolfPad 10-button keypad also can be used to work with other TCP/IP and RS232 controlled equipment by simple WEB GUI based programming.
Why not buy this WolfPad 10-Button Keypad today?
Control
When one is designing an HDMI Matrix Switch the most important initial specification is the number of inputs and outputs you will need in your facility. The next, and often forgotten, is how the user wants to control those inputs and outputs. HDTV Supply has your back when you're buying one of our WolfPack Family of Modular Matrix Switchers as we have dozens of way to control the inputs and outputs and are shown at
Controlling WolfPack Modular Matrix Systems
, as well as below:
For an up-to-date listing of all the methods to control our WolfPack Matrix Switchers go to
Ways to Control Our WolfPack Family Of Modular Matrix Systems.
Q/A
Q: Does a power supply come with it?
A:
Yes, it will come with a power adapter. We also recommend the POE switch or just a POE to the LAN adapter for the TCP/IP control.
Q: How long can the CAT6 cable be?
A:
Since this keypad is using the TCP/IP or the RS232 control it can go up to 150m or 450ft with CAT6 or CAT7.
Q: If plugging directly into the Matrix switch is there a way I can use POE and no AC adapter?
A:
Yes, use a POE to LAN adapter.
Q: Other than using presets what are other applications for it?
A:
I tested controlling the BYOD-8200 presentation switcher by the Telnet, the 2x2 Video Wall (splicing/OFF/ON), the matrix switcher (Switching/preset/beep ON&OFF). I believe this keypad has very wide applications as long as the controlled devices can support the RS232/TCP/IP control with the commands.
Q: How could this be used in a conference room?
A:
: We can use this Keypad as a control panel for the conference equipment with the RS232 or TCP/IP control, but if they are new building room, we could provide a whole package with the Matrix Switcher/ Presentation Switcher/ Camera/ Whiteboard/ Speaker/ Table socket(we are currently working on this solution, will report back to you once we have our own meeting room done)
Q: Is there any way it could be used with a 4x4 to switch inputs and outputs?
A:
Yes for sure. We could use this keypad to control the 4x4 Switcher sources switching, presets, beep sound ON/OFF,
Q: Is there anyway could be used with a 3X3 video wall to change TVs?
A:
Yes, can. But need to make sure the 3x3 Video Wall have the RS232 or the TCP/IP control, so we can use the keypad to have it showing as Video Wall/ independent TVs/ Screen power ON&OFF.
Q: Are the keys lit & silent?
A:
Yes, once you press the button it will flash and we use silicone buttons and it's very silent
Q: If I mount four or five in a row, label them inputs and outputs, can I control the matrix?
A:
For sure can, will only need to have the LAN port from the matrix switch connected to a Network Switch, then have the LAN cables connected to these 4~5 keypads, then we use the WEB GUI to program each keypad's functions.
Government
This product may be eligible to be purchased through the United States Governments SEWP program, similar to their GSA program.
The NASA SEWP (Solutions for Enterprise-Wide Procurement) provides the latest in Information and Communications Technology (ICT) and Audio-Visual (AV) products and services for all Federal Agencies and their approved contractors.
If you are a government agency and want to see whether HDTV Supply has this product in the SEWP database go to our
our SEWP Contract Holder RedHawk IT Solutions, LLC
to allow you to maybe order this product from the United States Governments SEWP program. It is very easy to place your order, go to the link above and enter HDTV Supply and there you will see a list of part numbers of what we currently have. If you do not see it than give us a call at 833-WOLFPACK (833-965-3722) and we may be able to enter it.
Our SEWP Contract Holder RedHawk IT Solutions partner has the following credentials:
DUNS: 801957023
TIN: 260452583
CAGE: 4TBM6
Their SEWP Federal Contracts are:
SEWP Contract Number: NNG15SD38B
Group: Group B_SDVOSB
NAICS: 541519
and
SEWP Contract Number: NNG15SD88B
Group: Group C
NAICS: 541519
The SEWP Program Office manages a suite of government-wide IT products and services contracts that enable NASA and all Federal Agencies to achieve their missions and strategic initiatives by providing streamlined access to critical technologies and solutions. The Program provides best value for the Federal Government and American taxpayer through innovative procurement processes, premier customer service and outreach, acquisition insight, and partnership with Government entities and Industry.
For a complete listing of HDTV Supply products from us, or our other vendors, call 833-WOLFPACK (833-965-3722).