HDTV Supply's WolfPad is a 10-button IP enabled keypad controller aimed at providing customers simple control solutions of their presets when using a WolfPack Matrix Switcher. With built-in POE, it can receive power from a POE enabled Ethernet switch. The keypad can control devices like presentation switches through a LAN (POE) port or an RS232 port. It also supports a system firmware update via its web UI.
Among other features, the keypad can:
Send commands to control the matrix switcher signal switch
Send commands to the matrix switcher for presets to save and/or recall
Send commands to turn on/off the matrix switcher beep sound
10 - PROGRAMMABLE BUTTONS: You can use the WolfPad to send bidirectional commands to WolfPack matrix switchers and other devices via RS-232 or LAN port. Third-party devices such as projectors, screens, and TVs can also be controlled.
BACKLIT BUTTONS WITH 58-READY-MADE LABELS: Each button on the WolfPad can use the 58-supplied ready-made labels to control your devices.
Here is an example that we created for a yacht that wanted each of 4-rooms to have the capability to change the inputs to the matrix from that room. This example can be used in other applications like multiple conference rooms, training rooms, schoolrooms, and more. The WolfPad 10-button POE IP enabled keypad controller can be located up to 450 feet away from the matrix switch and each key can be created with the proper description.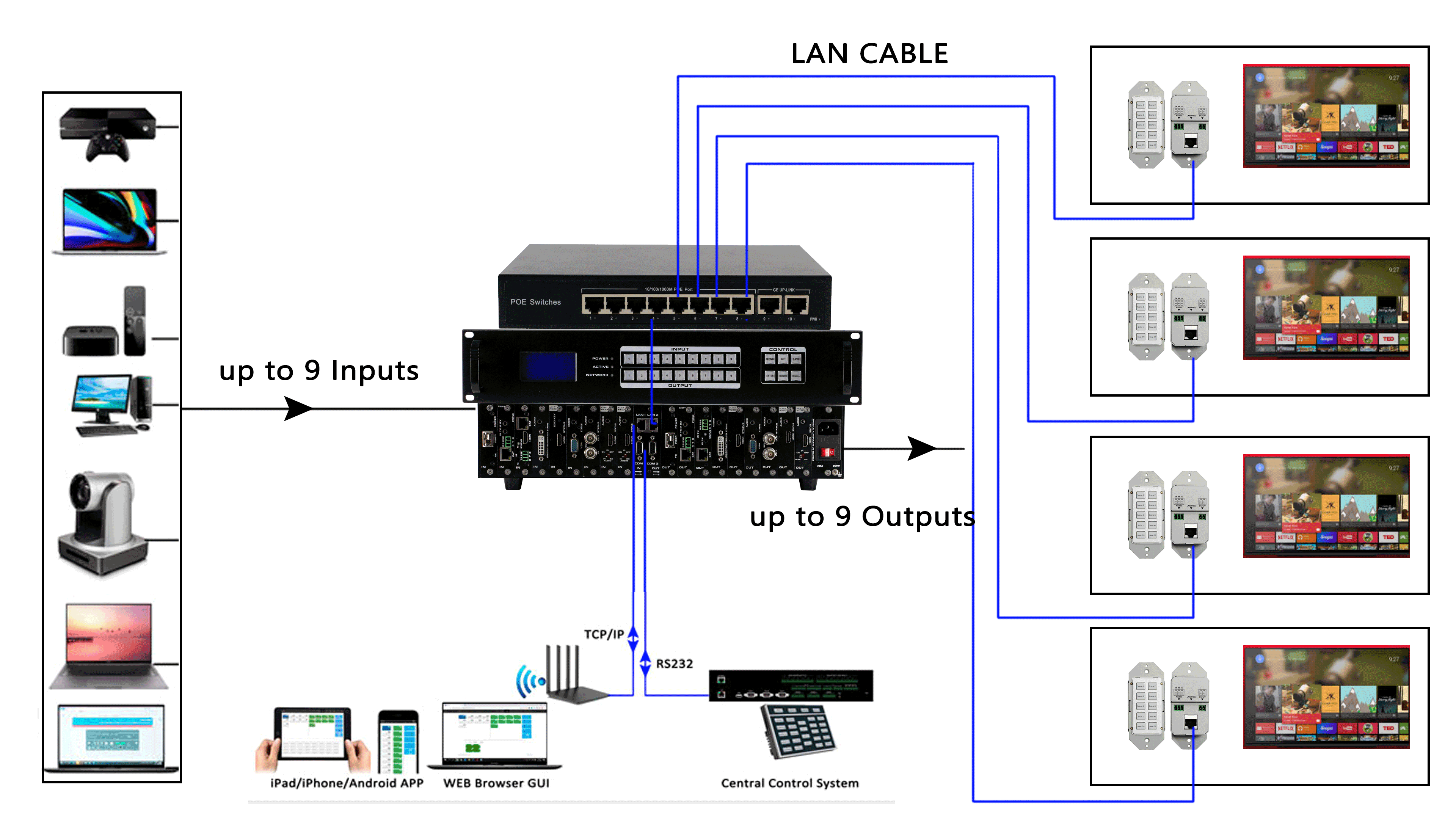 WolfPad Keypad Features:
WEB GUI programming
Ten-button
Supports TCP/IP and RS232
Supports PoE function
Any number can be used when used with a POE Ethernet switch
US or UK single panel for selection
This WolfPad 10-Button Keypad (shown) has labeling and functions (recalls 6 scenes, 1 on 1, close all, and Beep function) to work with our WolfPack family of matrix switchers. The WolfPad 10-button keypad also can be used to work with other TCP/IP and RS232 controlled equipment by simple WEB GUI based programming.
Why not buy this WolfPad 10-Button Keypad today?
WolfPad Keypad Specs:
Front panel: 10 x Buttons (soft silicone buttons)
Back panel: 1 x LAN (RJ45, PoE), 1 x RS232; 1 x DC 12V Power In
Operating Temperature: 0C to 45C (32F to 113F)
Storage Temperature: -20C to 70C (-4F to 158F)
Humidity: 10% to 90%, non-condensing ESD Protection: Human-body Model, +-8kV (Air-gap discharge) /+- 4kV (Contact discharge)
Power Supply: DC 12V 0.5A (Power adapter is not included in the package)
Consumption (Max): 1.3W
Dimensions: 45 mm x 105.6 mm x 36 mm & 1.77" x 4.16" x 1.42"
Product Weight: 0.18 kg and 0.40 lb
Why not buy this WolfPad 10-Button Keypad today?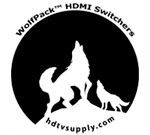 Reasons To Buy an HDTV Supply WolfPack Product
Control
When one is designing an HDMI Matrix Switch, the most important initial specification is the number of inputs and outputs you will need in your facility. The next, and often forgotten, is how the user wants to control those inputs and outputs. HDTV Supply has your back when you're buying one of our WolfPack Family of Modular Matrix Switchers, as we have dozens of way to control the inputs and outputs and are shown at
Controlling WolfPack Modular Matrix Systems
, as well as below:
Allonis Sports Bar DirecTV™ Control System (Call)
For an up-to-date listing of all the methods to control our WolfPack Matrix Switchers, go to
Ways to Control Our WolfPack Family Of Modular Matrix Systems.
Control Drivers
DirecTV Controller
Apps
Q: Does a power supply come with it?
A: Yes, it will come with a power adapter. We also recommend the POE switch or just a POE to the LAN adapter for the TCP/IP control.
Q: How long can the CAT6 cable be?
A: Since this keypad is using the TCP/IP or the RS232 control, it can go up to 150 m or 450ft with CAT6 or CAT7.
Q: If plugging directly into the Matrix switch, is there a way I can use POE and no AC adapter?
A: Yes, use a POE to LAN adapter.
Q: Other than using presets, what are other applications for it?
A: I tested controlling the BYOD-8200 presentation switcher by the Telnet, the 2x2 Video Wall (splicing/OFF/ON), the matrix switcher (Switching/preset/beep ON & OFF). I believe this keypad has very wide applications if the controlled devices can support the RS232/TCP/IP control with the commands.
Q: How could this be used in a conference room?
A: We can use this Keypad as a control panel for the conference equipment with the RS232 or TCP/IP control, but if they are new building room, we could provide a whole package with the Matrix Switcher/ Presentation Switcher/ Camera/ Whiteboard/ Speaker/ Table socket (we are currently working on this solution, will report back to you once we have our own meeting room done)
Q: Is there any way it could be used with a 4x4 to switch inputs and outputs?
A: Yes, for sure. We could use this keypad to control the 4x4 Switcher sources switching, presets, beep sound ON/OFF,
Q: Is there anyway could be used with a 3X3 video wall to change TVs?
A: Yes, can. But need to make sure the 3x3 Video Wall have the RS232 or the TCP/IP control, so we can use the keypad to have it showing as Video Wall/ independent TVs/ Screen power ON & OFF.
Q: Are the keys lit & silent?
A: Yes, once you press the button it will flash, and we use silicone buttons, and it's very silent
Q: If I mount four or five in a row, label them inputs and outputs, can I control the matrix?
A: For sure can, will only need to have the LAN port from the matrix switch connected to a Network Switch, then have the LAN cables connected to these 4~5 keypads, then we use the WEB GUI to program each keypad's functions.
HDTV Supply includes a
2 Year WolfPackCare™ Advance Replace
Limited Warranty on this matrix system. The warranty states that the Modular HDMI Matrix Switcher will perform substantially in accordance with the accompanying written materials for a period of 2 years from the date of the receipt of the order & that the Modular Matrix Switcher will be free from defects in materials & workmanship under normal use.
Slide-in Boards & HDBaseT Extenders: If a board or extender goes bad in the first 2-years and HDTV Supplys Tech Support team verifys the problem after a telephone call, HDTV Supply will send a new or like-new unit usually within 24-hours by USPS Air Priority at HDTV Supplys expense. We will ask for a credit card for payment in case the bad devcie is not sent back to us within 5-business days. You will need to provide us the tracking number as we will to you and you will need to pay for the devices return.
Chassis or Power Supply: If the chassis or power supply goes bad and HDTV Supplys tech support team verifys it HDTV Supply will send a new or like-new chassis by UPS ground at HDTV Supplys expense. We will ask for a credit card for payment in case the bad chassis is not sent back to us within 5-business days. You will need to provide us the tracking number as we will to you and you will need to pay for the chassis return.
In order to get a warranty replacement for a defective item HDTV Supplys Support Team will verify the product is eligible for a warranty. An RMA number will then be issued. Shipped replacements will be in like new conditions, tested and all components included.
HDTV Supply also sells a 3 or 5 Year warranty for this product. Please call us for a quote.
Why not buy this 10-Button Keypad for WolfPack Matrix Systems today?