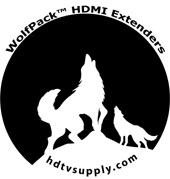 HDTV Supply's WolfPack™ is our Best 4K
HDMI Extender over HDBaseT
as it is using the latest HDBaseT technology which featuring no compression, no losses and no latency over HDMI signal transmission. The HDMI Extender over HDBaseT can work with other HDBaseT equipment such as Sonys HDBaseT projector, and others. Our Best HDMI Extender over HDBaseT signals are transmitted by one single CAT5e/ CAT6/ CAT7 cable and for 1080p it can transmit to a distance of 70m (230 feet) and for 4K60Hz (4:2:0) it can up to 35m (110 feet). The HDMI Extender over HDBaseT is compatible with all the HDTV resolutions because it supports the HDCP2.2 protocol. It also supports bi-directional RS232 and bi-directional IR transmission. The HDBaseT Extender supports Power Over Cable (POC) allowing users to power only one side, either the TX or the RX.
Using this HDMI Extender over HDBaseT with UTP cables allow you to run uncompressed 1080p high-definition HDMI signals upwards to 220 feet and optionally to 330 feet (see above Options). The RS232 ports can use it for controlling a projector or TV from the source end. Premium TVs and Projectors have a 2-way serial control port for the remote control. A system like Control4, Savant, Crestron can use our RS232 as the control instead of an IR or IP Network control.
NOTE: HDTV Supplys implementation of the HDBaseT technology adds virtually zero latency to the HDMI audio & video signal, less than 7 microseconds (0.000007 sec) over 220 feet of CATx cable. At 100 feet you are talking about 3 microseconds (0.000003 sec). This means for example, in a church or auditorium, the speakers lips are always in synch with the video image on all the TVs & projectors 100's of feet away.
What sets this HDMI Extender over HDBaseT apart from others:
Supports both 4K 30 and 4K 60
Includes IR cables
Includes mounting clips
You can buy a separate transmitter to send to an HDBaseT input TV or projector
You also can buy a Receiver only
Secure screw-on AC adapter
Supports both bi-directional RS232 & IR
Works with CAT5e
HDMI Extender over HDBaseT Features:
Transmits the highest quality audio and video:

1080p (4:4:4) up to 230 feet with CAT5e/6/6a/7 cable
4K 60 (4:2:0) up to 110 feet with CAT6/6a/7 cable
4K 30 (4:4:4) up to 110 feet with CAT6/6a/7 cable

Supports 720p and 1080i also
HDR & Dolby Vision support only at 10.2 GBPS
Supports FULL HD, UHD and 3D at 4K60Hz
HDCP 2.2 & HDMI 2.0 Compliance
Bidirectional IR & RS232 Serial control signal transmission
Power over Cable (POC) locally powered over Cat5e/6 cable at either end
Supports 7.1 DTS Master HD & Dolby True HD
LED indicators
EDID pass-though
Supports CEC control
Super IR control system via forward or backward
Supports the DDC2B protocol
36-bit Deep Color
x.v.Color
Supports 3D
Comes with mounting clips
Supports CEC (Consumer Electronic Control) compatible devices
Why not buy our Best HDMI Extender over HDBaseT today?
HDMI Extender over HDBaseT Features:
Input: 1 - HDMI, 1 - RS232, 1 - IR-TX, 1 - IR-RX 1*HDBaseT
Output: 1 - HDBaseT 1 - HDMI, 1 - RS232, 1 - IR-TX, 1 - IR-RX
Protocol: Supports HDMI 2.0 and compatible with HDCP2.2
Supported Resolution:

1920x1200,
1680x1050,
1360x768,
1280x800,
1920x1080,
1600x900,
1366x768,
1280x720,
1024x576,
1920x1200,
1680x1050,
1360x768,
1280x800,
4096x2160@30Hz,
3840x2160@30Hz,
3840x2160@60Hz

Color Space: 1080p: 36Bit Deep Color 4K: 24Bit True Color, 4:2:0
Bandwidth: 10.2Gbps
Transmission Distance: CAT5e/6 cable: 220FT/70m (1080p60Hz) and 110FT/35m(4K60Hz)
Dimension: 115*84*16(mm)
Weight: 120g
Power AC: 100-240V 50/60Hz 1.5A Max DC: 12V 1500mA
Consumption: ≤11W
Working Humidity: 10%-90%
Working Temperature: 0℃-50℃
Storage Temperature: -20℃-75℃
HDMI Extender over HDBaseT Package Contents:
1 - HDBaseT Transmitter (TX)
1 - HDBaseT Receiver (RX)
1 - IR Receiver
1 - IR Transmitter
1 - User Manual
1 - Power adapter for HDBaseT receiver with POC
Why not buy our Best HDMI Extender over HDBaseT today?
20~60kHz Wideband Bi-Directional IR:
Over the same CAT5e/6/7 cable you can send commands from a control system to the TV as well as simultaneously control DVD players, cable boxes and other source equipment from the TV location. The IR works in only stand alone applications with one source and one TV. Extending your signals using Cat5e/Cat6 cables saves you money and is easier to run through walls and other compact areas. The HDMI extender includes an IR, which allows you to locate your Blu-ray, DVD player, or any other HDMI enabled device into another area of the room, such as a cabinet and have the ability to control it without pointing at the cabinet.
POC Designed: By utilizing POC technology both It can be popularly used in media conferencing room, school, government, cinema and so on applications.HDMI audio and video signals and power can be sent to a device via standard Cat5e/6/6a cabling. This means you do not need to install a power outlet at the device location and you can use readily available, relatively low cost Ethernet cabling with this this HDMI HDBaseT Extender.
For optimal video performance use our WolfPack HDMI 2.0b and HDCP 2.2 cables with this product
Why not buy our Best HDMI Extender over HDBaseT today?
Q: I have no image output?
A:
Check the LED indicator status to make sure all connections are good and stable.
Q: Does the remote IR work with a HDMI matrix switch or HDMI splitter?
A: These HDMI extenders will send both HDMI video and audio from a matrix or splitter, etc but the remote IR is designed to be used with only one source, like a cable box, to one widescreen. There would be too many IR cables to attach on the sources IR window. See our HDMI switchers and splitters that have it integrated. The supplied AC adapter needs to be put on the Receiver, not the Transmitter, if you are using the IR function.
Q: This HDMI HDBaseT Extender has CEC, what is CEC?
A: This HDMI HDBaseT Extender features CEC (Consumer Electronics Control) allowing your HDTV's remote to manage up to ten devices that are connected via HDMI (such as Blu-ray Disc players or home theater receivers) with no special programming needed. For example, you can use your remote to turn on your TV, your player, and your receiver at the same time, and adjust the system volume with one button. All devices must support CEC, though.
Most major TV manufacturers now support CEC, and an HDTV with HDMI 1.3 will likely have the technology. Manufacturers call it by different names; LG Electronics, for instance, calls its implementation SimpleLink, whereas Toshiba calls its version CE-Link. Interoperability isn't mandatory, so some manufacturers limit control to their own products; Sony, for one, allows only Sony-to-Sony communication.
Q: How is HDBaseT technology different than others?
A: Unlike other HD distribution technologies, HDBaseT is the only technology which enables CAT5/6/7 connectivity from 70 meters to 100 meters, depending upon the specific product, for uncompressed full HD multimedia content and up to 100 watts of charging power via a single cable. HDBaseT is optimized for video applications and can connect all HDBaseT enabled home entertainment devices. Also, HDBaseT technology has the capacity to deliver double the resolution available today to future 2K and 4K formats. Other existing solutions also require a specific cable and/or a new proprietary connector while HDBaseT utilizes the existing Ethernet infrastructure.
HDMI HDbaseT Extender Helpful Tips & Recommendations:
Keep cables away from any equipment with an electromagnetic wave, e.g., mobile phone, microwave, radio equipment, fluorescent lamp, high voltage power lines, etc.
CAT5/6 cables should not exceed 220 feet or (70m).
Please adhere to the TIA/EIA568B standards when terminating network cables in the field.
Shielded CAT5/6 with metal RJ-45 connectors are recommended to safeguard against random video flashes caused by electromagnetic interference (EMI).
Why not buy our Best HDMI Extender over HDBaseT today?