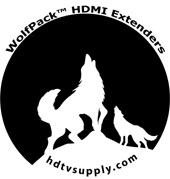 HDTV Supplys WolfPack™ 4K 1x16 HDMI HDBaseT Splitter allows you to control the outputs of the splitter with an app. The chassis back plane allows various technologies to be converted and split eliminating external converters and it allows one 4K-HDMI Input to be split to 16-4K Outputs using 16-4K HDBaseT extenders with POC (which are included). We only use HDBaseT technology as it sends uncompressed video and audio with zero latency upwards of 330 feet at 1080p & 4K at 175 feet using one CAT6 cable. The picture quality is like using a 3 foot HDMI cable.
The unique feature of this 1x16 HDMI HDBaseT Splitter is that you have complete control of each one of the 16-outputs of which you can either turn OFF or turn ON the signal going to the 16-displays. Usual 1x16 splitters do not allow you to do that. You control the outputs of this 1x16 HDMI HDBaseT splitter with an IOS or Android app, front color touch screen, WEB GUI control or the RS-232 serial port. It also has optional Elan & 2-Way Control4 drivers and more. Other features will allow you to add more outputs to a total of 16 and even growing it to a full 4K matrix switch in the future by buying HDMI input cards.
HDTV Supplys implementation of the HDBaseT technology and this product adds virtually zero latency to the HDMI audio and video signal, less than 7 microseconds (0.000007 sec) over 330 feet of CAT6 cable. At 100 feet you are talking about 3 microseconds (0.000003 sec). This means for example, in a factory, church or auditorium, the speakers lips are always in synch with the video image on all the TVs and projectors 100's of feet away.
HDTV Supply, Inc. is an HDBaseT.Org Approved Adopter of HDBaseT™ Products.
Reasons that sets our WolfPack™ 1x16 HDMI HDBaseT Splitter apart from others:
Complete control of the HDBaseT outputs
Field Upgradable
Breakout R/L audio on the input card to go to an amp
Additional HDMI output for a local monitor
Power Over Cable (PoC) design means there are no AC adapters needed at the TVs.
4K/30 for the best picture, 4X better than 1080p
HDCP 1.4 compliant on all inputs and HDBaseT Receivers
Includes the best HDBaseT HDMI to CAT6 extenders, not cheap H.264 w/fuzzy compressed video
40 - Programmable Preset Scenes To Choose From
No latency
Control of the outputs via an iPad, Android, Web Browser (WEB GUI), RS232 & Front Buttons
2-Year WolfPackCare Advance Replace Warranty
Free Lifetime Telephone, CHAT, TEXT and Email Tech Support
Other In & out cards available like VGA, DVI, Fiber, SDI, CVBS, YPbPr and Audio
The base model of this 1x16 HDMI HDBaseT Splitter is HDTV Supplys Modular HDMI Matrix Router and is preconfigured with 1-female HDMI input and 16-HDBaset outputs and comes with 16-HDBaseT receivers. By having 1-port slide in cards the 1x16 HDMI HDBaseT Splitter is very reliable as in the unlikely even there is a loss of signal you just replace the card with a spare you have purchased or order another from us. The complete splitter does not have to be sent to us for a repair.
WolfPack™ 1x16 HDMI HDBaseT Splitter Configuration:
1 - Small 2U 4K 18-card in & 18-card out card cage chassis
1 - 1-port 4K HDMI input card with separate audio out
1 - 1-port 4K HDMI output card for a local monitor
16 - 1-port 4K HDMI HDBaseT output cards w/POC
16 - 4K HDMI HDBaseT receivers to 330 feet at 1080p & 4K/30 at 175 feet
1x16 HDMI HDBaseT Splitter Features:
4K Chassis size: Supports 18 input and 18 output cards
1-Input Card:

1 - 4K Input HDMI card with a separate 3.5mm audio out

16 - 4K Output Cards:

1 - 1-port 4K HDMI output card for a local monitor
16 - 4K HDMI HDBaseT RJ45 output cards
16 - 4K HDBaseT Receivers to support 330 feet at 1080p & 4K at 175 feet

Advanced EDID management for rapid integration of sources and displays
7" Front Panel Color Display for status and control
Dual IP controlled via built-in web server and LAN
Dual RS-232 Serial interface for remote control via an automation control system
Supports fast splitting without any black/ blue/ split screen in any of the TVs
Supports resolution exchanges with several resolutions can be chosen and used
Hot-pluggable
Rack-mountable
Why not buy this 1x16 HDMI HDBaseT Splitter today?
Supports EDID Management: Ensures that even the most difficult display can receive audio and video with eight programmable memory presets loadable to any source connected to the matrix.
Modular HDMI HDBaseT Splitter Specs:
HDCP 1.4 Compliant
Locking HDMI connectors
Rack mountable metal enclosure with rack ears
Modular Configuration: 18 inputs and 18 outputs chassis
Input cable distance: ~12 feet AWG24 HDMI 1.4 high speed cable
Supported Input & Outputs Signals:

HDMI and HDBaseT: up to 4K 4:2:0 and 1080p 4:4:4
CAT6: HDBaseT technology to 330 feet

Control: TCP/IP, RS232 and front buttons
Power Supply: 100 – 240VAC, 50-60Hz
Power Consumption: 50W 70W
Operating Temperature: -10℃ to 50℃
Storage Temperature: -25℃ to 55℃
Why not buy this 1x16 HDMI HDBaseT Splitter today?
Our WolfPack HDBaseT over CAT6 Extenders let set-top boxes, DVD players & other HDMI devices to be connected to HDMI displays that have an HDMI input that are >300 feet away from the source. These HDBaseT 2.0 & 1.4 products are the newest technology that supports HDMI 2.0, 1.4, 2D & 3D at >300 feet using only one CAT6 cable. By reducing the Ethernet cabling requirements from two to one, it allows you to easily tap into existing in-wall CAT6 wiring.
HDBaseT Video delivers full HD / 3D and 2K / 4K uncompressed video to a network of devices or to a single device (point-to-point ). Since the video is passed through the HDMI chipset, HDBaseT supports all key HDMI 1.4 and HDMI 2.0 features including EPG, CEC, EDID, and HDCP. HDBaseT is the only standard for delivering UltraHD 4K video up to 100m long.
HDBaseT audio passes through directly from the HDMI chipset and supports all standard formats including Dolby Digital, DTS, Dolby TrueHD and DTS HD-Master Audio.
These HDBaseT Products Feature:
Uncompressed video: The picture quality at 300 feet is the same as using a 3 foot HDMI cable.
No more cable clutter: Fewer cables and less mess with its single cable connection
Distance is no longer a concern: Runs over a 100m/328ft Cat5e/6 cable and support for multi-hops (8 x 100m), HDBaseT provides point to point connectivity and full multimedia distribution with higher reliability, longer distance and lower cost
Quality cable supports HD, 2D and 3D: HDBaseT utilizes a quality cable proven for transferring HD and new 3D formats
Power over cable: Some of our HDBaseT products sends 100W of power simultaneously eliminating the need for a power outlet to be installed near the display
Support for quality controls: HDBaseT supports various controls while ensuring reliability and low latency
Low cost installations: Requires only one low cost LAN cable with standard RJ-45 connectors already installed in many homes
These HDBaseT products can support full 3D with resolutions up to 4Kx2K (4 times the 1080p), audio, IR remote and Ethernet sent over the same CAT6 cable. Many also feature 3DTV, deep color, lip sync and audio delay w/both the IR back-channel and RS-232 connection can be used to control the display from the remote location. We at HDTV Supply love HDBaseT products as we never get returns nor tech support calls so place your HDBaseT order today.
Why not buy one of our HDBaseT products today?
Free Android and iOS App:
The
IOS App
for this WolfPack HDBaseT Splitter is in the Apple Application Store and when you SEARCH the key words "MCS" or "Matrix Control System" you can download and install it to your iPad or iPhone. Also from your iPad or iPhone click the following link...
MCS-matrix control system
to install it directly.
For the Android App click the following link and download it. Go to Android App for control of this HDBaseT Splitter.
Here is the RS232 User Manual if you want to write your own drivers.
Why not buy this 1x16 HDMI HDBaseT Splitter today?
Control
When one is designing an HDMI Matrix Switch the most important initial specification is the number of inputs and outputs you will need in your facility. The next, and often forgotten, is how the user wants to control those inputs and outputs. HDTV Supply has your back when you're buying one of our WolfPack Family of Modular Matrix Switchers as we have dozens of way to control the inputs and outputs and are shown at
Controlling WolfPack Modular Matrix Systems
, as well as below:
For an up-to-date listing of all the methods to control our WolfPack Matrix Switchers go to
Ways to Control Our WolfPack Family Of Modular Matrix Systems.
Control Drivers
HDTV Supply has successfully installed our WolfPack, WolfPackLite and our other HDMI Splitters & Switchers in Sports Bars, Restaurants, Bowling Alleys, Fitness Centers, Malls, Places of Worship, Data Centers, Gaming Rooms, Nail Salons, County Clubs, Casinos, Factories, Conference Rooms, Schools, Home Theaters or many other installations requiring HDMI matrix switching. The reason, we are told by the users, is the number of features we offer compared to other companies they looked at. This modular HDMI system can usually be integrated with many third party control systems using the RS232 port on the back of the matrix.
For experienced AV hardware and software professionals who want to write their own drivers for 3rd party control systems from:
AMX™
Control4™ (we have)
Creston™
RTI™
DTVGameControl™
Elan g!™ (we have)
Media Switcher™
OnControls™
Savant™
SimpleControl™
SwitchItUp™
SAVI Control™
...and we have created a simple and very easy to use RS232 script to write your own drivers.
EXAMPLE: If you want to switch input 8 to output 1, 8, 16, the RS232 command would be x1&8&16. and notice the command has a period (.) at the end of the string. The matrix even replies "OK" when the right command is received and shows "ERR" when receiving a wrong command. Here is the RS232 User Manual if you want to write your own drivers.
How to use the info:
END USER: If you are an end user and want to have a whole-house control system from any of the above 3rd party control houses but your budget can't support the price you were quoted, do the following:
Call us for a quote
Once you get our quote call a 3rd party control reseller or installer in your area and tell them "Here is the hardware I want to use, please give me a quote on writing the software and installing all of the hardware at my location." You usually can save $1,000s on larger systems.
CAVEAT:
We are not certified by any of the above 3rd party control systems companies nor have the necessary hardware to verify, troubleshoot and support the 3rd party writing of the code. We do warranty, though, that the RS232 script in the above RS232 Users Manual has and will work to control the matrix directly.
Why not buy this 1x16 HDMI HDBaseT Splitter today?
Q: How many Preset scenes can I Save and Recall?
A:
40.
Q: What are the HDCP options?
A: You can choose either to open or close the HDCP on the output card. A receiver that cannot support HDCP can also display the sources with HDCP.
Mix-n-Match combinations:
Non-HDCP source to a HDCP compliant TV
HDCP source to a non-HDCP compliant TV
Q: What is you test procedure?
A:
Our testing procedure is:
Assembling: Production line self-testing (Basic Functions)
Initial Testing: Includes every card, control software and front panel front buttons
24 Hours Aging: Gao Sheng Standard Aging Room
Final testing: All Functions
QC final Inspection: Sticker, serial number, etc
Packing: Pack and ship
Q: What is the dimension of the chassis?
A:
18x18: 4U - 482x390x178mm (L/W/H) - 18.97x15.35x7.01 inches
Q: Do you have any tips in the unlikely event the unit fails?
A: Turn it OFF and then disconnect the matrix from the AC power and all cables. Pull out each board from the rear and push back in. Plug all cables back in and turn it on.
Q: How is HDBaseT technology different than others?
A: Unlike other HD distribution technologies, HDBaseT is the only technology which enables CAT5/6/7 connectivity from 70 meters to 100 meters, depending upon the specific product, for uncompressed full HD multimedia content and up to 100 watts of charging power via a single cable. HDBaseT is optimized for video applications and can connect all HDBaseT enabled home entertainment devices. Also, HDBaseT technology has the capacity to deliver double the resolution available today to future 2K and 4K formats. Other existing solutions also require a specific cable and/or a new proprietary connector while HDBaseT utilizes the existing Ethernet infrastructure.
HDMI HDbaseT Extender Helpful Tips & Recommendations:
Keep cables away from any equipment with an electromagnetic wave, e.g., mobile phone, microwave, radio equipment, fluorescent lamp, high voltage power lines, etc.
CAT5/6 cables should not exceed 330 feet or (70m).
Please adhere to the TIA/EIA568B standards when terminating network cables in the field.
Shielded CAT5/6 with metal RJ-45 connectors are recommended to safeguard against random video flashes caused by electromagnetic interference (EMI).
Why not buy this 1x16 HDMI HDBaseT Splitter today?