WolfPack Modular HDMI Matrix Switchers - You Design It From 4x4 to 80x80





WolfPack Diamond Family of Modular HDMI Matrix Switchers

You Design It with 4-Port HDMI Input & HDMI Output Cards

4-1080p Card Cage Chassis To Choose From

4-Chassis supports up to 80-HDMI inputs & 80-HDMI outputs

Comes with an Android Tablet Control w/loaded software
HDTV Supplys
WolfPack Diamond Family of Modular HDMI Matrix Switchers
is composed of a family of modular HDMI matrix switchers that allows it to be an all-in-one solution for a variety of different projects. Because they are Modular HDMI Matrix Switchers they allows any input to be routed to any output; or the same input to be routed to all outputs, or any combination.
The WolfPack Modular Matrix system is designed to allow the switching and distribution of up to 80 source devices to up to 80 connected displays (model specific) directly via HDMI cable or the above optional HDBaseT stand alone HDMI to CATx extenders that send a 1080p signal up to 220 feet or 330 feet depending upon which one you choose (See above ACCESSORIES TAB).
WolfPack 32x32 HDMI Matrix Switch Configuration Example:
1 - 4-card in and 4-card out card cage
8 - 4-port HDMI input cards = 32 HDMI inputs
8 - 4-port HDMI output cards = 32 HDMI outputs
WolfPack 16x64 HDMI Matrix Switch Configuration Example:
1 - 20-card in and 20-card out card cage
4 - 4-port HDMI input cards = 16 HDMI inputs
16 - 4-port HDMI output cards = 64 HDMI inputs
By having 4-port slide in cards the matrix is very reliable as in the unlikely even there is a loss of signal you just replace the card with a spare you have purchased or order another from us. The complete matrix doesn′t have to be sent to us for a repair.
What sets the WolfPack Diamond Line of Modular HDMI Matrix Switchers apart for our competitors:
Can be configured from a 4x4 to a 80x80 matrix system
Year 2017 Firmware
Plug-n-Play HDMI in and out cards (not hot swappable)
Supports 240 Hz and above HDTV′s
The matrix can be controlled 5-ways:

Supplied W10 Software
Front Panel Control
A supplied Android App with a supplied Android tablet
A remote control
RS232 port
WolfPack Modular Matrix Switcher Features:
19-inch standard rack housing with plug-in design supports for an easy expansion
Compatible with all HDTV resolutions, including 1080p/60, and PC resolutions up to 1920*1200 (no 4K)
Long-line input automatic equalization to make sure to provide independent compensation to each input and adjust automatically for the signal loss due to long HDMI cables;
Supports HDMI 1.3a, HDCP 1.3, HDCP 1.4 and DVI 1.0 protocol, and high color depth and high rate up to 6.75Gbps;
HDCP compatiblemake sure protected media can be displayed normally and cooperate with other HDCP compatible devices;
Built-in round-robin switching function supports random interval and channel;
32 built-in scenarios storage: You can save 32 common modes or specific modes in the equipment and recall a required mode when necessary
Compatible with many codes and commands of similar products in the market
Multiple code formats are provided to meet the requirements of industries and customers and make it more flexible, human-oriented and convenient
Multiple control ways: panel, central controller, computer software, TCP/IP
Computer software provides the definition of channel name and makes it more visual;
Compatible with all available central control systems in the market with additional input/output channel commands which make programming more effective, simpler and more flexible;
Provide 1-Ch network port (optional) which supports the simultaneous connection of multiple users through Ethernet remote control;
Provide 2-RS-232 input communication ports and supports both RS-232→RS-485 communication port;
Dual serial ports makes the connection to large screen faster and more convenient;
Ultra-high command reception and switching speed, receiving over 64 commands without any delay;
Open control protocol and protocol standard supports the control of third-party and self-developed software;
Multi-machine cascading is possible by ID address setting and supports 255 matrixes at most;
High-quality, mass production, higher compatibility and stability;
Key control: the keys on front panel can control all actions of matrix;
Remote control: a standard remote controller is provided and can control all actions of matrix;
RS-232/485 control: matrix can be connected to computer through RS-232/485. With a MCON matrix special management software installed in computer, user can have full control on all the actions of matrix;
Splicing software control: in a large screen splicing system, user can control all the actions of matrix by splicing software for large screen;
Touch screen control: touch screen communicates with matrix by WIFI and controls all the actions of matrix (optional);
Central controller: matrix is compatible with the codes and commands of other manufacturers. User can control all the actions of matrix through central controller (optional);
Network control: control all the actions of matrix by TCP/IP network control management and Ethernet network (optional).
Why not buy one fo our Modular HDMI Matrix Switchers today?
Central to the Modular HDMI Matrix Switchers are four chassis and its highly configurable backplane that supports slide-in HDMI cards with female HDMI connectors.
WolfPack Modular Matrix Switcher Features:
Compatible with HDMI 1.3, HDCP 1.3 and DVI1.0
Gain: 0dB
Pixel bandwidth: 225MHx, full digital
Interface bandwidth: 3.25Gbps, full digital
Max. resolution: 1920x1080@60
Clock jitter: <0.15Tbit
Rise time: <0.3Tbit (20-80%)
Fall time: <0.3Tbit (20-80%)
Max. propagation delay: 5ns (1ns)
Signal strength: T.M.D.S. 0.4Upp
Min./Max. level: T.M.D.S., 2.9V/3.3V
Impedance Difference: 50Ω
Input EDID: EDID Field Re-writeable
Control Interface: RS-232, 9-pin female D connector
Baud rate and protocol: Baud rate: 9600, Data bits: 8, Stop bits: 1, no parity
Interface: HDMI-A female
Power supply: 110V North American or 220V International
Storage temperature: -20èš"-70èš"
Humidity: 10%-90%
Why not buy one of these Modular HDMI Matrix Switchers today?
WOLFPACK 4K HDMI CABLES



4K WolfPack HDMI HDBaseT Extender to 220 Feet with IR & POC

Price: $299.95

Today's price:

$149.95

(You Save: 50%)

4K WolfPack HDBaseT Extender to 330 Feet w/IR & POE

Price: $399.95

Today's price:

$199.95

(You Save: 50%)

WolfPack HDMI over CAT6 Extender to 700 Feet w/IR

Price: $499.95

Today's price:

$299.95

(You Save: 40%)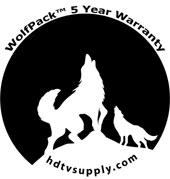 HDTV Supply
includes a
WolfPackCare
5 Year U.S. Limited Extended Warranty on these Modular HDMI Matrix Switchers. There are two bundled parts to this 5 year warranty. The 5 year warranty is only for the main device you purchased and does not include any product options or additional products you purchased at the same time.
FIRST YEAR:
The first year is direct with with HDTV Supply at 800-841-9238. The warranty states that the Product will perform substantially in accordance with the supplied written materials and Product information located on this Product web site page for a period of 1 year from the date of shipment of the Product and that the Product will be free from defects in materials & workmanship under normal use & service for a period of 1 year from date of shipment.
In order to get a warranty replacement for a defective Modular HDMI Matrix Switcher within the first year call HDTV Supplys Tech Support Team with your order number at 800-841-9238 and they will verify the product is eligible for a warranty repair. An RMA number will then be issued via email. Shipped replacements will be in like new condition, tested and all components included. Please read
HDTV Supplys Warranty Terms and Conditions
for more.
2ND THROUGH 5TH YEAR:
The 2nd through 5th year are direct with
Consumer Priority Extended Warranty Service (CPS)
as they are HDTV Supplys extended warranty provider. They are a large 3rd party repair company with facilities throughout the U.S. and offer our U.S. customers unparalleled product coverage and repairs. If after calling HDTV Supply, at 800-841-9238, we find we can't fix the issue over the phone, and you need a repair, you will henceforth deal directly with CPS for the repairs via their toll free phone number (800) 905-0443 Option 3 during the 2nd through 5th year.
You can also
email CPS
and
email HDTV Supply
as well as call us a 800-841-9238 if you have any questions with this 5 year bundled warranty.
Why not buy one of these Modular HDMI Matrix Switchers today?
Questions & Answers

Ask a question about the WolfPack Modular HDMI Matrix Switchers - You Design It From 4x4 to 80x80 or Call 800-841-9238


WolfPack Modular HDMI Matrix Switchers - You Design It From 4x4 to 80x80
Recently Viewed Items