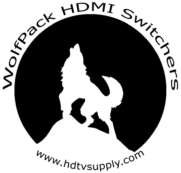 HDTV Supply′s WolfPack
HDMI Table Box
with HDBaseT to CAT5 Extender has 2 - inputs, 1 - VGA video and its accompanied 3.5mm audio signal and 1 - HDMI input and outputs to 220 feet with one single CAT5e/6/7 cable. When transmitting the VGA signal, it will convert the VGA analog signal to a digital HDMI signal to use with an HDMI display or projector. Our WolfPack HDMI Table Box solves the problem of not knowing what the visitors laptop has as an output as this switcher supports both VGA and its audio, and HDMI, so you will be prepared.
The WolfPack HDMI Table Box provides an extremely simple, affordable and elegant single-slide up multi-connection boardroom or conference solution. It uses HDBaseT technology to transmit the high definition 1080p video and stereo audio transmission to avoid the signal losses that long HDMI cables exhibit. The output is an RJ45 jack (no HDMI output) to use with a projector that already has a built-in HDBaseT receiver. If the TV or projector only has an HDMI input buy the optional HDBaseT receiver above.
The HDMI Table Box is always flush in your table and comes in a black anodized aluminum enclosure. The DIP switches allow you to up-scale or downscale to your desired video resolutions to match the projector or TV.
WolfPack HDMI Table Box Features:
Supports 1-HDMI and 1-VGA + its 3.5mm audio input
IR remote control work with USB to upgrade firmware
Supports an AC 110V-260V 50/60Hz power input
Support an AC 110V-240V 50/60Hz power output
Support Ethernet pass-through from the TV or projector
Use the HDBaseT port to transmit the HDMI Audio and Video signal to a projector or TV with built-in HDBaseT
LED indicator to observe connection status
DIP switch to adjust screen resolutions
Easy to install and adjust
WolfPack HDMI Table Box Useful Applications:
Build directly into a boardroom table for video presentations and video conferencing
Build into a podium for live presentation control
Connect your device to a projector or large display and switch from one computer to another, or to a mobile device automatically, to collaborate during a boardroom meeting
Use in a boardroom or classroom where a projector or display may not have the required connectivity ports
Hide your unsightly cables and switch box by building directly into your table or podium
Why not buy this WolfPack HDMI Table Box today?
Elegant and Rugged Rectangular Design:
The sturdy and attractive anodized aluminum enclosure provides maximum connectivity in the smallest possible footprint, and at the same time is cost effective and easy to install. HDTV Supplys WolfPack HDMI Table Box has both HDMI and VGA inputs with a built-in Transmitter (Sender) with one HDBaseT output.
WolfPack HDMI Table Box Features:
1 - HDMI (19 pin) Female Input that supports 1080p
1 - VGA + 3.5mm audio Female input that converts to an 1080p HDBaseT output
1 - RJ45 that Supports the Ethernet pass-through
World-wide universal power supply 100~240V 50/ 60Hz Outputs
1- AC 100-240V 50/60Hz out: Provides a convenient way to charge the laptop
1- HDBaseT output: Works with HDBaseT receiver up to 70m meters
Can connect with HDBaseT in projectors
1- LAN(RJ 45): Supports the Ethernet pass-through
Power Supply: 100~240V 50/60 Hz
Power Consumption: ≤11W
Working Temperature: -10℃- 45℃
Why not buy this WolfPack HDMI Table Box today?
DirecTV Controller