Features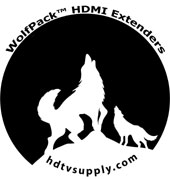 This WolfPack
4K 60Hz HDMI HDBaseT Extender
sends a lossless HDMI signal up to 220 feet and supports 3D, 24bits deep color, 4Kx2K, CEC, HDCP and ultra HD 4KX2K@60Hz. This WolfPack 4K 60Hz HDMI HDBaseT Extender supports (POE) power over a network cable by just connecting the power adapter with the receiver unit. It's a perfect solution for audio&video transmission in applications of HD conference system, HD multimedia education system, HD digital advertising and signage etc.
The RS232 ports can use it for controlling a projector or TV from the source end. Premium TVs and Projectors have a 2-way serial control port for the remote control. A system like Control4, Savant, Crestron can use our RS232 as the control instead of an IR or IP Network control.
NOTE:
HDTV Supplys implementation of the HDBaseT technology and this HDBaseT Extender with 18 GBPS Bandwidth adds virtually zero latency to the signal, less than 7 microseconds over 220 feet of CATx cable. At 100 feet you are talking about 3 microseconds. This means for example, in a church or auditorium, the speakers lips are in synch with the image on all the TVs and projectors.
HDTV Supply, Inc. is an HDBaseT.Org Approved Adopter of HDBaseT™ Products.
WolfPack WolfPack 4K 60Hz HDMI HDBaseT Extender Features:
Uses HDBaseT HDMI extension technology.
Supports bi-directional IR passback.
Supports bi-directional RS232 control.
Supports HDMI2.0, HDCP2.2, CEC and 24 bit deep color.
Support LPCM DTS-HD and Dolby True HD audio.
Supported resolution is up to 4Kx2K@60Hz ultra HD
Transmit 4Kx2K@60Hz signal over CAT6 up to 70 meters.
POE powered. It only needs to be connected to the 12V power on the receiver unit and then both transmitter and receiver will be powered.
Why not buy this WolfPack 4K 60Hz HDMI HDBaseT Extender today?
Specs
WolfPack 4K 60Hz HDMI HDBaseT Extender
Items

Specifications




HDMI signal




Support HDMI2.0 HDCP2.2, support CEC and 24bits deep color




Resolution Supported




480i/480P/576i/576P/720P/1080i/1080P/3D/4Kx2K




Audio




LPCM、DTS Digital, Dolby Digital




Network cable




CAT6、CAT6A、CAT7




Transmission length




70m

IR control




Support 20~60kHz wide frequency devices and Bi-directional IR

transmission




Working temperature




0~55˚C




Storage temperature




-10~70˚C




Humidity




0~90%(no condensation)




Power supply




DC12V/2A x1pcs




Power

consumption




TX: <6W; RX: <8W




Product

dimension




109.49(L)x87.0(W)x23.4(H)mm




Material




Iron alloy material




Weight




TX:240g RX:250g




Color




Black



Videos
HDTV Supply has this HDMI HDBaseT Extender in stock in our California warehouse so place your order at the above ADD TO CART button by 11AM PST and it can ship today or call us at 800-841-9238 to place your order.
Why not buy this HDMI HDBaseT Extender today?
Q/A
Q: I have no image output?
A:
Check the LED indicator status to make sure all connections are good and stable.
Q: Signal LED "3" is flashing but there is no image output?
A:
Check if the HDMI display device has been switched to the right HDMI input channel.
Q: Signal LED "2" is flashing but "3" light is off?
A:
Check whether the Transmitter HDMI IN has a signal input and make sure the Receivers HDMI OUT is well connected with HDMI display.
Q: Signal LED "2" is flashing but "3" light is off?
A:
Change the Transmitter HDMI signal input cable or use shorter HDMI cable.
Q: Does it include both a transmitter and a receiver?
A:
Yes and 1 - AC adapter as it is a POE (POC) design.
Q: Does the remote IR work with a HDMI matrix switch or HDMI splitter?
A:
These HDMI extenders will send both HDMI video and audio from a matrix or splitter, etc but the remote IR is designed to be used with only one source, like a cable box, to one widescreen. There would be too many IR cables to attach on the sources IR window. See our HDMI switchers and splitters that have it integrated. The supplied AC adapter needs to be put on the Receiver, not the Transmitter, if you are using the IR function.
Q: This HDMI HDBaseT Extender has CEC, what is CEC?
A:
This HDMI HDBaseT Extender features CEC (Consumer Electronics Control) allowing your HDTV's remote to manage up to ten devices that are connected via HDMI (such as Blu-ray Disc players or home theater receivers) with no special programming needed. For example, you can use your remote to turn on your TV, your player, and your receiver at the same time, and adjust the system volume with one button. All devices must support CEC, though.
Most major TV manufacturers now support CEC, and an HDTV with HDMI 1.3 will likely have the technology. Manufacturers call it by different names; LG Electronics, for instance, calls its implementation SimpleLink, whereas Toshiba calls its version CE-Link. Interoperability isn't mandatory, so some manufacturers limit control to their own products; Sony, for one, allows only Sony-to-Sony communication.
Q: How is HDBaseT technology different than others?
A:
Unlike other HD distribution technologies, HDBaseT is the only technology which enables CAT5/6/7 connectivity from 70 meters to 100 meters, depending upon the specific product, for uncompressed full HD multimedia content and up to 100 watts of charging power via a single cable. HDBaseT is optimized for video applications and can connect all HDBaseT enabled home entertainment devices. Also, HDBaseT technology has the capacity to deliver double the resolution available today to future 2K and 4K formats. Other existing solutions also require a specific cable and/or a new proprietary connector while HDBaseT utilizes the existing Ethernet infrastructure.
HDMI HDbaseT Extender Helpful Tips & Recommendations:
Keep cables away from any equipment with an electromagnetic wave, e.g., mobile phone, microwave, radio equipment, fluorescent lamp, high voltage power lines, etc.
CAT5/6 cables should not exceed 220 feet or (70m).
Please adhere to the TIA/EIA568B standards when terminating network cables in the field.
Shielded CAT5/6 with metal RJ-45 connectors are recommended to safeguard against random video flashes caused by electromagnetic interference (EMI).
Why not buy this HDMI HDBaseT Extender today?
Warranty

HDTV Supply
includes a 1 Year Limited Warranty on this HDMI HDBaseT Extender. The warranty states that (a) this unit will perform substantially in accordance with the accompanying written materials for a period of 1 year from the date of receipt and (b) that the HDMI HDBaseT Extender will be free from defects in materials & workmanship under normal use & service for a period of 1 year. In order to get a warranty replacement for a defective priduct, HDTV Supplys Support Team will verify the product is eligible for warranty. An RMA number will then be issued. The shipped unit will be in like new conditions, tested and all components included.
HDTV Supply
also sells a 3 and 5 Year Extended Warranty for this HDMI HDBaseT Extender. Please go to
Extended Warranties
or see the above Options to purchase it.
Why not buy this HDMI HDBaseT Extender today?
Ask a Question
Questions & Answers

Ask a question about the 4K 60Hz HDMI HDBaseT Extender w/POE or Call 833-WOLFPACK (833-965-3722)


FAQ
Our WolfPack HDBaseT over CAT6 Extenders let set-top boxes, DVD players & other HDMI devices to be connected to HDMI displays that have an HDMI input that are >300 feet away from the source. These HDBaseT 2.0 & 1.4 products are the newest technology that supports HDMI 2.0, 1.4, 2D & 3D at >300 feet using only one CAT6 cable. By reducing the Ethernet cabling requirements from two to one, it allows you to easily tap into existing in-wall CAT6 wiring.
HDBaseT Video
delivers full HD / 3D and 2K / 4K uncompressed video to a network of devices or to a single device (point-to-point ). Since the video is passed through the HDMI chipset, HDBaseT supports all key HDMI 1.4 and HDMI 2.0 features including EPG, CEC, EDID, and HDCP. HDBaseT is the only standard for delivering UltraHD 4K video up to 100m long.
HDBaseT audio
passes through directly from the HDMI chipset and supports all standard formats including Dolby Digital, DTS, Dolby TrueHD and DTS HD-Master Audio.
These HDBaseT Products Feature:
Uncompressed video: The picture quality at 300 feet is the same as using a 3 foot HDMI cable.
No more cable clutter: Fewer cables and less mess with its single cable connection
Distance is no longer a concern: Runs over a 100m/328ft Cat5e/6 cable and support for multi-hops (8 x 100m), HDBaseT provides point to point connectivity and full multimedia distribution with higher reliability, longer distance and lower cost
Quality cable supports HD, 2D and 3D: HDBaseT utilizes a quality cable proven for transferring HD and new 3D formats
Power over cable: Some of our HDBaseT products sends 100W of power simultaneously eliminating the need for a power outlet to be installed near the display
Support for quality controls: HDBaseT supports various controls while ensuring reliability and low latency
Low cost installations: Requires only one low cost LAN cable with standard RJ-45 connectors already installed in many homes
These HDBaseT products can support full 3D with resolutions up to 4Kx2K (4 times the 1080p), audio, IR remote and Ethernet sent over the same CAT6 cable. Many also feature 3DTV, deep color, lip sync and audio delay w/both the IR back-channel and RS-232 connection can be used to control the display from the remote location. We at HDTV Supply love HDBaseT products as we never get returns nor tech support calls so place your HDBaseT order today.
Why not buy one of our HDBaseT products today?
Government
This product may be eligible to be purchased through the United States Governments SEWP program, similar to their GSA program.
The NASA SEWP (Solutions for Enterprise-Wide Procurement) provides the latest in Information and Communications Technology (ICT) and Audio-Visual (AV) products and services for all Federal Agencies and their approved contractors.
If you are a government agency and want to see whether HDTV Supply has this product in the SEWP database go to our
our SEWP Contract Holder RedHawk IT Solutions, LLC
to allow you to maybe order this product from the United States Governments SEWP program. It is very easy to place your order, go to the link above and enter HDTV Supply and there you will see a list of part numbers of what we currently have. If you do not see it than give us a call at 833-WOLFPACK (833-965-3722) and we may be able to enter it.
Our SEWP Contract Holder RedHawk IT Solutions partner has the following credentials:
DUNS: 801957023
TIN: 260452583
CAGE: 4TBM6
Their SEWP Federal Contracts are:
SEWP Contract Number: NNG15SD38B
Group: Group B_SDVOSB
NAICS: 541519
and
SEWP Contract Number: NNG15SD88B
Group: Group C
NAICS: 541519
The SEWP Program Office manages a suite of government-wide IT products and services contracts that enable NASA and all Federal Agencies to achieve their missions and strategic initiatives by providing streamlined access to critical technologies and solutions. The Program provides best value for the Federal Government and American taxpayer through innovative procurement processes, premier customer service and outreach, acquisition insight, and partnership with Government entities and Industry.
For a complete listing of HDTV Supply products from us, or our other vendors, call 833-WOLFPACK (833-965-3722).