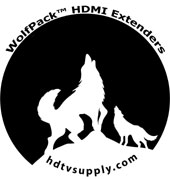 HDTV Supplys WolfPack UHD
HDMI HDBaseT Extender
over Single CAT5e/6 employs HDBaseT technology to route high-resolution HDMI signals with uncompressed HD 1080p and multi-channel audio over single CAT5e/6 cable from the source up to 220 feet to your HD display and 4K at 30 Hz to 120 feet.
The WolfPack HDMI HDBaseT Extender is designed to convert an HDMI signal to a standard HDBaseT signal which can then be transmitted by LAN cable and also supports Transfer Bidirectional Infrared control signal together with the HDMI signal so you can control the Source at the Sink side which can be 220 feet away. It also you can control the Sink in the Source side. The RS232 ports can use it for controlling a projector or TV from the source end. Premium TVs and Projectors have a 2-way serial control port for the remote control. A system like Control4, Savant, Crestron can use our RS232 as the control instead of an IR or IP Network control.
NOTE:
HDTV Supplys implementation of the HDBaseT technology and this HDBaseT Extender adds virtually zero latency to the signal, less than 7 microseconds over 220 feet of CATx cable. At 100 feet you are talking about 3 microseconds. This means for example, in a church or auditorium, the speakers lips are in synch with the image on all the TVs and projectors.
WolfPack HDMI HDBaseT Extender over Single CAT5e/6 Features:
Transmission distance reaches up to 220 feet at a video format of 1080p & 4K at 30 Hz up to 120 feet
Incorporates HDBaseT Technology
Support resolution up to Ultra HD 4Kx2K
POC (Receiver powered by Transmitter)
Support 3D
HDCP 2.2/1.4 compliant
CEC pass through
Support wide-band Bi-directional IR (38KHZ to 56KHZ)
IR extension from transmitter to receiver or from receiver to transmitter
Phoenix RS232 Port for firmware update or RS232 control signal transmission
POC (Power Over Cable) function is supported
Use single UTP LAN cable (CAT-5E/6) to substitute HDMI cable to achieve long distance transmission.
UTP termination follows the standard of TIA/EIA-568-B.
Transfer Bidirectional Infrared control signal together with the HDMI signal.
Transfers an RS232 control signal together with the HDMI signal.
Supports HDMI resolution up to 4K x 2K
Supports an uncompressed HDMI signal
Supports uncompressed audio such as LPCM
Supports uncompressed audio such as DTS Digital and Dolby Digital
Supports 3D pass through
With Built-in IR extender function
Cat5e/6/7 cable follows the standard of IEEE-568B
Extend HDMI/ DVI signals over single CAT5e/6 cable
Supports resolutions from 1080p/60@48bit to 4Kx2K
Supports all 3D formats
Super high bandwidth up to 10.2 Gbps
HDCP compliant with EDID pass-through
External power supply (100V-240V AC, 50/60Hz)
For optimal video performance use our
WolfPack HDMI 2.0b and HDCP 2.2 cables
with this product.
POE Designed:
By utilizing POE technology both HDMI audio and video signals and power can be sent to a device via standard Cat5e/6/6a cabling. This means you do not need to install a power outlet at the device location and you can use readily available, relatively low cost Ethernet cabling with this this HDMI HDBaseT Extender.
It provisions full 3D (all formats) and resolutions up to UHD 4Kx2K (4 times the 1080p) with multi-channel audio, bi-directional IR and RS-232 extension. Fully compliant with HDCP, EDID and CEC controls. The HDMI HDBaseT Extender can be easily deployed with any third-party control system using the RS-232 control ports. With the built-in IR blaster, simply point the IR remote(s) at the display to control the Hi-Def. sources as if they were located in the same room as the display or vice versa. The HDMI HDBaseT Extender is designed for versatility and swift installation and is guaranteed to work with any HDMI source and display. Ideal for use with home-theater, digital signage, hospitality and medical imaging applications.
Why not buy this WolfPack HDMI HDBaseT Extender today?