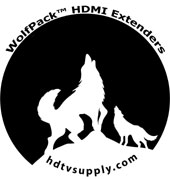 HDTV Supplys WolfPack 4K
HDBaseT Extender
sends HD high-resolution HDMI signals from the source up to 330 feet (100m) to your HD display. The HDBaseT Extender provides full 3D (all formats) & resolutions up to 4Kx2K (4 times the 1080p) with multi-channel audio, IR & RS-232 extension over a single low cost CAT5e/6 cable.
Fully compliant with HDCP, EDID and CEC controls. The HDBaseT Extender can be easily controlled with RS-232 control ports. The HDBaseT Extender extends Ethernet to connected TVs for online access and provides IR back channel to control A/V sources using the same CAT5e cable extension. With the built-in bi-directional IR blaster, simply point the IR remote(s) at the display to control the Hi-Def. sources as if they were located in the same room as the display or turn the TV off at the HDMI receiver.
NOTE:
HDTV Supplys implementation of the HDBaseT technology and this HDBaseT Extender adds virtually zero latency to the signal, less than 7 microseconds over 220 feet of CATx cable. At 100 feet you are talking about 3 microseconds. This means for example, in a church or auditorium, the speakers lips are in synch with the image on all the TVs and projectors.
HDBaseT Extender Features:
Send 4K at 30 Hz compliant to ~200 feet on a single CAT5e/6 cable with bi-directional IR
Send 1080p HDMI signals up to ~330 feet on a single CAT5e/6 cable with bi-directional IR
HDMI 1.4 Compliant
HDCP compliant
Zero transmission delay at 4K or below
Infrared signal Input/Output, embedded over extension
Integrated Ethernet port for LAN/ network device
Supports resolutions from 1080p/60@48bit to 4Kx2K
Auto-adjus™ent for buffering, equalization and amplification
Supports data rates up to 10.2 Gbps
Enables 3D pass-through
Supports CEC pass-through
HDCP and EDID compliant
Audio support: Dolby TrueHD & DTS Master Audio, 7.1 compliant
Uncompressed audio support such as LPCM
RS-232 control perfect for third-party control systems
Front panel-LEDs for link activity and HDCP authentication
External power supplys included
For optimal video performance use our
WolfPack HDMI 2.0b and HDCP 2.2 cables
with this product.
HDBaseT Supports Full HD Uncompressed Video:
HDBaseT delivers uncompressed HD video to a network of devices or as a point-to-point connection. Uncompressed content supports all video sources, including legacy products, accurately renders gaming graphics and features such as Electronic program guides, and does not degrade video quality or add latency. HDBaseT supports TV and PC video formats including standard, enhanced, high-definition and 3D video.
RS232:
For RS232 control signal transmission, just connect two RS232 cables to both RS232 ports of HDMI over a single CAT5/6 Cable Extender Set, they work just like an RS232 extension cable.
Our WolfPack HDMI extender has a locking power supply for 24/7 application where you must be up all the time and can′t go down due to the AC adapter cables falling out.
Why not buy this HDBaseT Extender today?