Features
SB-5580 - 8x2 Composite/SV/Audio Matrix Sw+ IR+RS 232NOTE:
This product has been discontinued. See the above SIMILAR Tab for equivalent products or, if not there, call us at 800-841-9238 right now to discuss your needs.
SB-5580 is a high speed 300MHz Video Bandwidth Matrix routing switcher. SB-5580 is one of the most innovative S-Video(Y/C)/ Composite Video/Stereo Audio switching products on the market Today. The SB-5580 support the Ear mount and SB-5580MRM for Rack mount type. It has 8 individual inputs with 2 individual outputs. Because it is a matrix router, any input may be routed to any output; or the same input may be routed to all outputs or any combination. It completely eliminates the need to constantly move around audio and video input and output cables. The SB-5580 matrix switcher is ideally suited for High Definition Television applications. Control is provided via Front pushbuttons with LED readout or IR remote controller. A RS 232 interface is provided for interfacing with third party control. A Windows-basedcontrol software package is included to provide complete control of the SB-5580 from a PC.
SB-5580 - 8x2 Composite/SV/Audio Matrix Sw+ IR+RS 232 Features:
Support 8 inputs to 2 outputs Matrix Switcher
Group input / output included

1. S-Video(Y/C)
2. Composite Video
3. Audio : Stereo Audio (AR/AL)

Support RS 232 interface control driver for 95/98/2000/xp
Infrared : IR remote control
Video Bandwidth : 300MHz
Refresh : for HDTV 408p, 576p, 720p, 1080i60, 1080p60
Scan rates accepted : 50Hz or 60Hz
Enclosure type : Support 19 inch Ear/Rack mountable
Support Lower power consumed full load under 500mA
RS 232 protocol list with manual attached
SB-5580 - 8x2 Composite/SV/Audio Matrix Sw+ IR+RS 232 Specifications:
Type of switcher 8 inputs To 2 outputs Matrix Switcher
Outputs swings <25mV
Video Bandwidth 300MHz,
Slew Rate 750 V/aS
Settling Time 9 ns to 0.5%
Gain flatness 0.1 dB to 65MHz, RL=150n 1. 0.02% differential gain error; Rl=1 K 2. 0.03% differential phase error; Rl=1 K
Low distortion -80 dB total harmonic @1 Mhz; Rl=100
Audio Frequency Respond 20Hz-20KHz, 0.05db.
Terminals in / out S-Video (Y/C): Mini-din 4 pin female socket 1. Composite Video : BNC connector 2. Stereo Audio: RCA ( Color Red/White)
Low power 5.3 mA / Amplifier
Dimensions (W.D.H.) 17.32" (W)x 7.80" (D)x 1.73" (H)
Power Voltage Input DC 12V @500mA, ~3A accepted
Why not buy this SB-5580 - 8x2 Composite/SV/Audio Matrix Sw+ IR+RS 232 today?
Warranty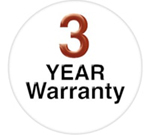 HDTV Supply
includes a 3 Year Limited Warranty on all Shinybow products. The warranty states that (a) its products (the will perform substantially in accordance with the accompanying written materials for a period of 3 years from the date of receipt and (b) that the Product will be free from defects in materials & workmanship under normal use & service for a period of 3 years. In order to get a warranty replacement for a defective item, HDTV Supplys and Shinybows Support Team will verify the product is eligible for warranty. An RMA number will then be issued. Shipped replacements will be in like new conditions, tested and all components included.
HDTV Supply
also sells a 5 Year warranty for all Shinybow products. Please go to
5 Year Extended Warranty
or see the above Options to purchase it.
Government
This product may be eligible to be purchased through the United States Governments SEWP program, similar to their GSA program.
The NASA SEWP (Solutions for Enterprise-Wide Procurement) provides the latest in Information and Communications Technology (ICT) and Audio-Visual (AV) products and services for all Federal Agencies and their approved contractors.
If you are a government agency and want to see whether HDTV Supply has this product in the SEWP database go to our
our SEWP Contract Holder RedHawk IT Solutions, LLC
to allow you to maybe order this product from the United States Governments SEWP program. It is very easy to place your order, go to the link above and enter HDTV Supply and there you will see a list of part numbers of what we currently have. If you do not see it than give us a call at 833-WOLFPACK (833-965-3722) and we may be able to enter it.
Our SEWP Contract Holder RedHawk IT Solutions partner has the following credentials:
DUNS: 801957023
TIN: 260452583
CAGE: 4TBM6
Their SEWP Federal Contracts are:
SEWP Contract Number: NNG15SD38B
Group: Group B_SDVOSB
NAICS: 541519
and
SEWP Contract Number: NNG15SD88B
Group: Group C
NAICS: 541519
The SEWP Program Office manages a suite of government-wide IT products and services contracts that enable NASA and all Federal Agencies to achieve their missions and strategic initiatives by providing streamlined access to critical technologies and solutions. The Program provides best value for the Federal Government and American taxpayer through innovative procurement processes, premier customer service and outreach, acquisition insight, and partnership with Government entities and Industry.
For a complete listing of HDTV Supply products from us, or our other vendors, call 833-WOLFPACK (833-965-3722).