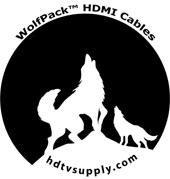 HDTV Supplys High Speed 24 gauge
Redmere HDMI cables
with HDMI 2.0b and HDCP 2.2 compliancy connects 4K Ultra HD source devices to 4K UHD displays and projectors. The CL2 rated WolfPack Redmere HDMI Cable is designed using the worlds best Spectra7 HT8181 Redmere Chipset. This chipset only needs 5V at 5mA from the sources HDMI port and we have tested it with 32 of them on our 32x32 4K HDMI Matrix switch with excellent results.
NOTE:
All Redmere HDMI Cables are not made the same and the smaller the diameter (or gauge) of the 19-internal wires an HDMI cable has the more resistance, in ohms, that cable has that can impact the picture quality, especially a 4K at 60 Hz, 18GBPS signal. HDTV Supply manufactures this WolfPack Redmere HDMI Cables using large 24 gauge (AWG) wires assuring you better video and audio vs smaller diameter 28, 30 and 32 gauge HDMI cables. Always buy a 24 AWG (Gauge) HDMI cable if you want the best picture now and in the future.
With HDTV Supply using the HT8181 module, you can now enjoy your favorite premium content on your large screen HDTV. By embedding Spectra7s patented high-speed active signal processing silicon technology in the WolfPack Redmere cable, the HT8181 allows an HDMI cable to be up to 5 times thinner and longer than current HDMI cables. At lengths up to 66 feet, the HT8181 module enables maximum flexibility in positioning flat panel displays away from source equipment, and slim connectors that allow for easy cable routing.
HDMI cable with RedMere Equalizer Features:
RedMere Technology
Supports 3D
Supports 4K x 2K and 1080p
Includes Ethernet support
Gold plated connectors for increased connectivity
Active cable
24 AWG wires
Extension chipset built into receiver
99.99% purity OFC
85% copper shielding
In-wall rated
Ethernet and 3D Capability
Black
Male to Male
NOTE: These Redmere HDMI cables have a chip in them that must go at at the widescreen end. That end is the larger connector end. See the above picture
Spectra7s patented high-speed, active signal processing enables super-thin, ultra-long cables and compact connectors capable of delivering up to 18Gbps, 2160p video resolutions, key performance attributes of HDMI 2.0a. The HT8181 utilizes patented power delivery technology for increased power regulation efficiency no additional power cable required. The HT8181 module achieves up to 4K 60p, 4:4:4 resolutions (600MHz pixel clock rate) required by the latest Ultra-HD 4K Displays.
Why not buy one of these RedMere HDMI cables today?