Features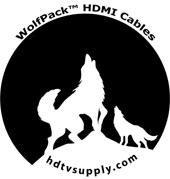 HDTV Supplys High Speed 24 gauge
Redmere HDMI cables
with HDMI 2.0b and HDCP 2.2 compliancy connects 4K Ultra HD source devices to 4K UHD displays and projectors. The CL2 rated WolfPack Redmere HDMI Cable is designed using the worlds best Spectra7 HT8181 Redmere Chipset. This chipset only needs 5V at 5mA from the sources HDMI port and we have tested it with 32 of them on our 32x32 4K HDMI Matrix switch with excellent results.
NOTE:
All Redmere HDMI Cables are not made the same and the smaller the diameter (or gauge) of the 19-internal wires an HDMI cable has the more resistance, in ohms, that cable has that can impact the picture quality, especially a 4K at 60 Hz, 18GBPS signal. HDTV Supply manufactures this WolfPack Redmere HDMI Cables using large 24 gauge (AWG) wires assuring you better video and audio vs smaller diameter 28, 30 and 32 gauge HDMI cables. Always buy a 24 AWG (Gauge) HDMI cable if you want the best picture now and in the future.
With HDTV Supply using the HT8181 module, you can now enjoy your favorite premium content on your large screen HDTV. By embedding Spectra7s patented high-speed active signal processing silicon technology in the WolfPack Redmere cable, the HT8181 allows an HDMI cable to be up to 5 times thinner and longer than current HDMI cables. At lengths up to 66 feet, the HT8181 module enables maximum flexibility in positioning flat panel displays away from source equipment, and slim connectors that allow for easy cable routing.
HDMI cable with RedMere Equalizer Features:
RedMere Technology
Supports 3D
Supports 4K x 2K and 1080p
Includes Ethernet support
Gold plated connectors for increased connectivity
Active cable
24 AWG wires
Extension chipset built into receiver
99.99% purity OFC
85% copper shielding
In-wall rated
Ethernet and 3D Capability
Black
Male to Male
NOTE: These Redmere HDMI cables have a chip in them that must go at at the widescreen end. That end is the larger connector end. See the above picture
Spectra7s patented high-speed, active signal processing enables super-thin, ultra-long cables and compact connectors capable of delivering up to 18Gbps, 2160p video resolutions, key performance attributes of HDMI 2.0a. The HT8181 utilizes patented power delivery technology for increased power regulation efficiency no additional power cable required. The HT8181 module achieves up to 4K 60p, 4:4:4 resolutions (600MHz pixel clock rate) required by the latest Ultra-HD 4K Displays.
Why not buy one of these RedMere HDMI cables today?
Specs
HDMI cable with RedMere Equalizer Specs:
Optimized for super-thin, extra-long cable designs capable of recovering losses up to 30dB when used with an HDMI 2.0 compliant receiver Linear output drivers ensure superior audio and video performance
Enhanced, patented power harvesting technology. No external power required.
Supports data rates up to 18Gbps (6Gbps per ™DS Channel) for 4k 60fps 4:4:4 performance
Integrated equalizers, linear output drivers, voltage regulators, control, and input terminations
Sophisticated RT8000 production test system ensures 18Gbps performance and HDMI 2.0 interoperability
Compact module design
More Redmere HDMI cable with Specs:
Contains CLX1601 for HDMI active cable Retiming Buffer
Separate data equalization performed for each channel for up to 6GBps
Wide Frequency Range:25MHz-600MHz
Supports 12-bit Deep Full HD,Full 3D and 4K2K 60Hz video
Module PCB size 16 mm x 14 mm
Compatible with standard A type connector
Support AC-coupling at ™DS inputs for level shifting
HBM ESD protection up to 6KV
Supports 3D;
Supports 4K x 2K and 1080p;
Compatibility
The HT8181 module specs are 5V and the current is 5mA. The 10m HDMI cable is 28AWG cable and OD is 7.3mm, the 15m and 20m HDMI cable is 24AWG cable and the OD is 9.0mm.
HDMI 2.0 out to the full 18 Gbps, but Flickinger says the product has "some interesting new technologies to make even the 10-meter cables transparent to an HDMI 2.0 signal."
For starters, the cables feature the newer HDMI 2.0 Spectra7 (RedMere) HT8181 chipset with custom-programmed EQ curves for the specific cable types and lengths.
In addition, they include a symmetrical rise time accelerator for both the HDCP and EDID data and clock lines on the I2C bus (display data channel), a custom clock amplifier, and intra-pair skew correction circuit.
"This eliminates EDID errors and, because this repair is bi-directional, ensures that the HDCP handshaking occurs reliably," according to Metra.
Clock amplification and intra-pair skew correction guarantees signal integrity and synchronization, the company claims. In addition, a 100-millisecond delay on the Hot Plug Detect signal assures the HDMI source device receives the EDID information correctly from the sink.
Warranty

HDTV Supply
includes a 1 Year Limited U.S. Warranty on this product. The U.S. warranty states that (a) its products will perform substantially in accordance with the accompanying written materials for a period of 1 year from the date of receipt & (b) that the Product will be free from defects in materials & workmanship under normal use & service for a period of 1 year. In order to get a warranty replacement for a defective item, HDTV Supplys Support Team will verify the product is eligible for warranty. An RMA number will then be issued. Shipped replacements will be in like new conditions, tested & all components included. A 30-day RETURN also comes with this warranty as well as Free Lifetime Tech Support.
HDTV Supply
also sells a 3 and 5 Year Extended U.S. Warranty for this product. Please go to
Extended Warranties
or see the above Options to purchase it.
Ask a Question
Questions & Answers

Ask a question about the 4K Redmere HDMI Cables w/HUGE 24 Gauge, HDR, HDMI 2.0b & HDCP 2.2 to 66' or Call 833-WOLFPACK (833-965-3722)


FAQ
Uses the HT8181 HDMI 2.0 In-Cable Equalizer:
The latest generation of Spectra7′s HDMI in-cable equalization technology, with advanced signal processing allows it to support wide band data across very thin and long cables while maintaining compatibility with the next generation of HDMI 2.0 devices. Spectra7′s power-harvesting technology allows these advances to be supported without external power supplies. CSP packaging provides a compact PC-board footprint, allowing use in the smallest connectors.
HDMI cable with RedMere Equalizer FAQ:
Equalizes the channel response out to 4.1GHz
Enables cables to pass HDMI Category 2 loss mask
Preserves muted signal states and lower power states in HDMI receiver
Supports data rates up to 6Gbps per channel
Equalizes all four TMDS channels
Linear equalization fully allows sink-EQ to adapt and further equalize the signal
Optimized EQ and configuration settings burned during cable production with RT-Tester
Compact 3.2mm x 1.6mm 32 ball CSP for smallest silicon footprint
No external power needed
Only draws 5mA off the HDMI 5V line
Government
This product may be eligible to be purchased through the United States Governments SEWP program, similar to their GSA program.
The NASA SEWP (Solutions for Enterprise-Wide Procurement) provides the latest in Information and Communications Technology (ICT) and Audio-Visual (AV) products and services for all Federal Agencies and their approved contractors.
If you are a government agency and want to see whether HDTV Supply has this product in the SEWP database go to our
our SEWP Contract Holder RedHawk IT Solutions, LLC
to allow you to maybe order this product from the United States Governments SEWP program. It is very easy to place your order, go to the link above and enter HDTV Supply and there you will see a list of part numbers of what we currently have. If you do not see it than give us a call at 833-WOLFPACK (833-965-3722) and we may be able to enter it.
Our SEWP Contract Holder RedHawk IT Solutions partner has the following credentials:
DUNS: 801957023
TIN: 260452583
CAGE: 4TBM6
Their SEWP Federal Contracts are:
SEWP Contract Number: NNG15SD38B
Group: Group B_SDVOSB
NAICS: 541519
and
SEWP Contract Number: NNG15SD88B
Group: Group C
NAICS: 541519
The SEWP Program Office manages a suite of government-wide IT products and services contracts that enable NASA and all Federal Agencies to achieve their missions and strategic initiatives by providing streamlined access to critical technologies and solutions. The Program provides best value for the Federal Government and American taxpayer through innovative procurement processes, premier customer service and outreach, acquisition insight, and partnership with Government entities and Industry.
For a complete listing of HDTV Supply products from us, or our other vendors, call 833-WOLFPACK (833-965-3722).
Catalog
HDTV Supply WolfPack Product Catalog (2020)