4K HDMI 18GBPS HD Audio Extractor w/HDMI 2.0b, HDCP 2.2 & HDR






4K HDMI 18GBPS HD Audio Extractor w/HDMI 2.0b, & HDCP 2.2

1x2 HDMI Splitter with UHD, HDR and 4K 4:4:4 Resolutions

Both Optical and R/L stereo outputs

5 Year Warranty & Free Lifetime U.S. Telephone Tech Support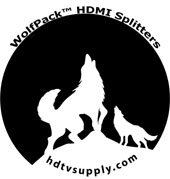 HDTV Supplys WolfPack
HDMI 18GBPS HD audio extractor
is the industry′s first product supports a dedicated HDMI output port for audio only plus optical, L/R audio out and and HDMI loop out.
The WolfPack HDMI 18GBPS HD audio extractor supports HDMI 2.0b HDR Technology which increases the bandwidth from 10.2 Gbps to 18 Gbps. It also increases audio from 8 Audio Channels to 32 Audio Channels for expanded audio and includes Dynamic synchronization of both the video and audio data stream.
It can allow user still uses existing AV Receiver to receive 4K@HDCP 2.2 content audio and it also supports 10bits HDR (High Dynamic Range) pass through and ARC as well as HDCP 2.2 and CEC are supported.
4K HDMI 18GBPS HD Audio Extractor w/HDCP 2.2 Features:
HDMI 2.0b (18Gbps), HDCP 2.2 and DVI compliant
Video resolutions up to 4K2K@50/60Hz (YUV444)
Dedicated HDMI out port for audio only with 720p60 black screen
Multi-channel optical (SPDIF) and L/R analog audio output
Optical audio supports LPCM 2CH, Dobly Digital 2/5.1CH, DTS 2/5.1CH
Audio sample rates up to 192kHz
10bits HDR (High Dynamic Range) pass through
Smart EDID management (2CH/5.1CH/7.1CH/OUT1/OUT2)
Supports ARC and CEC
Why not buy this 4K HDMI 18Gbps HD Audio Extractor w/HDCP 2.2 today?
4K HDMI 18Gbps HD Audio Extractor w/HDCP 2.2 Specs:
HDMI Compliance HDMI 2.0b
HDCP Compliance HDCP 2.2 and HDCP 1.4
Video Bandwidth 18 Gbps
Video Resolutions up to 4K2K@50/60Hz(YUV4:4:4),4K2K@30Hz,1080P@120Hz, and 1080P 3D@60Hz
Color Space RGB, YCbCr 4:4:4, YCbCr 4:2:2
Color Depth 10-bit, 12-bit
HDMI Audio Formats (Pass-through) LPCM 2/5.1/7.1CH, Dolby Digital, DTS 5.1, Dolby Digital+, Dolby TrueHD, DTS-HD Master Audio, Dolby A™os, DTS:X
Optical Audio Formats LPCM 2CH, LPCM 5.1, Dolby Digital 2/5.1CH, DTS 2/5.1CH
L/R Audio Formats Analog Stereo 2CH
ESD Protection Human body model 8kV (air-gap discharge) & 4kV (contact discharge)
Inputs 1x HDMI Type A [19-pin female]
Outputs 2x HDMI Type A [19-pin female] 1x L/R Audio Out [3.5mm Stereo Mini-jack] 1x Optical Out [S/PDIF]
Housing Metal Enclosure
Color Black
Dimensions 130mm [W] x 74.8mm [D] x 19mm [H] Weight 200g
Power Supply Input: AC100 - 240V 50/60Hz
Output: DC 5V/1A (US/EU standards, CE/FCC/UL certified)
Power Consumption 2W (Max)
Operation Temperature 32 - 104蚌 / 0 - 40蚓
Storage temperature -4 - 140蚌 / -20 - 60蚓
Relative Humidity 20 - 90% RH (no condensation)
WOLFPACK 4K HDMI CABLES



4K WolfPack HDMI HDBaseT Extender to 220′ - HDMI 2.0, HDCP 2.2, IR and POE

Price: $399.95

Today's price:

$224.95

(You Save: 44%)
WolfPack 1x2 HDMI Splitter w/Fast 18 GBPS Bandwidth, HDR & HDCP 2.2

Price: $299.95

Today's price:

$99.95

(You Save: 67%)

WolfPack 4K 1x2 HDMI 2.0 Splitter

Price: $249.95

Today's price:

$74.95

(You Save: 70%)

WolfPack 1x2 HDMI Splitter with HDCP 2.2

Price: $299.95

Today's price:

$99.95

(You Save: 67%)

WolfPack 4K 1x2 HDMI 2.0 Splitter with 8-Mode EDID Management

Price: $249.95

Today's price:

$124.95

(You Save: 50%)

Q: This product has CEC, what is CEC?
A: This product features CEC (Consumer Electronics Control) allowing your HDTV's remote to manage up to ten devices that are connected via HDMI (such as Blu-ray Disc players or home theater receivers) with no special programming needed. For example, you can use your remote to turn on your TV, your player, and your receiver at the same time, and adjust the system volume with one button. All devices must support CEC, though.

Most major TV manufacturers now support CEC, and an HDTV with HDMI 1.3 will likely have the technology. Manufacturers call it by different names; LG Electronics, for instance, calls its implementation SimpleLink, whereas Toshiba calls its version CE-Link. Interoperability isn't mandatory, so some manufacturers limit control to their own products; Sony, for one, allows only Sony-to-Sony communication.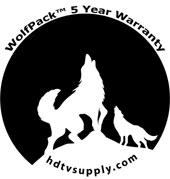 HDTV Supply
includes a 5 Year U.S. Limited Extended Warranty on this product. There are two bundled parts to this 5 year warranty. The 5 year warranty is only for the main device you purchased and does not include any product options or additional products you purchased at the same time.
FIRST YEAR:
The first year is direct with with HDTV Supply at 800-841-9238. The warranty states that the Product will perform substantially in accordance with the supplied written materials and Product information located on this Product web site page for a period of 1 year from the date of shipment of the Product and that the Product will be free from defects in materials & workmanship under normal use & service for a period of 1 year from date of shipment.
In order to get a warranty replacement for a defective item within the first year call HDTV Supplys Tech Support Team with your order number at 800-841-9238 and they will verify the product is eligible for a warranty repair. An RMA number will then be issued via email. Shipped replacements will be in like new condition, tested and all components included. Please read
HDTV Supplys Warranty Terms and Conditions
for more.
2ND THROUGH 5TH YEAR:
The 2nd through 5th year are direct with
Consumer Priority Extended Warranty Service (CPS)
as they are HDTV Supplys extended warranty provider. They are a large 3rd party repair company with facilities throughout the U.S. and offer our U.S. customers unparalleled product coverage and repairs. If after calling HDTV Supply, at 800-841-9238, we find we can't fix the issue over the phone, and you need a repair, you will henceforth deal directly with CPS for the repairs via their toll free phone number (800) 905-0443 Option 3 during the 2nd through 5th year.
You can also
email CPS
and
email HDTV Supply
as well as call us a 800-841-9238 if you have any questions with this 5 year bundled warranty.
Questions & Answers

Ask a question about the 4K HDMI 18GBPS HD Audio Extractor w/HDMI 2.0b, HDCP 2.2 & HDR or Call 800-841-9238


4K HDMI 18GBPS HD Audio Extractor w/HDMI 2.0b, HDCP 2.2 & HDR
Recently Viewed Items