Features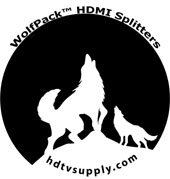 HDTV Supplys WolfPack
HDMI 18GBPS HD audio extractor
is the industry′s first product supports a dedicated HDMI output port for audio only plus optical, L/R audio out and and HDMI loop out.
The WolfPack HDMI 18GBPS HD audio extractor supports HDMI 2.0b HDR Technology which increases the bandwidth from 10.2 Gbps to 18 Gbps. It also increases audio from 8 Audio Channels to 32 Audio Channels for expanded audio and includes Dynamic synchronization of both the video and audio data stream.
It can allow user still uses existing AV Receiver to receive 4K@HDCP 2.2 content audio and it also supports 10bits HDR (High Dynamic Range) pass through and ARC as well as HDCP 2.2 and CEC are supported.
4K HDMI 18GBPS HD Audio Extractor w/HDCP 2.2 Features:
HDMI 2.0b (18Gbps), HDCP 2.2 and DVI compliant
Video resolutions up to 4K2K@50/60Hz (YUV444)
Dedicated HDMI out port for audio only with 720p60 black screen
Multi-channel optical (SPDIF) and L/R analog audio output
Optical audio supports LPCM 2CH, Dobly Digital 2/5.1CH, DTS 2/5.1CH
Audio sample rates up to 192kHz
10bits HDR (High Dynamic Range) pass through
Smart EDID management (2CH/5.1CH/7.1CH/OUT1/OUT2)
Supports ARC and CEC
Why not buy this 4K HDMI 18Gbps HD Audio Extractor w/HDCP 2.2 today?
Q/A
Q: This product has CEC, what is CEC?
A:
This product features CEC (Consumer Electronics Control) allowing your HDTV's remote to manage up to ten devices that are connected via HDMI (such as Blu-ray Disc players or home theater receivers) with no special programming needed. For example, you can use your remote to turn on your TV, your player, and your receiver at the same time, and adjust the system volume with one button. All devices must support CEC, though.
Most major TV manufacturers now support CEC, and an HDTV with HDMI 1.3 will likely have the technology. Manufacturers call it by different names; LG Electronics, for instance, calls its implementation SimpleLink, whereas Toshiba calls its version CE-Link. Interoperability isn't mandatory, so some manufacturers limit control to their own products; Sony, for one, allows only Sony-to-Sony communication.