WolfPack AnySync Wireless HDMI Converter
This HDTV Supply's WolfPack AnySync Wireless HDMI Converter implements real time mirroring from a multimedia device supporting HDMI or a PC, handhelds (tablet, PC, etc.) to a any display in the same room using WiFi. It can also be used as a laptop wireless connection to any of our WolfPack HDMI matrices or HDMI switchers.
WolfPack AnySync Wireless HDMI Converter Features:
A hardware device that wirelessly transmits the AV from various devices such as smart pads, PCs, and camcorders to any HDMI display
Real-time wireless transmission of high-definition video and sound without a wireless AP
Video quality without interruption and delay
Various device compatibility not limited to specific products, world's first N:1 connection support (N:1 type support)
Plug-n-Play: No need to install software or a server program or complicated setup
Devices easily switching just by ONE-CLICK of button on the TX.
Use in school classes, corporate meetings, presentations, and entertainment.
Actual mirroring technology showing all contents as it is Wide compatibility that is not limited on certain products
The Transmitter has screen transfer function and screen change function when the Transmit Button is pressed.
Maximum 254 Transmitters can be connected with 1 Receiver.
No installation of S/W, No complicated set-up
Without wireless AP, high quality video(Full HD) & sound transmission in real time
Optional ANYSYNC FHD Charging Cradle;
Stores 4 transmitters and accessories
Charging 4 transmitters simultaneously (time for charging: Approx. 2.5Hrs)
Available to store HDMI extension cable and converter
Why not buy this WolfPack AnySync Wireless HDMI Converter today?
WolfPack AnySync Wireless HDMI Converter Specification: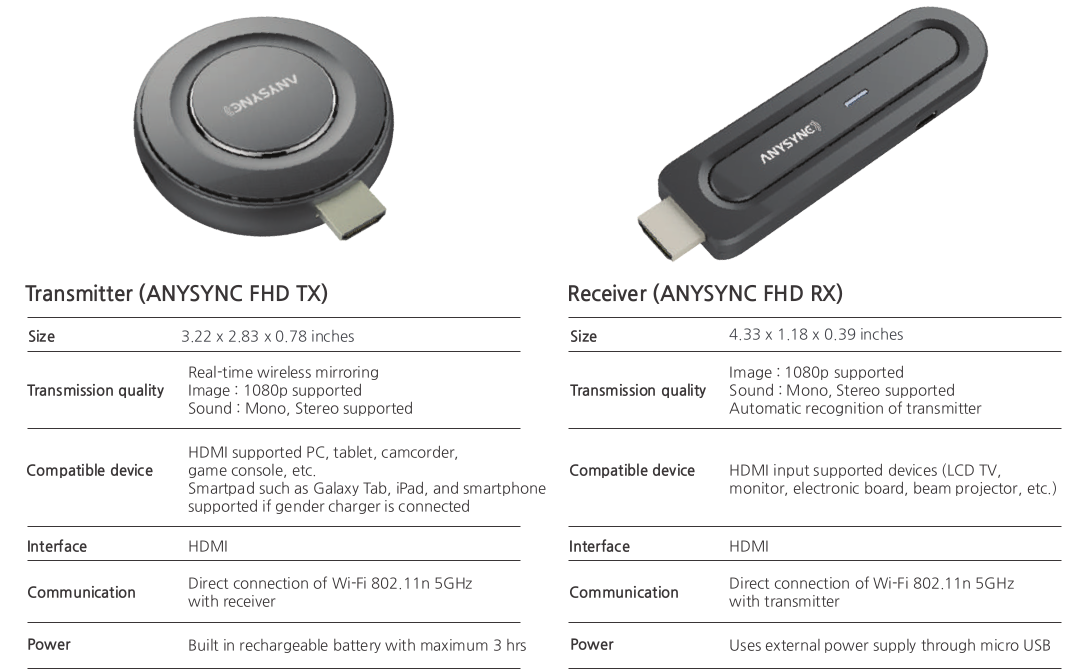 Why not buy this WolfPack AnySync Wireless HDMI Converter today?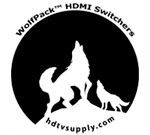 Reasons To Buy an HDTV Supply WolfPack Product
Why not buy this AnySync Wireless HDMI Converter today?
Q: What is wireless distance that always works in feet?
A:
33ft is the safe distance to claim. The max distance we tested was 50ft.
Q: Can they go through walls?
A: Yes, it can but some wall material can shorten the distance up to half the line of sight distance.
Q: Do USB power adapters come with the transmitters and receivers?
A: USB power adapters are optional items and we can supply them for $10. We did not include it as a standard accessory because most people already have USB power adapters for their cellphone.
Q: How does it operate with 10 transmitters?
A: A single receiver can be connected up to 254 transmitters and you can switch among transmitters by clicking the center button.