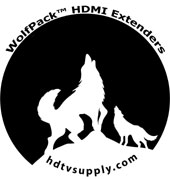 HDTV Supplys WolfPack
4K HDMI Down Converter
is designed to convert 4K resolutions to 1080p@24 for integration into any AV system. The ability to downscale 4K signals to 1080p is a crucial function when working with 4K sources in a complex AV system and distributing the HDMI sources to multiple displays which have varying resolution support.
Our 4K HDMI Down Converter is a universal 4Kx2K scaler supporting 4Kx2K and down converting it to 1080p. The scalers down conversion employs black/white level expansion, color transition improvement, dynamic range expansion, blue stretch, auto-detect and is auto-converting.
4K HDMI Down Converter Applications:
Display a 4K source on a 1080p TV.
Coupled with our above optional 4K WolfPack HDMI splitters with EDID send a 4K source to a 4K TV and a 1080p TV.
4K HDMI Down Converter Features:
No need to install drivers
Portable
Plug and Play.
Provides advanced signal processing with great precision, colors, resolutions, and details.
Supports a scaler up and a scaler down digital signal process.
Supports multi-HDMI input formats.
Supports HDMI 4Kx2K@60Hz, 4Kx2K@30Hz, 1080p@60Hz or 720p@60Hz output.
HDTV Supplys 4K HDMI Down Converter allows the user to select the highest commonly supported resolution between source and display ensuring maximum compatibility in any system.
Why not buy this 4K HDMI Down Converter today?

1x HDMI to HDMI 4Kx2K Scaler Converter 1x 5V1A DC Power Supply Adaptor(150cm) 1x Operation Manual(EN)
WOLFPACK 4K HDMI CABLES



WolfPack 4K 1x2 HDMI Splitter w/16-Adjustable EDID Modes

Price: $299.95

Today's price:

$99.95

(You Save: 67%)

4K WolfPack 1x4 HDMI Splitter w/16-EDID Modes For Problem Installs

Price: $199.95

Today's price:

$124.95

(You Save: 38%)

WolfPack 4K 1x8 HDMI Splitter w/16-Adjustable EDID Modes For Problem Installs

Price: $299.95

Today's price:

$174.95

(You Save: 42%)
Questions & Answers

Ask a question about the WolfPack 4K HDMI Up & Down Converter or Call 800-841-9238


WolfPack 4K HDMI Up & Down Converter
Recently Viewed Items