Features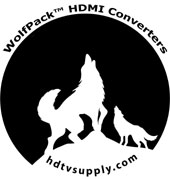 HDTV Supplys WolfPack
4K HDMI Up & Down Converter
is designed to up convert or down convert HDMI resolutions for integration into any AV system. The ability to downscale 4K signals to 1080p is a crucial function when working with 4K sources in a complex AV system and distributing the HDMI sources to multiple displays which have varying resolution support.
Our WolfPack 4K HDMI Up & Down Converter is a universal 4Kx2K scaler supporting input resolutions from 480i to 4k30Hz and outputs resolutions 4Kx2K@60Hz, 4Kx2K@30Hz, 1080P@60Hz, 720P@60Hz. This also supports DVI output resolutions of 1080P@60Hz & 720P@60Hz . The scalers down conversion employs black/white level expansion, color transition improvement, dynamic range expansion, blue stretch, auto-detect and is auto-converting. HDTV Supplys 4K HDMI Down Converter allows the user to select the highest commonly supported resolution between source and display ensuring maximum compatibility in any system.
4K HDMI Down Converter Applications:
Display a 4K source on a 1080p TV.
Display a 1080p source on a 4K TV.
Coupled with our above optional 4K WolfPack HDMI splitters with EDID send a 4K source to a 4K TV and a 1080p TV.
4K HDMI Down Converter Features:
No need to install drivers
Portable
Plug and Play.
Provides advanced signal processing with great precision, colors, resolutions, and details.
Supports a scaler up and a scaler down digital signal process.
Supports multi-HDMI input formats.
Supports HDMI 4Kx2K@60Hz, 4Kx2K@30Hz, 1080p@60Hz or 720p@60Hz output.
Why not buy this 4K HDMI Down Converter today?
Government
This product may be eligible to be purchased through the United States Governments SEWP program, similar to their GSA program.
The NASA SEWP (Solutions for Enterprise-Wide Procurement) provides the latest in Information and Communications Technology (ICT) and Audio-Visual (AV) products and services for all Federal Agencies and their approved contractors.
If you are a government agency and want to see whether HDTV Supply has this product in the SEWP database go to our
our SEWP Contract Holder RedHawk IT Solutions, LLC
to allow you to maybe order this product from the United States Governments SEWP program. It is very easy to place your order, go to the link above and enter HDTV Supply and there you will see a list of part numbers of what we currently have. If you do not see it than give us a call at 833-WOLFPACK (833-965-3722) and we may be able to enter it.
Our SEWP Contract Holder RedHawk IT Solutions partner has the following credentials:
DUNS: 801957023
TIN: 260452583
CAGE: 4TBM6
Their SEWP Federal Contracts are:
SEWP Contract Number: NNG15SD38B
Group: Group B_SDVOSB
NAICS: 541519
and
SEWP Contract Number: NNG15SD88B
Group: Group C
NAICS: 541519
The SEWP Program Office manages a suite of government-wide IT products and services contracts that enable NASA and all Federal Agencies to achieve their missions and strategic initiatives by providing streamlined access to critical technologies and solutions. The Program provides best value for the Federal Government and American taxpayer through innovative procurement processes, premier customer service and outreach, acquisition insight, and partnership with Government entities and Industry.
For a complete listing of HDTV Supply products from us, or our other vendors, call 833-WOLFPACK (833-965-3722).