Features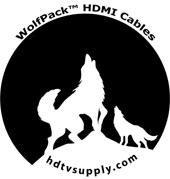 HDTV Supplys WolfPack 4K 66 Foot WolfPack
Active Optical Cable
is a high performance, low power consumption and low cost HDMI cable. The WolfPack Active Optical Cable uses optical fiber to replace some of the copper wire as a high-speed signal transmission medium. This WolfPack Active Optical Cable can perfectly transmit a 4k@60HZ UHD image up to 20-meters or 66-feet. Compared with the traditional HDMI copper wire cables, these WolfPack Active Optical Cables go further, are smaller, have a better signal quality together with flawless perfect EMI/EMC immunity. Compared with other HDMI optical fiber transmission solutions our WolfPack Active Optical Cable is easy to use, has perfect HDCP 2.2 compatibility and doesn′t need an external power supply.
This 66-foot WolfPack Active Optical Cable is a little different with most other fiber optic cables. First, it′s slightly bigger than the optic cable. Second, the bend radius is 20mm. Third, the permissible tensile force is 100N for long-term and 200N for short-term. The WolfPack 66-Foot Active Optical Cable is manufactured with both copper and fiber optic in the wire, so some call it hybrid fiber copper cable. We do this to keep the cost down and increase its performance. The Active Optical HDMI Cable draws a small amount of power from the HDMI source device so no external power source is required.
WolfPack 4K 66-Foot WolfPack Active Optical Cable Features:
Fiber transmission for high speed clock and data channel which makes the received signal 100% the same as the transmitter even after a long distance.
The copper wire transmission for for the DDC signal and other side-band signals which can achieves perfect compatibility with all HDMI devices.
Video Resolution: 4K@60Hz 4:2:0 UHD, 4K @30Hz 4:4:4 8Bit, full HD and 3D Deep Color across all lengths.
High Data Transfer Rates: Up to 14Gbps.
Embedded Audio: PCM 8−channel, Dolby Digital True HD, DTS−HD Master Audio.
HDCP Support: HDCP2.2 with CEC and EDID pass-through.
No External Power Needed: HDMI +5V, consumes only 0.25W from the source and sink device.
Highly resistant of EMI and RFI interference
Dynamic synchronization of video and audio streams
ARC compatible
The WolfPack 4K 66-Foot Active Optical Cable can support 4K60Hz UHD with a color space of 4:2:0 and a bandwidth of 10.2GBPS. This cable is HDMI 1.4 and supports HDCP 2.2, CEC and EDID.
Note that this does require a self-powered HDMI device on both ends. Both ends contain an optical transceiver that needs power. That said, even in power saving mode HDMI devices should power the Active Optical Cable. So you shouldn′t have issues with waking peripherals from sleep or similar.
Why not buy this 4K 66-Foot WolfPack Active Optical Cable today?
Specs
This 4K 66-Foot WolfPack Active Optical Cable was invented to replace copper technology in data centers and high performance computing applications as HDMI copper passive cables are heavy and bulky and in many long cable installations don′t display the video properly.
4K 66-Foot WolfPack Active Optical Cable Specs:
Interface: HDMI Type A on both ends
Cable diameter: 3.0*5.0mm
Bend Radius: 20mm.
Permissible tensile force: Long-term 100N/Short-term 200N
Allows the Compressed stress: Long-term 200N/mm/Short-term 500N/mm
Lengths available: from 10 to 100m (33 to 328ft).
Operating and Storage Temp:-40℃-70℃
Why not buy this Active Optical Cable today?
Compatibility
4K 66-Foot WolfPack Active Optical Cable Applications:
Home Theaters
Auditoriums
High definition Video Meeting Systems
Medical Video Systems
High definition Video Surveillance System & Security Systems
Digital Signage and TV Walls
Outdoor large screen display systems
Why not buy this Active Optical Cable today?
Videos
Why not buy this Active Optical Cable today?
Q/A
Q: If used with our 16x16 matrix how much current will be consumed by the matrix and will it cause a problem?
A:
This type of Active Optical Cable doesn't need much external power supply as it only consumes 0.25W with a voltage of +5V from HDMI the 2-HDMI devices so the current will be only 0.05A. Theoretically, it should be better than a normal HDMI cable.
Q: This product has CEC, what is CEC?
A:
This product features CEC (Consumer Electronics Control) allowing your HDTV's remote to manage up to ten devices that are connected via HDMI (such as Blu-ray Disc players or home theater receivers) with no special programming needed. For example, you can use your remote to turn on your TV, your player, and your receiver at the same time, and adjust the system volume with one button. All devices must support CEC, though.
Most major TV manufacturers now support CEC, and an HDTV with HDMI 1.3 will likely have the technology. Manufacturers call it by different names; LG Electronics, for instance, calls its implementation SimpleLink, whereas Toshiba calls its version CE-Link. Interoperability isn't mandatory, so some manufacturers limit control to their own products; Sony, for one, allows only Sony-to-Sony communication.
Warranty

HDTV Supply
includes a 1 Year Limited U.S. Warranty on this Active Optical Cable. The U.S. warranty states that (a) its Active Optical Cable will perform substantially in accordance with the accompanying written materials for a period of 1 year from the date of receipt and (b) that the Active Optical Cable will be free from defects in materials & workmanship under normal use & service for a period of 1 year. In order to get a warranty replacement for a defective Active Optical Cable, HDTV Supplys Support Team will verify the product is eligible for warranty. An RMA number will then be issued. Shipped replacements will be in like new conditions, tested and all components included. A 30-day RETURN also comes with this warranty as well as Free Lifetime Tech Support.
Why not buy this Active Optical Cable today?
Ask a Question
Questions & Answers

Ask a question about the 4K 66-Foot WolfPack Active Optical Cable - HDCP 2.2 or Call 833-WOLFPACK (833-965-3722)


Government
This product may be eligible to be purchased through the United States Governments SEWP program, similar to their GSA program.
The NASA SEWP (Solutions for Enterprise-Wide Procurement) provides the latest in Information and Communications Technology (ICT) and Audio-Visual (AV) products and services for all Federal Agencies and their approved contractors.
If you are a government agency and want to see whether HDTV Supply has this product in the SEWP database go to our
our SEWP Contract Holder RedHawk IT Solutions, LLC
to allow you to maybe order this product from the United States Governments SEWP program. It is very easy to place your order, go to the link above and enter HDTV Supply and there you will see a list of part numbers of what we currently have. If you do not see it than give us a call at 833-WOLFPACK (833-965-3722) and we may be able to enter it.
Our SEWP Contract Holder RedHawk IT Solutions partner has the following credentials:
DUNS: 801957023
TIN: 260452583
CAGE: 4TBM6
Their SEWP Federal Contracts are:
SEWP Contract Number: NNG15SD38B
Group: Group B_SDVOSB
NAICS: 541519
and
SEWP Contract Number: NNG15SD88B
Group: Group C
NAICS: 541519
The SEWP Program Office manages a suite of government-wide IT products and services contracts that enable NASA and all Federal Agencies to achieve their missions and strategic initiatives by providing streamlined access to critical technologies and solutions. The Program provides best value for the Federal Government and American taxpayer through innovative procurement processes, premier customer service and outreach, acquisition insight, and partnership with Government entities and Industry.
For a complete listing of HDTV Supply products from us, or our other vendors, call 833-WOLFPACK (833-965-3722).
Catalog
HDTV Supply WolfPack Product Catalog (2020)