3x3 Video Wall & 9X9 Seamless HDMI Matrix




3x3 Video Wall Controller

Also a 9X9 Seamless HDMI matrix switch

Control via panel buttons, Remote Control, RS232 Control and a LAN

9-Separate Digital Audio Outs

3x3 Multi-View on 9th Output

5 Year Warranty & Free Lifetime U.S. Telephone Tech Support
Features
HDTV Supplys
3x3 Video Wall & 9X9 Seamless HDMI matrix
is a high definition 9x9 HDMI matrix switcher with mixed inputs to support digital video signals and has 9-HDMI outputs with a seamless switching mode. This 3x3 Video Wall & 9X9 Seamless HDMI Matrix allows any of many types of inputs to be routed to any of 9-HDMI outputs; or the same input to be routed to all outputs, or any combination.
NOTE:
This product has been discontinued. See the above SIMILAR Tab for equivalent products or, if not there, call us at 800-841-9238 right now to discuss your needs.
SwiftSwitch SEAMLESS SWITCHING:
Our WolfPack™ 3x3 Video Wall & 9X9 Seamless HDMI Matrix provides instantaneous video switching which delivers full 1080p video powered by our WolfPack engine implemented at each output port. This high-performance engine processes HDMI signals by executing EDID hops and HDCP handshakes simultaneously at both the source input and the display outputs and scaling inputs for the best output resolution while setting the output clock timing and using a frame buffer to retain the input signal information for the fastest output.
3x3 Video Wall & 9X9 Seamless HDMI Matrix Features:
Any one of the 9 sources to any one of the 9 displays
Seamless switching ensures no switching delay and pictures loss during transitions
Create a 3x3 multi-view on the 9th output port
Support high definition resolutions up to Full HD 1080p
With audio extraction for each output (optical audio output)
With Panel Button, Remote Control, RS232 Control, IP Control to select the source
Support Saving and Reading modes
1U rack design, easy installment
DC 12V 3A power supply
Unit size: L438xW220xH44mm
NOTE:
This 3x3 Video Wall & 9X9 Seamless HDMI Matrix does not support a full screen mode on 9-TVs or one video spread throughout 9-TVs, only 9-individual videos as the above picture shows.
Why not buy this 3x3 Video Wall & 9X9 Seamless HDMI Matrix today?
Specs
3x3 Video Wall & 9X9 Seamless HDMI Matrix Features:
HDMI Version HDMI1.3/DVI
HDCP Yes
Video Input Port 9xHDMI
Video Output Port 9xHDMI
Audio Output 9xAudio
Control Button, IR, RS232 or TCP/IP
Power Consumption (max.) 25 Watts
Housing Metal
Accessories
WOLFPACK 4K HDMI CABLES



4K WolfPack HDMI HDBaseT Extender to 220 Feet with IR & POC

Price: $299.95

Today's price:

$149.95

(You Save: 50%)
Similar
WolfPack Video Wall Processor That Can Create 27-Different Video Walls

Price: $1,999.95

Today's price:

$999.95

(You Save: 50%)

4K WolfPack 3x3 Video Wall - Field Upgradeable

Price: $2,999.95

Today's price:

$2,125.00

(You Save: 29%)

WolfPack 4x4 HDMI Matrix and 2x2 Video Wall

Price: $1,199.99

Today's price:

$599.95

(You Save: 50%)

PIP HDMI Switch

Price: $399.95

Today's price:

$274.95

(You Save: 31%)

A-Neuvideo ANI-QUAD-MINI HDMI QUAD Multi-Viewer w/ Seamless Switching with CATx Outputs

Price: $1,200.00

Today's price:

$592.65

(You Save: 51%)

4K WolfPack HDMI Over IP Matrix Switch and/or Video Wall - You Design It

$200.00
Warranty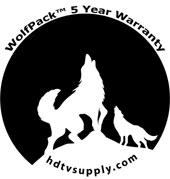 HDTV Supply
includes a 5 Year U.S. Limited Extended Warranty on this product. There are two bundled parts to this 5 year warranty. The 5 year warranty is only for the main device you purchased and does not include any product options or additional products you purchased at the same time.
FIRST YEAR:
The first year is direct with with HDTV Supply at 800-841-9238. The warranty states that the Product will perform substantially in accordance with the supplied written materials and Product information located on this Product web site page for a period of 1 year from the date of shipment of the Product and that the Product will be free from defects in materials & workmanship under normal use & service for a period of 1 year from date of shipment.
In order to get a warranty replacement for a defective item within the first year call HDTV Supplys Tech Support Team with your order number at 800-841-9238 and they will verify the product is eligible for a warranty repair. An RMA number will then be issued via email. Shipped replacements will be in like new condition, tested and all components included. Please read
HDTV Supplys Warranty Terms and Conditions
for more.
2ND THROUGH 5TH YEAR:
The 2nd through 5th year are direct with
Consumer Priority Extended Warranty Service (CPS)
as they are HDTV Supplys extended warranty provider. They are a large 3rd party repair company with facilities throughout the U.S. and offer our U.S. customers unparalleled product coverage and repairs. If after calling HDTV Supply, at 800-841-9238, we find we can't fix the issue over the phone, and you need a repair, you will henceforth deal directly with CPS for the repairs via their toll free phone number (800) 905-0443 Option 3 during the 2nd through 5th year.
You can also
email CPS
and
email HDTV Supply
as well as call us a 800-841-9238 if you have any questions with this 5 year bundled warranty.
Ask a Question
Questions & Answers

Ask a question about the 3x3 Video Wall & 9X9 Seamless HDMI Matrix or Call 800-841-9238


3x3 Video Wall & 9X9 Seamless HDMI Matrix
Recently Viewed Items