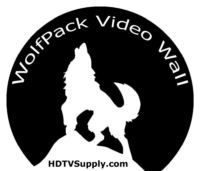 HDTV Supplys WolfPack
2x2 Video Wall and Seamless HDMI Matrix Switch
is a seamless 4x4 HDMI matrix switch that also functions as a 2x2 video wall also. The 2x2 Video Wall and Seamless HDMI Matrix Switch has fast and seamless HDMI switching and is almost instant switching with no picture loss during transitions.
The WolfPack 4x4 HDMI Matrix and 2x2 Video Wall can function as a 2x2 video wall controller so if you have 4-widescreens you can make up one giant video image.
You will need 4-matched TVs and wall mounts (not supplied).
SwiftSwitch SEAMLESS SWITCHING:
Our WolfPack 4x4 HDMI Matrix provides instantaneous video switching which delivers full 1080p video powered by our WolfPack engine implemented at each output port. This high-performance engine processes HDMI signals by executing EDID hops and HDCP handshakes simultaneously at both the source input and the display outputs and scaling inputs for the best output resolution while setting the output clock timing and using a frame buffer to retain the input signal information for the fastest output.
The 2x2 Video Wall and Seamless HDMI Matrix Switch offers solutions for digital entertainment center, HDTV retail and show site, HDTV, STB, DVD and projector factory, noise, space and security concerns, data center control, information distribution, conference room presentation, school and corporate training environments.
How are WolfPack 4x4 HDMI Matrix and 2x2 Video Wall Compares with others:
A premier member of HDTV Supplys WolfPack family
Uses Intel chips on the motherboard whereas similar looking products use poor picture off-brand chips
Bezel control allow you to adjust the border line of the picture horizontally & vertically.
Instant SwiftSwitch Seamless Switching
Come with an easy to use remote control
1 Year Warranty
Free Lifetime U.S. Telephone and TEXT Tech Support
4x4 HDMI Matrix and 2x2 Video Wall Features:
Any one of the 4 sources to any one of the 4 displays.
Seamless switching ensures no switching delay and pictures loss during transitions, the switching speed is less than 1 second.
Supports a 2x2 video wall mode.
Any one of the four outputs can be turned off independently.
Each port support both HDMI and DVI inputs.
Support high definition resolutions, including: 1080p@60Hz@36 b/pixels, 1080i, 720p and other standard video formats.
With panel button, Remote Control, RS232 Control, IP Control to select the source.
1U rack design and easy installment.
DC 12V 3A power supply.
Unit size: 17.25 x 8.75 x 1.75 high
The 4x4 HDMI Matrix and 2x2 Video Wall Control is controlled with the included remote control that uses IR, RS-232 and IP control when controlling a network of video sources and displays. Whether you are doing rudimentary HDMI matrix routing or if you′re wanting to switch to 2x2 video wall mode, doing everything on a computer screen makes this easy for even a beginner to take full control of all of the features.
Why not buy this 4x4 HDMI Matrix and 2x2 Video Wall today?