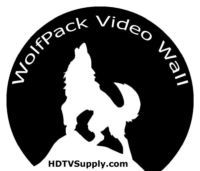 HDTV Supplys WolfPack
2x2 Video Wall and Seamless HDMI Matrix Switch
is a seamless 4x4 HDMI matrix switch that also functions as a 2x2 video wall also. The 2x2 Video Wall and Seamless HDMI Matrix Switch has fast and seamless HDMI switching and is almost instant switching with no picture loss during transitions.
The WolfPack 4x4 HDMI Matrix and 2x2 Video Wall can function as a 2x2 video wall controller so if you have 4-widescreens you can make up one giant video image. You will need 4-matched TVs and wall mounts (not supplied).
SwiftSwitch SEAMLESS SWITCHING: Our WolfPack 4x4 HDMI Matrix provides instantaneous video switching which delivers full 1080p video powered by our WolfPack engine implemented at each output port. This high-performance engine processes HDMI signals by executing EDID hops and HDCP handshakes simultaneously at both the source input and the display outputs and scaling inputs for the best output resolution while setting the output clock timing and using a frame buffer to retain the input signal information for the fastest output.
The 2x2 Video Wall and Seamless HDMI Matrix Switch offers solutions for digital entertainment center, HDTV retail and show site, HDTV, STB, DVD and projector factory, noise, space and security concerns, data center control, information distribution, conference room presentation, school and corporate training environments.
How are WolfPack 4x4 HDMI Matrix and 2x2 Video Wall Compares with others:
A premier member of HDTV Supplys WolfPack family
Uses Intel chips on the motherboard whereas similar looking products use poor picture off-brand chips
Bezel control allow you to adjust the border line of the picture horizontally & vertically.
Instant SwiftSwitch Seamless Switching
Come with an easy to use remote control
1 Year Warranty
Free Lifetime U.S. Telephone and TEXT Tech Support
4x4 HDMI Matrix and 2x2 Video Wall Features:
Any one of the 4 sources to any one of the 4 displays.
Seamless switching ensures no switching delay and pictures loss during transitions, the switching speed is less than 1 second.
Supports a 2x2 video wall mode.
Any one of the four outputs can be turned off independently.
Each port support both HDMI and DVI inputs.
Support high definition resolutions, including: 1080p@60Hz@36 b/pixels, 1080i, 720p and other standard video formats.
With panel button, Remote Control, RS232 Control, IP Control to select the source.
1U rack design and easy installment.
DC 12V 3A power supply.
Unit size: 17.25 x 8.75 x 1.75 high
The 4x4 HDMI Matrix and 2x2 Video Wall Control is controlled with the included remote control that uses IR, RS-232 and IP control when controlling a network of video sources and displays. Whether you are doing rudimentary HDMI matrix routing or if you′re wanting to switch to 2x2 video wall mode, doing everything on a computer screen makes this easy for even a beginner to take full control of all of the features.
Why not buy this 4x4 HDMI Matrix and 2x2 Video Wall today?
4x4 HDMI Matrix and 2x2 Video Wall Specs:
Video Formats Supported 1080p / 1080i / 720P/ 576P / 480P / 576i / 480i
Supports HDCP 1.4
RJ-45 IP control
RS-232 control
Power Consumption: 24 watts
Operating Temperature: +23 ~ +95蚌(-5 to +35蚓)
Operating Humidity: 5 ~ 90% RH, non-condensing
Dimensions: 17.2" x 8.7" x 1.7" (438 x 220 x 44 mm)
Weight: 6.2 lbs. (2.8 kg)
4x4 HDMI Matrix and 2x2 Video Wall Contents:
Remote Control x 1
User Manual (on CD) x 1
Power Adapter 12V3A x 1
Mounting Ears x 1
Why not buy this 4x4 HDMI Matrix and 2x2 Video Wall today?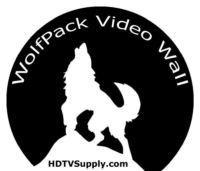 HDTV Supply created our unique line of
WolfPack line of products
which are born from a hungry, circling pack of high performance video and audio HDMI that surround our competition to devour them. The WolfPack family is sleek, unique & swift & even the smallest configuration wolf can adapt himself to many hostile environments.
The Wolfpack family can roam long distances even some up to 300 feet over HDBaseT trails and howl 4K whereas those who try to trap the WolfPack fails & runs away to the older devices.
You can only get this one-of-a-kind WolfPack product from HDTV Supply.


Reasons To Buy an HDTV Supply WolfPack Product:
All WolfPack products have FREE HDTV Supply U.S. based Live Telephone Lifetime Tech support
HDTV Supply has a dedicated TEXT support line at 805-409-0208 to support you
HDTV Supply has a dedicated Product Manager for WolfPack products to assist with any special needs
If there is a WolfPack firmware update for your product you will find it at our site
Many times we will list lower refurbished WolfPack products at our site
All WolfPack products are usualy in stock and ship the same week day if the order comes in by 12PM PST
You can buy WolfPack products from us with most any credit card, your Amazon account and PayPal
HDTV Supply has many videos to show the features of WolfPack products
You will find all WolfPack User Manuals and other manuals at our site
From time-to-time HDTV Supply runs Factory Authorized sales on WolfPack products
All WolfPack products bought from HDTV Supply are brand new and in unopened boxes.
All WolfPack products bought from HDTV Supply are shipped in double carton boxing.
All WolfPack products bought from HDTV Supply have full value shipping insurance
All WolfPack products bought from HDTV Supply have a 30-day No-Hassle returns
All WolfPack products bought from HDTV Supply can be shipped blind to your customer
HDTV Supply has shipped >1,000 WolfPack products throughout the world
HDTV Supply ships all WolfPack products from here in the U.S.
HDTV Supply stocks extra WolfPack accessories in case you misplace your remote or other unit
HDTV pride ourselves on confidentiality and any personal information that you may share with us is kept absolutely private.
Why not buy one of HDTV Supplys WolfPack products today?
These modular HDMI matrix switchers can usually be integrated with many third party control systems using the RS232 port on the back of the matrix.
For experienced AV hardware and software professionals who want to write their own drivers for 3rd party control systems from:
AMX™
Control4™
Creston™
RTI™
DTVGameControl™
Elan g!™
Media Switcher™
OnControls™
Savant™
SimpleControl™
SwitchItUp™
SAVI Control™
URC Control™
we have created a simple and very easy to use RS232 script to write your own drivers below .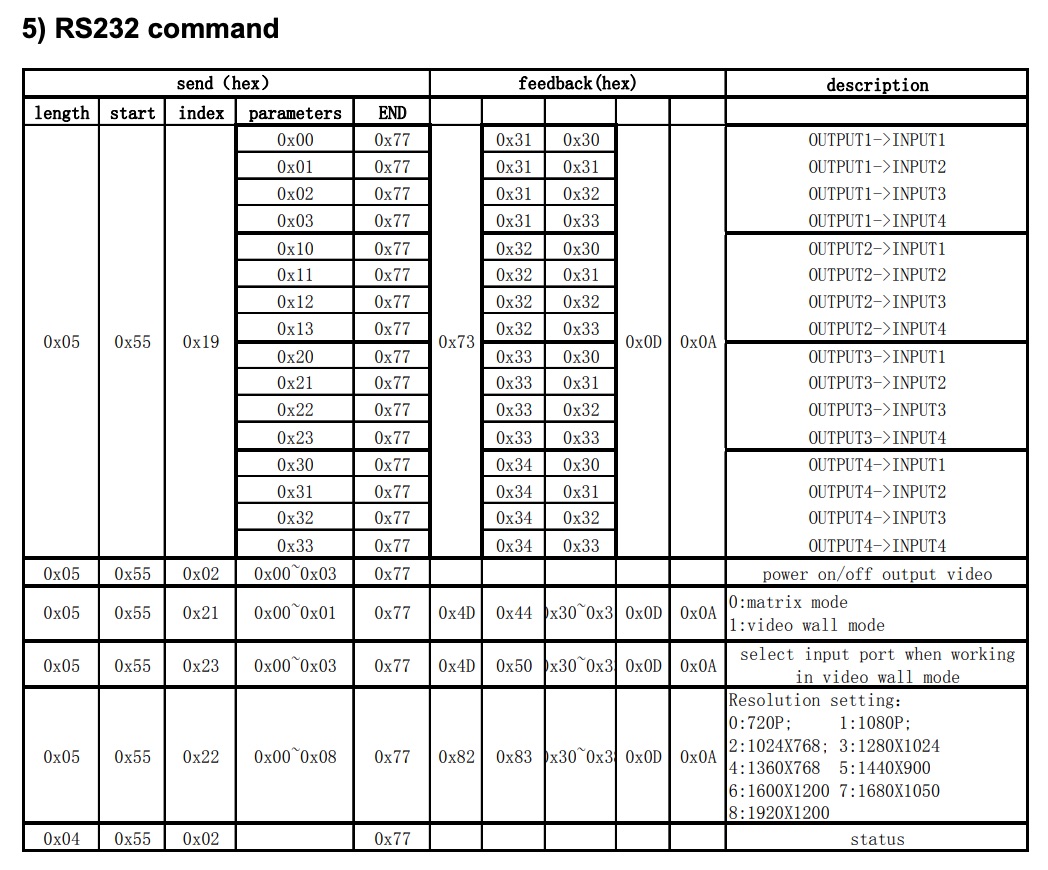 Q: Can you rotate or flip the TV image as to reduce the bezel size when putting 4 TVs together?
A:
You cannot rotate or flip the image but you can adjust the border line of the picture horizontally and vertically. If you need that function see
4K WolfPack 2x2 Video Wall Matrix System
.
Q: Does this have bezel compensation for 2x2 video wall use?
A: There is a bezel and resolution adjustment tool built into the firmware. It can be reached via the IP Based firmware and a PC.
Q: How do I get the IP address?
A: Before you use "netfinder win7" to search for the IP address, connect the SMX44 to your Router. The router will assign an IP address to Matrix. If you don't connect with the Router you have to change matrices IP address to a new one ( same with the same segment). Please check the User Manual in page 8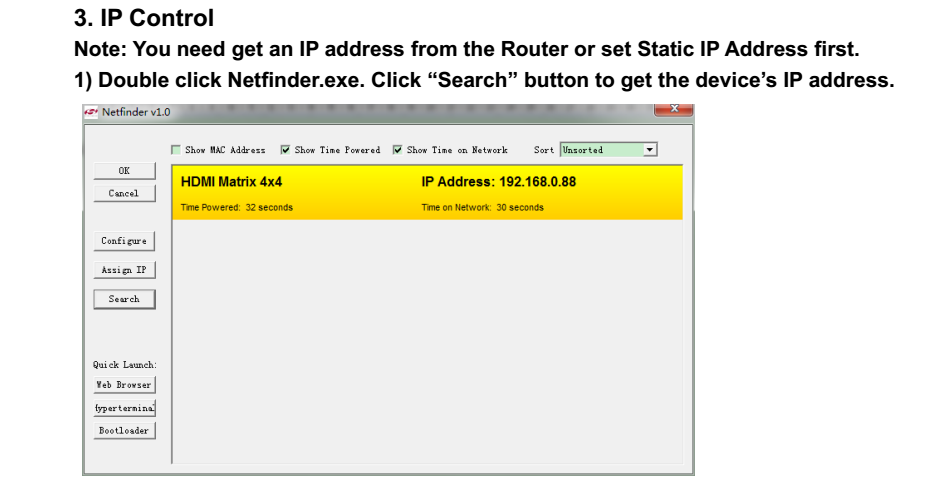 HDTV Supply's WolfPack Family of Matrix Switchers can be created however you wish. Just SCROLL DOWN and fill out the below and press SUBMIT and we will send you a quotation based upon your needs within an hour.
If it doesn't meet your needs just call us right now at 833-WOLFPACK or 833-965-3722 or email us at support@hdtvsupply.com