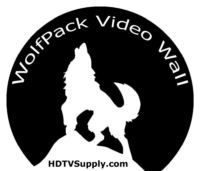 HDTV Supplys WolfPack™
Video Wall Processor
is a plug & play processor that processes & splits the signal input & sends it properly formatted to 9-displays. This WolfPack Video Wall Processor is the perfect solution for entertainment & Digital signage application in retail outlets, clubs, trade shows, control centers, building lobbies & other similar venues. It is HDCP-compliant & provides 10 - HDMI outputs ports to support 27-different Horizontal Video Wall configurations, for example, a 3x3 Video Wall. It supports 180 degree rotation for bottom-thick bezel screens.
Each output port can be flexibly configured by its (OSM) On-Screen-Menu for the row/column position and it is very easy to expand to a bigger video wall by using multiple units. Its versatile bezel compensation ability can accommodate any display bezel width. The menu navigation control buttons are accessible via front panel and the handheld IR remote control. An intuitive on-screen Graphical User Interface simplifies set-up and configuration.
You will also need up to 10 - matched TVs and wall mounts (not supplied).
WolfPack Video Wall Processor has Multiple Video Modes:
Our controller has 10 HDMI outputs so you can create 27 - video walls with only one processor:

1x2, 2x2, 3x2, 4x2, 5x2
1x3, 2x3, 3x3
1x4, 2x4
4x1, 4x2
1x5, 2x5
1x6, 1x7, 1x8, 1x9, 1x10
2x1, 3x1, 4x1, 5x1, 6x1, 7x1, 8x1, 9x1
WolfPack™ Video Wall Processor
3x3 smart splicing processor that is Plug and Play
No Software needed
Accepts Full-HD HDMI, DVI, VGA & an USB disk for input sources.
Splits and scales the input source to up to 9+1 HDMI screens
Supports directly-play from USB disk with all kinds of Audio / Video media format.
Front panel buttons for input source selection, output port configuration, bezel adjustment & setup.
HDCP compliant.
Supports 180 degree rotation for bottom-thick bezel screens.
Controllable via front panel buttons and a supplied IR remote control.
The WolfPack Video Wall Processor supports many types of input sources like HDMI, DVI, VGA, Composite video and video/audio/photo by an USB stick. Each video with audio can be switched together. The video processor HDMI output supports resolution up to 1920x1080p. The video wall processor can be operated by its remote, front panel buttons and the RS232 serial port.
Why not buy this WolfPack Video Wall Processor today?