WolfPack Video Wall Processor That Can Create 27-Different Video Walls




Video Wall Processor To Create up to 27-Different Video Walls

Process One Input into up to 10-HDMI Outs or split display on 9+1 TVs

Includes a 37-Button Remote Control & output can flip 180 degrees

HDMI, DVI, VGA, CSV & USB inputs & 10-HDMI Outputs

5-Year USA Warranty & Lifetime Telephone, CHAT, TEXT & Email Support
Features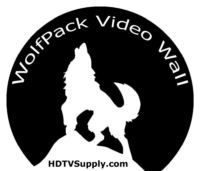 HDTV Supplys WolfPack™
Video Wall Processor
is a plug and play processor that processes and splits the signal input and send it properly formatted to 9-displays. This WolfPack Video Wall Processor is the perfect solution for entertainment and Digital signage application in retail outlets, clubs, trade shows, control centers, building lobbies and other similar venues. It is HDCP-compliant and provides 10 - HDMI outputs ports to support 27-different Horizontal Video Wall configurations, for example, a 3x3 Video Wall. Supports 180 degree rotation for bottom-thick bezel screens.
Each output port can be flexibly configured by its (OSM) On-Screen-Menu for the row/column position and it is very easy to expand to a bigger video wall by using multiple units. Its versatile bezel compensation ability can accommodate any display bezel width. The menu navigation control buttons are accessible via front panel and the handheld IR remote control. An intuitive on-screen Graphical User Interface simplifies set-up and configuration.
You will also need up to 10 - matched TVs and wall mounts (not supplied).
WolfPack Video Wall Processor has Multiple Video Modes:
Our controller has 10 HDMI outputs so you can create 27 - video walls with only one processor:

1x2, 2x2, 3x2, 4x2, 5x2
1x3, 2x3, 3x3
1x4, 2x4
4x1, 4x2
1x5, 2x5
1x6, 1x7, 1x8, 1x9, 1x10
2x1, 3x1, 4x1, 5x1, 6x1, 7x1, 8x1, 9x1
WolfPack™ Video Wall Processor
3x3 smart splicing processor that is Plug and Play
No Software needed
Accepts Full-HD HDMI, DVI, VGA & an USB disk for input sources.
Splits and scales the input source to up to 9+1 HDMI screens
Supports directly-play from USB disk with all kinds of Audio / Video media format.
Front panel buttons for input source selection, output port configuration, bezel adjustment & setup.
HDCP compliant.
Supports 180 degree rotation for bottom-thick bezel screens.
Controllable via front panel buttons and a supplied IR remote control.
The WolfPack Video Wall Processor supports many types of input sources like HDMI, DVI, VGA, Composite video and video/audio/photo by an USB stick. Each video with audio can be switched together. The video processor HDMI output supports resolution up to 1920x1080p. The video wall processor can be operated by its remote, front panel buttons and the RS232 serial port.
Why not buy this WolfPack Video Wall Processor today?
Specs
WolfPack Video Wall Processor Specs:
Type: TFT
Max Resolution: 1920x1080
Color: 16.7M
Contrast Ratio: 3500:1
Brightness: 600cd/m2
Response Time: 16ms
Input Voltage: dc12v
Input: HDMI/DVI/VGA/USB
Output:10 - HDMI
Control modes: Remote Control, RS232 and front panel buttons
Power supply: DC12V/3A
Dimension: 36cmx17cmx5cm
Resolution: 1920x1080/60Hz
Packaging: controller,remoter,adapter
Applications: TV walls, Monitor walls, LCD walls, etc.
Why not buy this WolfPack Video Wall Processor today?
Accessories
WOLFPACK 4K HDMI CABLES



4K WolfPack HDMI HDBaseT Extender to 220 Feet with IR - Refurbished

$115.00

4K WolfPack HDBaseT Extender to 330 Feet w/IR & POE

Price: $399.95

Today's price:

$199.95

(You Save: 50%)

WolfPack HDMI over CATx Extender to 700 Feet w/IR

Price: $499.95

Today's price:

$299.95

(You Save: 40%)
Q/A
Q: How to I upgrade to add more TVs in the video wall?
A:
You buy another and connect the first controller HDMI output to second controller HDMI in and then set the video wall in the OSD menu.
Warranty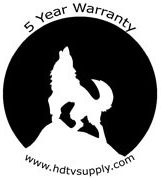 WolfPackCare
5 Year U.S. Limited Extended Warranty on this product. There are two bundled parts to this 5 year warranty. The 5 year warranty is only for the main device you purchased and does not include any product options or additional products you purchased at the same time.
FIRST YEAR:
The first year is direct with with HDTV Supply at 800-841-9238. The warranty states that the Product will perform substantially in accordance with the supplied written materials and Product information located on this Product web site page for a period of 1 year from the date of shipment of the Product and that the Product will be free from defects in materials & workmanship under normal use & service for a period of 1 year from date of shipment.
In order to get a warranty replacement for a defective item within the first year call HDTV Supplys Tech Support Team with your order number at 800-841-9238 and they will verify the product is eligible for a warranty repair. An RMA number will then be issued via email. Shipped replacements will be in like new condition, tested and all components included. Please read
HDTV Supplys Warranty Terms and Conditions
for more.
2ND THROUGH 5TH YEAR:
The 2nd through 5th year are direct with
Consumer Priority Extended Warranty Service (CPS)
as they are HDTV Supplys extended warranty provider. They are a large 3rd party repair company with facilities throughout the U.S. and offer our U.S. customers unparalleled product coverage and repairs. If after calling HDTV Supply, at 800-841-9238, we find we can't fix the issue over the phone, and you need a repair, you will henceforth deal directly with CPS for the repairs via their toll free phone number (800) 905-0443 Option 3 during the 2nd through 5th year.
Ask a Question
Questions & Answers

Ask a question about the WolfPack Video Wall Processor That Can Create 27-Different Video Walls or Call 800-841-9238


Software
None need as it is all done in hardware, it is 100% plug and play.
WolfPack Video Wall Processor That Can Create 27-Different Video Walls
Recently Viewed Items