WolfPack 1x4 HDMI Splitter w/Fast 18 GBPS Bandwidth, HDR & HDCP 2.2




WolfPack 1x4 UHD HDMI Splitter

Blazing 18 GBPS Bandwidth on all ins and outs

HDR, HDCP 2.2 Compliancy on all ins and outs

HDMI 2.0a Compliancy on all ins and outs

4K @ 60Hz Compatible on all ins and outs

2 - User Adjustable EDID modes

5 Year Warranty & Free Lifetime U.S. Telephone Tech Support
Features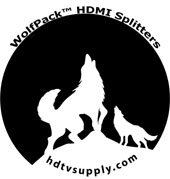 HDTV Supplys WolfPack
1 by 4 HDMI Splitter with 18 GBPS
Bandwidth is an advanced solution for splitting a single HDMI input to two HDMI outputs. It provides high performance audio and video output through HDMI cables up to 4K2K@60Hz (YUV444) resolution and is capable of receiving and transmitting up to 18 Gbps of bandwidth with no data loss. Supporting the latest features you can be assured of reliable and high quality HDMI distribution.
The WolfPack 1x4 HDMI Splitter w/Fast 18 GBPS Bandwidth supports HDMI 2.0a Technology which increases the bandwidth from 10.2 Gbps to 18 Gbps. It also increases audio from 8 Audio Channels to 32 Audio Channels for expanded audio and includes Dynamic synchronization of both the video and audio data stream.
WolfPack 1x4 HDMI Splitter with HDCP 2.2 is Compatible with:
4K Roku 4 media player
4K DirecTV Genie receivers
4K Sony FMP-X10 UHD players
4K NVidia Shield UHD Netflix devices
4K Amazon Fire Players
4K Surround Sound AV Receivers
and more 4K HDMI 2.0a and HDCP 2.2 devices
Our WolfPack 1x4 HDMI Splitter w/Fast 18 GBPS Bandwidth supports the latest 4K UHD TVs, the NVidia Shield and the latest graphics cards with HDMI 2.0a. To enjoy 4K 60Hz video be sure to use the TV′s HDMI port labeled with HDMI 2.0. HDMI 1.4 ports only support 4K at 30Hz.
WolfPack 1x4 HDMI Splitter w/Fast 18 GBPS Bandwidth Features:
Compliant with HDR, HDMI 2.0a, HDCP 2.2 and DVI 1.0
Supports a video format up to 4K2K@30Hz with 24bit RGB/YcbCR 4:4:4/YCBCR 4:2:2 and up to 4K2K@60Hz with 12bit YCBCR 4:4:4 plus below

480i@60Hz
480p@60Hz
576i@50Hz
576p@50Hz
720p@50/60Hz
1080i@50/60Hz
1080p@50/60Hz
1080p@24Hz 3D
720p@50/60Hz 3D
4K@60Hz

Supports 3D frame sequential video format up to 1080p@60Hz
Supports high resolution VESA mode video format up to QSXGA@60Hz
Supports LPCM 7.1CH, Dolby TrueHD, and DTS-HD Master Audio
Supports a smart EDID control
WolfPack 1x4 HDMI 2.0a Splitter Smart EDID Control Options:
STD Mode: The WolfPack splitter will use its own built-in EDID and the video output will be set to 1080p@60Hz and the audio output at LPCM 2CH Stereo. Use this mode if there are display issues in TV Mode.
TV Mode: The splitter will read the EDID of the display connected to HDMI OUT 1. If it detects a 4K capable EDID it will transmit the signal in that format to all outputs. If no 4K capable EDID is detected then the splitter will output the best resolution that all displays can support.
Why not buy this 1x4 HDMI Splitter with 18 GBPS today?
Specs
WolfPack 1x4 HDMI Splitter w/Fast 18 GBPS Bandwidth Specs:
Video Bandwidth: 600MHz/18Gbps
Input Ports: 1 HDMI (Female type)
Output Ports: 4 HDMI (Female type),
Output Resolution : 480i ~1080p50/60, 4Kx2K@24/30 and 4k2k@60Hz
ESD Protection: Human Body model: 8 kV (air-gap discharge) 4 kV (contact discharge)
Power Supply: 5V/1A DC (US/EU standards, CE/FCC/UL certified)
Dimensions: 56 mm (W) 100 mm (D) 16 mm (H)
Weight: 165 g
Chassis Material: Metal
Operating Temperature: 0˚C ~ 40˚C / 32˚C ~ 104˚C
Storage Temperature: 20˚C ~ 60˚C / 4˚C ~ 140˚C
Relative Humidity: 20~90 % RH (non-condensing)
Power Consumption (Max): 5W
WolfPack 1x4 HDMI Splitter w/Fast 18 GBPS Bandwidth Contents:
1 - UHD 1x4 HDMI Splitter
1 - 5V at 1A DC Power adapter
1 - Operation Manual
Why not buy this 1x4 HDMI Splitter 18 GBPS today?
Accessories
4K WolfPack HDMI HDBaseT Extender to 220 Feet with IR & POC

Price: $299.95

Today's price:

$149.95

(You Save: 50%)

4K WolfPack HDMI HDBaseT Extender to 220′ - HDMI 2.0, HDCP 2.2, IR and POE

Price: $399.95

Today's price:

$224.95

(You Save: 44%)

WOLFPACK 4K HDMI CABLES



4K WolfPack HDBaseT 2.0 HDMI Extender w/HDCP 2.2 & UHD

Price: $699.95

Today's price:

$299.95

(You Save: 57%)
Compatibility
HDTV Supply's new HDMI 2.0a products are designed to support a new display technology called 4K. It was created to improve the contrast between light and dark images for a more realistic picture featured in new 4K TVs. The reason for the switch to HDMI 2.0a was that 4K TVs require more bandwidth to see the 4K picture. Since 4K is four times the resolution of 1080p, it required more bandwidth to support the extra data and that is why we have designed these HDMI 2.0a devices. HDMI 2.0a, which is backwards compatible with earlier versions of the HDMI specification, significantly increases bandwidth up to 18Gbps and adds key enhancements to support market requirements for enhancing video and audio experience.
The older HDMI 1.4 compliancy supported 4K resolutions but only at 24 or 30 frames per second as well as HDMI 1.4 limits 4K content to 8-bit color. Our new HDMI 2.0a products can handle video up to a 4K at 60 frames per second and up to 18 gigabits per second assuring you of the finest 4K picture you can get. These HDMI 2.0a products are fully backward compatible with all previous HDMI version versions.
Similar
WolfPack 1x4 HDMI Splitter w/Fast 18 GBPS Bandwidth, HDR & HDCP 2.2

Price: $349.95

Today's price:

$124.95

(You Save: 64%)

WolfPack 4K 1x4 HDMI 2.0 Splitter & HDCP 2.2

Price: $299.95

Today's price:

$99.95

(You Save: 67%)

WolfPack 4K 1x4 HDMI 2.0 Splitter with Built-in Booster

Price: $349.95

Today's price:

$199.95

(You Save: 43%)

4K 1x4 HDMI 2.0 Splitter with EDID Management

Price: $299.95

Today's price:

$199.95

(You Save: 33%)
Videos


HDCP or 'High Bandwidth Digital Content Protection' is a signal standard designed to protect HD content from piracy and copying. Learn more about it in the below video.






Why not buy this 1x2 HDMI 2.0 Splitter with HDCP 2.2 today?
3D
HDTV Supply is a leader in supplying 3D equipment for this new, fast growing 3DTV market. Our test lab includes the latest equipment for designing, testing and supporting 3D video equipment. The chips sets we use support the below 3D formats and work with many of our HDMI 1.3 and HDMI 1.4 compliant devices. This 1x4 HDMI Splitter with 18 GBPS supports these 3D formats:
Side-by-Side 3D Format
Top-and-Bottom 3D Format
Blu-ray 3D Format
Frame packing
and more
We not only test this device with lab equipment we also test many of our 3D devices with 3D products you are likely to use. The products used for the test are:
Sony PS3 with the 3D 3.41 firmware
Samsung model PN50C7000YF 3DTV
Samsung model BD-C6900 3D Blu-ray player FORCED to 1080p
Samsung model SSG-P2100T 3D glasses
DirecTV models HR21-100 and the HR24 high definition receiver.
HDTV Supply's true HDMI 2.0 cables
It works with all HDMI devices including the new 3D units.
The 3D viewing results were awesome in our lab and did not have any picture or audio degradation. The normal and standard (2D) results equally exhibited a superb picture quality.
Warranty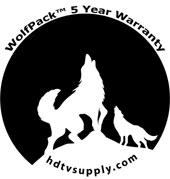 HDTV Supply
includes a 5 Year U.S. Limited Warranty on this product. There are two bundled parts to this 5 year warranty. The 5 year warranty is only for the main device you purchased and does not include any product options or additional products you purchased at the same time.
FIRST YEAR:
The first year is direct with with HDTV Supply at 800-841-9238. The warranty states that the Product will perform substantially in accordance with the supplied written materials and Product information located on this Product web site page for a period of 1 year from the date of shipment of the Product and that the Product will be free from defects in materials & workmanship under normal use & service for a period of 1 year from date of shipment.
In order to get a warranty replacement for a defective item within the first year call HDTV Supplys Tech Support Team with your order number at 800-841-9238 and they will verify the product is eligible for a warranty repair. An RMA number will then be issued via email. Shipped replacements will be in like new condition, tested and all components included. Please read
HDTV Supplys Warranty Terms and Conditions
for more.
2ND THROUGH 5TH YEAR:
The 2nd through 5th year are direct with
Consumer Priority Extended Warranty Service (CPS)
as they are HDTV Supplys extended warranty provider. They are a large 3rd party repair company with facilities throughout the U.S. and offer our U.S. customers unparalleled product coverage and repairs. If after calling HDTV Supply, at 800-841-9238, we find we can't fix the issue over the phone, and you need a repair, you will henceforth deal directly with CPS for the repairs via their toll free phone number (800) 905-0443 Option 3 during the 2nd through 5th year.
You can also
email CPS
and
email HDTV Supply
as well as call us a 800-841-9238 if you have any questions with this 5 year bundled warranty.
Ask a Question
Questions & Answers

Ask a question about the WolfPack 1x4 HDMI Splitter w/Fast 18 GBPS Bandwidth, HDR & HDCP 2.2 or Call 800-841-9238


WolfPack 1x4 HDMI Splitter w/Fast 18 GBPS Bandwidth, HDR & HDCP 2.2
Recently Viewed Items