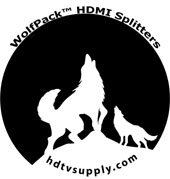 HDTV Supplys WolfPack
1 by 4 HDMI Splitter with 18 GBPS
Bandwidth is an advanced solution for splitting a single HDMI input to two HDMI outputs. It provides high performance audio and video output through HDMI cables up to 4K2K@60Hz (YUV444) resolution and is capable of receiving and transmitting up to 18 Gbps of bandwidth with no data loss. Supporting the latest features you can be assured of reliable and high quality HDMI distribution.
The WolfPack 1x4 HDMI Splitter w/Fast 18 GBPS Bandwidth supports HDMI 2.0a Technology which increases the bandwidth from 10.2 Gbps to 18 Gbps. It also increases audio from 8 Audio Channels to 32 Audio Channels for expanded audio and includes Dynamic synchronization of both the video and audio data stream.
WolfPack 1x4 HDMI Splitter with HDCP 2.2 is Compatible with:
4K Roku 4 media player
4K DirecTV Genie receivers
4K Sony FMP-X10 UHD players
4K NVidia Shield UHD Netflix devices
4K Amazon Fire Players
4K Surround Sound AV Receivers
and more 4K HDMI 2.0a and HDCP 2.2 devices
Our WolfPack 1x4 HDMI Splitter w/Fast 18 GBPS Bandwidth supports the latest 4K UHD TVs, the NVidia Shield and the latest graphics cards with HDMI 2.0a. To enjoy 4K 60Hz video be sure to use the TV′s HDMI port labeled with HDMI 2.0. HDMI 1.4 ports only support 4K at 30Hz.
WolfPack 1x4 HDMI Splitter w/Fast 18 GBPS Bandwidth Features:
Compliant with HDR, HDMI 2.0a, HDCP 2.2 and DVI 1.0
Supports a video format up to 4K2K@30Hz with 24bit RGB/YcbCR 4:4:4/YCBCR 4:2:2 and up to 4K2K@60Hz with 12bit YCBCR 4:4:4 plus below

480i@60Hz
480p@60Hz
576i@50Hz
576p@50Hz
720p@50/60Hz
1080i@50/60Hz
1080p@50/60Hz
1080p@24Hz 3D
720p@50/60Hz 3D
4K@60Hz

Supports 3D frame sequential video format up to 1080p@60Hz
Supports high resolution VESA mode video format up to QSXGA@60Hz
Supports LPCM 7.1CH, Dolby TrueHD, and DTS-HD Master Audio
Supports a smart EDID control
WolfPack 1x4 HDMI 2.0a Splitter Smart EDID Control Options:
STD Mode: The WolfPack splitter will use its own built-in EDID and the video output will be set to 1080p@60Hz and the audio output at LPCM 2CH Stereo. Use this mode if there are display issues in TV Mode.
TV Mode: The splitter will read the EDID of the display connected to HDMI OUT 1. If it detects a 4K capable EDID it will transmit the signal in that format to all outputs. If no 4K capable EDID is detected then the splitter will output the best resolution that all displays can support.
Why not buy this 1x4 HDMI Splitter with 18 GBPS today?