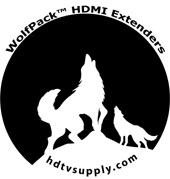 HDTV Supply's WolfPack™ 4K
VGA & HDMI Wallplate Transmitter Over HDBaseT
is an HDBaseT Wallplate Transmitter that supports 1 - HDMI input and 1 - VGA plus a 3.5mm audio input. The output is 1 - HDBaseT(RJ45) output that extends those switchable inputs to 220 feet at 1080p and 110 feet at 4K/30. The WolfPack VGA & HDMI Wallplate Transmitter Over HDBaseT also supports switching those sources by a one-key button and a touch switcher. It also has an auto-sense feature. The resolution can up to 4K@30Hz and supports a POE & POC (Power Over Cable) function.
HDTV Supply's WolfPack™ 4K HDMI Wallplate Transmitter uses the latest HDBaseT technology which featuring no compression, no losses and no latency over an HDMI signal transmission via a single UTP or STP CAT5e/6/7 cable. Using this VGA & HDMI Wallplate Transmitter Over HDBaseT with UTP cables allows you to run uncompressed 1080p high-definition HDMI signals upwards to 220 feet.
HDTV Supply's implementation of the HDBaseT technology adds virtually zero latency to the HDMI audio & video signal, less than 7 microseconds (0.000007 sec) over 220 feet of CATx cable. At 100 feet you are talking about 3 microseconds (0.000003 sec). This means for example, in a church or auditorium, the speakers lips are always in synch with the video image on all the TVs & projectors 100's of feet away.
NOTE: This VGA & HDMI Wallplate Transmitter Over HDBaseT is a Transmitter (TX) only and requires an HDBaseT receiving device like our WolfPack HDBaseT Modular HDMI matrix card or displays or projectors that have an HDBaseT input and conform to the specs of the Receiver.
VGA & HDMI Wallplate Transmitter Over HDBaseT Features:
Inputs:

1 - VGA plus its 3.5mm audio
1 - HDMI

Output:
Supports 1080p and up to 4K30
Supports HDCP 1.4
Transmission distance: 220' at 1080p & 110' at 4K30 via Cat5e/Cat6
Supports POE & POC (Power Over Cable)
Support one-key touch switching or auto switching
LED working indicator
Single gang width
Our VGA & HDMI Wallplate Transmitter transmitts by one single CAT5e/ CAT6/ CAT7 cable and for 1080p it can transmit to a distance of 220 feet and for 4K30Hz (4:2:0) it can go up to 110 feet. The VGA & HDMI Wallplate Transmitter is compatible with all the HDTV resolutions because it supports the HDCP 1.4 protocol.
NOTE: If you have 2 devices that are always ON you'll need to use the buttons to switch inputs. An Apple TV keeps its HDMI port active even in the sleep state so auto-switching may not work with the Apple TV. Manual switching can still be used.
Why not buy our VGA & HDMI Wallplate Transmitter Over HDBaseT today?
VGA & HDMI Wallplate Transmitter Over HDBaseT Specification:
Input: 1*HDMI, 1*VGA+3.5mm audio, 1*Switch button
Output: 1*HDBaseT(RJ45)
Control: Switch Button or auto sources detection/switch
Transmission distance: 220ft/70m at 1080P60, 110ft/35m at 4K30 via Cat5e/Cat6
Bandwidth: 10.2Gbps
Optional Power Supply: DC 12V 1.5A
Dimension: (WxHxD) Product back size: 74x45x32mm/ 2.83x1.77x1.26inch
Decora front panel size: 103x46mm/ 4.06x1.81inch
Product weight: 200g/0.45lb
Operating Temperature: -10℃ to 40℃
Storage Temperature: -25℃ to 55℃
Why not buy our VGA & HDMI Wallplate Transmitter Over HDBaseT today?
Q: I have no image output?
A:
Check the LED indicator status to make sure all connections are good and stable.
Q: How is HDBaseT technology different than others?
A: Unlike other HD distribution technologies, HDBaseT is the only technology which enables CAT5/6/7 connectivity from 70 meters to 100 meters, depending upon the specific product, for uncompressed full HD multimedia content and up to 100 watts of charging power via a single cable. HDBaseT is optimized for video applications and can connect all HDBaseT enabled home entertainment devices. Also, HDBaseT technology has the capacity to deliver double the resolution available today to future 2K and 4K formats. Other existing solutions also require a specific cable and/or a new proprietary connector while HDBaseT utilizes the existing Ethernet infrastructure.
HDMI HDbaseT Extender Helpful Tips & Recommendations:
Keep cables away from any equipment with an electromagnetic wave, e.g., mobile phone, microwave, radio equipment, fluorescent lamp, high voltage power lines, etc.
CAT5/6 cables should not exceed 220 feet or (70m).
Please adhere to the TIA/EIA568B standards when terminating network cables in the field.
Shielded CAT5/6 with metal RJ-45 connectors are recommended to safeguard against random video flashes caused by electromagnetic interference (EMI).
Why not buy our VGA & HDMI Wallplate Transmitter Over HDBaseT today?