4K WolfPack VGA & 4K HDMI Switcher via CAT5 to 330 Feet w/POE




VGA & 4K HDMI Switcher Over CAT5 to 220 Feet w/POE

Manually switch between VGA & HDMI & send an HDMI signal 330 feet

Includes Transmitter, Receiver, RS232, Bidirectional IR & POE

4K on HDMI, HDMI 1.4 and 3D compliant

Uses HDBaseT Technology

1 Year Warranty & Free Lifetime U.S. Telephone Tech Support
Features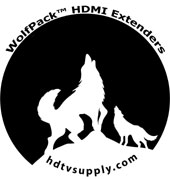 HDTV Supplys WolfPack 4K HDTV Supplys
VGA & 4K HDMI Switcher Over HDBaseT
to 330 feet is a Dual HDMI and VGA/Audio to HDBaseT Switcher Extender. It manually switches between HDMI and VGA plus its associated audio inputs, digitizes those signals and transmits 1080p via HDBaseT to up to 330 feet and 4Kx2K to 220 feet all over a single CAT5/6 cable. 4K is only supported by the HDMI input. Both the transmitter and receiver allows manual and RS232 switching between the HDMI and VGA inputs. The VGA input is not converted to 4K.
The HDMI signal source can be controlled by your existing remote control over one single home run CAT5e/6/7 cable and has 20~60kHz Wide band Bi-directional IR to support any remote control that you own. Our HDMI HDBaseT Extender also supports 4K video (30 Hz) to the below UTP cable lengths.
WolfPack VGA & HDMI Switcher Over HDBaseT Features:
Switching between HDMI and VGA with 3.5mm audio input, HDMI output with L/R Analog audio and Coax Digital audio outputs.
HDMI v1.4 and HDCP compliant, support 1080p@60Hz, 3D and 4Kx2K.
Support 1080P@60Hz or VESA: 1920x1200@60Hz up to 100m (330ft).
Transmission distance for 4Kx2K@30Hz up to 70m (230ft).
Supports all popular VGA resolution inputs:

640x480@60/75Hz,
720x400@70Hz,
800x600@60/75Hz,
1024x768@60/75Hz,
1152x864@75Hz,
1280x720@60Hz,
1280x768@60/75Hz,
1280x800@60/75Hz,
1280x960@60Hz,
1280x1024@60/75Hz,
1360x768@60Hz,
1366x768@60Hz,
1400x1050@60Hz,
1440x900@60Hz,
1600x1200@60Hz,
1680x1050@60Hz,
1920x1080@60Hz, 1920x1200@60Hz

Supports Bi-Directional PoE and Bi-Directional IR.
Supports EDID learning mode
RS232 supports 4 modes: bypass through HDBaseT link(Default), control the switching between VGA and HDMI inputs, update Valens FW and update MCU FW
Uses ESD Protection on the power adapter
Why not buy this WolfPack VGA & HDMI Switcher Over HDBaseT today?
Specs
WolfPack VGA & HDMI Switcher Over HDBaseT Specs:
Bandwidth:2.97Gbps per color
Video Input Connectors TX: 1 x HDMI Type A, 19-pin, female,
1 x VGA Type A, 15-pin, female,
Video Input Connectors RX: 1 x HDMI Type A, 19-pin, female,
Video Output Connectors TX:1x RJ-45
Video Output Connectors RX:1 x HDMI Type A, 19-pin, female
RS-232 serial port TX and RX: DB-9, female
IR Input ports: 2x 3.5mm stereo jack,TX and RX
IR Output ports: 2x 3.5mm stereo jack,TX and RX
Dimensions (W x H x D): 125mm x 112mm x 27mm , without feet
Shipping Weight: 375g each
Operating Temperature: 32蚌 to 104蚌 (0蚓 to 40蚓)
Storage Temperature : -4蚌 to 140蚌 (-20蚓 to 60蚓)
Power Supply: 12V/2A DC
Why not buy this VGA & HDMI Switcher Over HDBaseT today?
Compatibility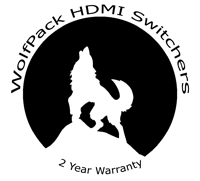 HDTV Supply created our unique line of
WolfPack line of products
which are born from a hungry, circling pack of high performance video and audio HDMI that surround our competition to devour them. The WolfPack family is sleek, unique & swift & even the smallest configuration wolf can adapt himself to many hostile environments.
The Wolfpack family can roam long distances even some up to 300 feet over HDBaseT trails and howl 4K whereas those who try to trap the WolfPack fails & runs away to the older devices.
You can only get this one-of-a-kind WolfPack product from HDTV Supply.
Reasons To Buy an HDTV Supply WolfPack Product:
All WolfPack products have FREE HDTV Supply U.S. based Live Telephone Lifetime Tech support
HDTV Supply has a dedicated TEXT support line at 805-409-0208 to support you
HDTV Supply has a dedicated Product Manager for WolfPack products to assist with any special needs
If there is a WolfPack firmware update for your product you will find it at our site
Many times we will list lower refurbished WolfPack products at our site
All WolfPack products are usualy in stock and ship the same week day if the order comes in by 12PM PST
You can buy WolfPack products from us with most any credit card, your Amazon account and PayPal
HDTV Supply has many videos to show the features of WolfPack products
You will find all WolfPack User Manuals and other manuals at our site
From time-to-time HDTV Supply runs Factory Authorized sales on WolfPack products
All WolfPack products bought from HDTV Supply are brand new and in unopened boxes.
All WolfPack products bought from HDTV Supply are shipped in double carton boxing.
All WolfPack products bought from HDTV Supply have full value shipping insurance
All WolfPack products bought from HDTV Supply have a 30-day No-Hassle returns
All WolfPack products bought from HDTV Supply can be shipped blind to your customer
HDTV Supply has shipped >1,000 WolfPack products throughout the world
HDTV Supply ships all WolfPack products from here in the U.S.
HDTV Supply stocks extra WolfPack accessories in case you misplace your remote or other unit
HDTV pride ourselves on confidentiality and any personal information that you may share with us is kept absolutely private.
Why not buy one of HDTV Supplys WolfPack products today?
Similar
VGA and HDMI to HDMI Switch

Price: $199.95

Today's price:

$174.95

(You Save: 13%)

WolfPack HDMI over CATx Extender to 700 Feet w/IR

$300.00

4K WolfPack HDBaseT Extender to 220 Feet with POE & 15-Level EDID

$499.95
Videos
HDTV Supply has this HDBaseT Balun in stock in our California warehouse so place your order at the above ADD TO CART button by 11AM PST and it can ship today or call us at 800-841-9238 to place your order.
Why not buy this VGA & HDMI Switcher Over HDBaseT today?
3D
HDTV Supply is a leader in supplying 3D equipment for this new, fast growing 3DTV market. Our test lab includes the latest equipment for designing, testing and supporting 3D video equipment. The chips sets we use support the below 3D formats and work with many of our HDMI 1.3 and HDMI 1.4 compliant devices. This HDBaseT Balun supports these 3D formats:
Side-by-Side 3D Format
Top-and-Bottom 3D Format
Blu-ray 3D Format
Frame packing
and more
We not only test this HDBaseT Balun with lab equipment we also test many of our 3D devices with 3D products you are likely to use. The products used for the test are:
Sony PS3 with the 3D 3.41 firmware
Samsung model PN50C7000YF 3DTV
Samsung model BD-C6900 3D Blu-ray player FORCED to 1080p
Samsung model SSG-P2100T 3D glasses
DirecTV models HR21-100 and the HR24 high definition receiver.
It works with all HDMI devices including the new 3D units.
The 3D viewing results were awesome in our lab and did not have any picture or audio degradation. The normal and standard (2D) results equally exhibited a superb picture quality.
Why not buy this VGA & HDMI Switcher Over HDBaseT today?
Q/A
Q: How does the remote IR work?
A:
The package includes 1-Infra-Red cable for the transmitter as the receiver has a built-in IR window (See the above MORE PICTURES Tab). That window must so positioned to see the remote control in the far away room. The HDBaseT transmitter has a 3.5mm jack to plug the IR cable into and then the other end of the cable is placed in front of the IR window of the device you want to control. You can secure it there with a piece of tape.
Q: Does it include both a transmitter and a receiver?
A:
Yes and 1 - AC adapter.
Q: I don't see a picture.
A:
Try these tips. 1. Make sure you have the manual switch switched correctly to the input you want
2. Set the video card and other source to match the TVs native resolution, like start with 1280x720, 720p, etc. The displays EDID want to see match resolutions if possible. See...
https://p11.secure.hostingprod.com/@site.hdtvsupply.com/ssl/EDID/edid.pdf
3. Make sure you are using a CAT5e or CAT6 home run cable w/o hubs, couplers, splitters, wall plates, etc.
4. See the attached on how to put on the connectors and HDMI tips.
5. Replace HDMI cables.
6. Try another HDMI input on the TV, like HDMI 2
7. Where do you have the AC adapter?
8. Do you get audio?
9. Try a DVD player as a test
Q: This HDBaseT Balun supports CEC, what is CEC?
A:
This product features CEC (Consumer Electronics Control) allowing your HDTV's remote to manage up to ten devices that are connected via HDMI (such as Blu-ray Disc players or home theater receivers) with no special programming needed. For example, you can use your remote to turn on your TV, your player, and your receiver at the same time, and adjust the system volume with one button. All devices must support CEC, though. Most major TV manufacturers now support CEC, and an HDTV with HDMI 1.3 will likely have the technology. Manufacturers call it by different names; LG Electronics, for instance, calls its implementation SimpleLink, whereas Toshiba calls its version CE-Link. Interoperability isn't mandatory, so some manufacturers limit control to their own products; Sony, for one, allows only Sony-to-Sony communication.
Q: How is HDBaseT technology different than others?
A:
Unlike other HD distribution technologies, HDBaseT is the only technology which enables CAT5/6/7 connectivity from 70 meters to 100 meters, depending upon the specific product, for uncompressed full HD multimedia content and up to 100 watts of charging power via a single cable. HDBaseT is optimized for video applications and can connect all HDBaseT enabled home entertainment devices. Also, HDBaseT technology has the capacity to deliver double the resolution available today to future 2K and 4K formats. Other existing solutions also require a specific cable and/or a new proprietary connector while HDBaseT utilizes the existing Ethernet infrastructure.
HDMI HDbaseT Extender Helpful Tips & Recommendations:
Keep cables away from any equipment with an electromagnetic wave, e.g., mobile phone, microwave, radio equipment, fluorescent lamp, high voltage power lines, etc.
Please adhere to the TIA/EIA568B standards when terminating network cables in the field.
Shielded CAT5/6 with metal RJ-45 connectors are recommended to safeguard against random video flashes caused by electromagnetic interference (EMI).
Why not buy this VGA & HDMI Switcher Over HDBaseT today?
Warranty

Click Here for Product Warranty
Ask a Question
Questions & Answers

Ask a question about the 4K WolfPack VGA & 4K HDMI Switcher via CAT5 to 330 Feet w/POE or Call 800-841-9238


FAQ
Both the transmitter and receiver offer manual and RS232 switching between HDMI and VGA inputs. By using F1 and VF2, the transmission distance for 1080P reaches 100 meters (330ft), and 4K x2K reaches 70 meters (230ft).
4K WolfPack VGA & 4K HDMI Switcher via CAT5 to 330 Feet w/POE
Recently Viewed Items