Features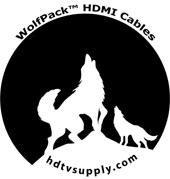 HDTV Supply supplied Locking HDMI Cables have male screws on them to match up with threaded screw holes on each of our modular HDMI input cards and output cards to use with cables as the above picture shows. We recommend using them if you have an environment that may move like a:
Van
Boat
RV
Portable system
Airplane
Bus
...and any other vehicle that over time the HDMI cable may fall out.
These Locking HDMI Cables are made for us from a respectable cable company and includes the correct distance from the HDMI connector to the above threaded screw hole. The thread of the screw hole matches the thread on the cable. The locking HDMI cable also has an easy grip fastener, making it easy to hold your cable for quick insertion and extraction. Using these Locking HDMI Cable ensure a secure connection, preventing signal loss due to cables being bumped and falling out. It is also constructed using 24AWG wires to ensure the highest level of performance by HDMI. High Speed (or "category 2") HDMI cables have been tested to perform at speeds of 340Mhz or up to 18 Gbps, which is the highest bandwidth currently available over an HDMI cable.
These Locking HDMI Cables are backward compatible with previous versions of HDMI, and will work in all HDMI cabling scenarios. In addition to supporting 4K UHD video resolutions, the Locking HDMI Cable performs at speeds up to 18 Gbps. It can successfully transmit 1080p signals, including those at increased color depths and refresh rates. The Locking HDMI Cable is backward compatible with previous HDMI generations and works in all HDMI cabling scenarios. The Locking HDMI Cable has corrosion-resistant gold-plated connectors for optimal signal transfer. Molded construction with strain relief guarantees durability and long life.
These HDMI locking cables can be used with the following HDTV Supplys WolfPack™ HDMI Matrix systems that have a screw hole to match:
4x4 chassis
8x8 chassis
9x9 chassis
16x16 chassis
18x18 chassis
36x36 chassis
48x48 chassis
56x56 chassis
64x64 chassis
72x72 chassis
80x80 chassis
160x160 chassis
Locking HDMI Cable Features:
Compatible with HDMI modular cards
Supports HDMI 2.0 and HDMI 1.4
Supports all the latest 4K Ultra HD TV's with resolution up to 3840 x 2160 (2160p)
24k gold plated corrosion resistant connectors for maximum conductivity and low signal loss
Triple shielding reduces interference, noise and distortion
High-grade oxygen-free 30AWG copper wire with aluminum foil and copper braiding
3D Support defines protocols for major 3D video formats, paving the way for true 3D gaming and 3D home theater applications
HDMI Ethernet Channel allows users to take full advantage of IP-enabled devices without a separate Ethernet cable
Audio Support for 32 channel digital audio and lossless compressed digital audio formats Dolby TrueHD and DTS-HD Master Audio
Up to 1536kHz audio sample frequency for the highest audio fidelity
4K Support enables video resolutions up to 3840x2160 which is 4 times the clarity existing 1080p displays
Supports maximum bandwidth up to 18Gbps
Audio Return Channel allows an HDMI host to send audio data upstream, eliminating the need for a separate audio cable
Additional Color Spaces for additional color models used in digital photography and computer graphics
Why not buy a Locking HDMI Cable today?
Specs
As we all know a problem with HDMI cables is that they can simply fall out of place because there is nothing locking them in. Our Locking HDMI Cable fixes that issue. Similar to how traditional VGA and DVI cables attach to your PC and audio video (A/V) components, this HDMI cable has a fastener that screws into and HDMI card after you have attached the cable, providing a secure connection that won't come loose. The plug also features a strain relief design that resists wire damage, preventing the break down of the internal conductors over time. Triple layer shielding ensures premium HDTV picture quality and high density insulation reduces the "ghosting" effect that is often seen with other cables.
Locking HDMI Cable Specs:
Cable Type: HDMI
Cable Length: 6, 10 and 15 feet
Connector on First End: 1 x HDMI Male Digital Audio/Video
Connector on Second End: 1 x HDMI Male Digital Audio/Video
Contact Plating: Gold
Features: Molded
Device Supported: Audio/Video Device
Device Supported: Monitor
Device Supported: TV
American Wire Gauge: 30 AWG
Supported Resolution: 3840 x 2160
Why not buy a Locking HDMI Cable today?
Control
When one is designing an HDMI Matrix Switch the most important initial specification is the number of inputs and outputs you will need in your facility. The next, and often forgotten, is how the user wants to control those inputs and outputs. HDTV Supply has your back when you're buying one of our WolfPack Family of Modular Matrix Switchers as we have dozens of way to control the inputs and outputs and are shown at
Controlling WolfPack Modular Matrix Systems
, as well as below:
For an up-to-date listing of all the methods to control our WolfPack Matrix Switchers go to
Ways to Control Our WolfPack Family Of Modular Matrix Systems.
Government
This product may be eligible to be purchased through the United States Governments SEWP program, similar to their GSA program.
The NASA SEWP (Solutions for Enterprise-Wide Procurement) provides the latest in Information and Communications Technology (ICT) and Audio-Visual (AV) products and services for all Federal Agencies and their approved contractors.
If you are a government agency and want to see whether HDTV Supply has this product in the SEWP database go to our
our SEWP Contract Holder RedHawk IT Solutions, LLC
to allow you to maybe order this product from the United States Governments SEWP program. It is very easy to place your order, go to the link above and enter HDTV Supply and there you will see a list of part numbers of what we currently have. If you do not see it than give us a call at 833-WOLFPACK (833-965-3722) and we may be able to enter it.
Our SEWP Contract Holder RedHawk IT Solutions partner has the following credentials:
DUNS: 801957023
TIN: 260452583
CAGE: 4TBM6
Their SEWP Federal Contracts are:
SEWP Contract Number: NNG15SD38B
Group: Group B_SDVOSB
NAICS: 541519
and
SEWP Contract Number: NNG15SD88B
Group: Group C
NAICS: 541519
The SEWP Program Office manages a suite of government-wide IT products and services contracts that enable NASA and all Federal Agencies to achieve their missions and strategic initiatives by providing streamlined access to critical technologies and solutions. The Program provides best value for the Federal Government and American taxpayer through innovative procurement processes, premier customer service and outreach, acquisition insight, and partnership with Government entities and Industry.
For a complete listing of HDTV Supply products from us, or our other vendors, call 833-WOLFPACK (833-965-3722).