Key Digital KD-MC1000 Master Controller






Key Digital KD-MC1000 Master Controller

Free Shipping & 5-Year HDTV Supply Upgraded Warranty

Free Lifetime Telephone, CHAT, TEXT and Email Tech Support
Master Controller Kit for Compass Control, includes Master Controller, ZigBee Wireless 2.4 Ghz & IR Universal Handheld Remote, ZigBee Wireless 2.4 Ghz to RS-232 Tx & Rx, and 1 KD-CSLX1 Compass Control Software License.
This
Key Digital KD-MC1000 Master Controller
is a small footprint controller that incorporates six multi-function 3.5mm universal ports for RS-232, one relay port, Ethernet-based control and ZigBee communications. The controller also includes sensor and relay controls, indicator LEDs, and an IR learning window to facilitate the learning of IR codes.
Other features of the KD-MC1000 Master Controller include the ability to integrate with Key Digital Digital IQ and Champion Series HDMI/HDBaseT Matrix Switchers to increase port control options, and the ability to control other systems such as security, lighting and shades in residential and commercial environments.
NOTE:
This product has been discontinued. See the above SIMILAR Tab for equivalent products or, if not there, call us at 800-841-9238 right now to discuss your needs.
HDTV Supply is proud to be an Authorized Reseller of Key Digital Products and only through Authorized Resellers can you get a 3-YEAR WARRANTY on all Key Digital Products along with our Free HDTV Supply Lifetime Telephone Tech Support
.
Key Digital KD-MC1000 Master Controller Features:
iOS Backbone: First major control system built from the ground up using Apple's iOS devices-iPad, iPad mini, iPhone, and iPod touch
Total 8 Ports: 6 MCP35 Multi-Function I/O Ports , 1 Relay/Contact Closure Port, 1 ZigBee Wireless Port

Multi-function 3.5mm Ports can be programmed to be one of the following functionality: IR in any direction, bi-directional RS-232, Voltage Level output, Voltage Sensor input, PCM Audio sensor input or Composite Video Sensor input

Bi-Directional ZigBee Wireless 2.4 GHz: Dedicated for ZigBee Wireless 2.4 GHz & IR Universal handheld remote (Model: KD-ZRC300) and ZigBee Wireless 2.4 GHz Tx & RX (Model: KD-ZRX200)
USB Support: USB port for firmware upgrades and initial setup
Built-in IR Learning: Front-facing IR window enables learning of IR codes from external IR remotes
LAN:Direct wire to LAN via RJ45
Relay Control: Control external equipment with one set of switchable contacts. Any multi-function 3.5mm port can be converted to Contact Closure using external Key Digital KD-CCXR200 Converter
Real Time Master Control: Allows user to store variables and events internally with/without iOS device
Compass Navigator: PC Editor allows fast and easy programming
Device Configuration: Allows all functions and integration into Compass Project via IP and Compass Navigator software
Complete Control: Audio, video, HVAC, lighting, shades, security, and more
Control Distribution: Integrates with all Key Digital Control Routing HDMI Switchers to expand the control system and add control ports
No need for PC or Mac in the system: All system performance is controlled by KD-MC1000 Master Controller and any iOS device
Compass Alliance Partners:Pre-loaded code sets
Reliable iOS Integration
IP Connectivity Stabilizer: Stable and constant TCP/IP socket created by KD-MC1000 with IP target devices via Telnet or HTTP regardless or iOS devices status
Event Handler: Scheduled events & actions based on iOS time and calendar variables including:

Schedule Mode: Schedule and execute timer events from iOS device and/or KD-MC1000
Schedule Sensing Mode: Execute events triggered by voltage or video/audio sensing by KD-MC1000
Why not buy this Key Digital KD-MC1000 Master Controller today?
Key Digital KD-MC1000 Master Controller Specifications:
MCP35 Multi-Function I/O (6):3.5mm Female stereo connectors independently configured as IR (mono, Tx or Rx, configurable from +5V to +12V), RS-232 (stereo, Tx and Rx, configurable from +5V to +12V), Voltage Trigger (configurable form +3.3V to +12V), Voltage Sensor (Digital Audio or Video, from +0.1V to +3.3V)
Relay(1):Independently configurable to NO (active), or NC (inactive) with 12A / 250VAC resistive switching capacity
TCP/IP(1):Supports 10/100BaseT up to 100Mbps for communication with iOS devices via LAN, software updates, device configuration and setup
Accessories: External 5V3A Power Supply, USB Cable,(1)3-Pin Terminal Block for Relay,(6)3.5mm to IR Emitter,(3)3.5mm to RS-232 Data Cable, Rack Mount Ears
Product:6.5" x 4" x 1.13"
Weight:1.5 lbs
Packaging:8.8" x 6.2" x 3.9"
Weight:3 lbs
Regulation:CE, RoHS, WEEE
Enclosure: Black Metal 1/2U
Why not buy this Key Digital KD-MC1000 Master Controller today?

The Key Digital KD-MC1000 Master Controller Compatible with:

KD-ZRC300

KD-ZRX200

KD-HD4x4Lite

KD-HD6x6Lite

KD-HD8x8Lite

HDTV Supply has this in stock in the Mt. Vernon, N.Y. warehouse so place your order at the above ADD TO CART button by 11AM PST and it can ship today or call us at 800-841-9238 to place your order.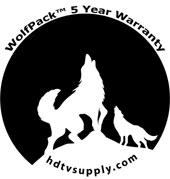 HDTV Supply
includes a
WolfPackCare
5 Year U.S. Limited Extended Warranty on this product. There are two bundled parts to this 5 year warranty. The 5 year warranty is only for the main device you purchased and does not include any product options or additional products you purchased at the same time.
FIRST THROUGH THIRD YEAR:
The first part of the warranty is a 3-year warranty direct with Key Digital ay 855-539-3444. The warranty states that the Product will perform substantially in accordance with the supplied written materials and Product information located on this Product web site page for a period of 3-years from the date of shipment of the Product and that the Product will be free from defects in materials & workmanship under normal use & service for a period of 3-years from date of shipment.
In order to get a warranty replacement for a defective item within the 3-years call Key Digital at 855-539-3444.
4th THROUGH 5th YEAR:
The 4th through 5th year are direct with
Consumer Priority Extended Warranty Service (CPS)
as they are HDTV Supplys extended warranty provider. They are a large 3rd party repair company with facilities throughout the U.S. and offer our U.S. customers unparalleled product coverage and repairs. If after calling HDTV Supply, at 800-841-9238, we find we can't fix the issue over the phone, and you need a repair, you will henceforth deal directly with CPS for the repairs via their toll free phone number (800) 905-0443 Option 3 during the 4th and 5th year.
Read
HDTV Supplys Warranty Terms and Conditions
and
Key Digitals Warranty Terms and Conditions
for more.
You can also
email CPS
and
email HDTV Supply
and
email KEY DIGITAL
as well as call us a 800-841-9238 if you have any questions with this 5 year bundled warranty.
Questions & Answers

Ask a question about the Key Digital KD-MC1000 Master Controller or Call 800-841-9238


HDTVSupply.com & Key Digital have had a long-term relationship. We are an Authorized Reseller Dealer & have a signed contract with Key Digital to sell and support their complete product line.
Our partnership started when HDTV Supply went looking for a company that could supply unique products, provide flawless support and had fair pricing. Key Digital was one of the first companies that met out strict demands and were one of the best we have developed a relationship with. Their products are very unique, beautifully engineered and priced right. We are proud to be a Key Digital Authorized Reseller.
Reasons To Buy This Key Digital Product From HDTVSupply.com:
Because Key Digital products are so reliable HDTV Supply upgrades the Key Digital 3-year warranty to HDTV Supplys 5-year Warranty (2-additional years from us) when you buy from HDTV Supply
We give FREE UPS insured shipping in the USA if the product page says it.
Our partnership with Key Digital gives you FREE Lifetime Telephone, CHAT, TEXT and Email Tech Support
HDTV Supply has a dedicated TEXT support line at 805-409-0208 to support you
HDTV Supply has a dedicated Product Manager for Key Digital products to assist with any special needs
Many times we will list lower cost Closeout Key Digital products at our site
All Key Digital are in stock and ship the same weekday if the order comes in by 12PM PST
You can buy Key Digital products from us with most any credit card, your Amazon account and PayPal
HDTV Supply has many videos to show the features of Key Digital products
You will find all Key Digital User Manuals and other manuals at our site
From time-to-time HDTV Supply runs a Factory Authorized sale on Key Digital products
If there is a Key Digital firmware update for your product you will find it at our site
Many times we will list lower cost Refurbished Key Digital products at our site
The below may be available on many Key Digital products, just email, TEXT or call us to find out:

RS232 Docs
GUI software
Ethernet TCPIP Docs
.pdf IR codes
HEX IR codes
Control4 drivers

All Key Digital products bought from HDTV Supply are brand new and in unopened boxes
All Key Digital products bought from HDTV Supply are shipped in double carton boxing
All Key Digital products bought from HDTV Supply have full value shipping insurance
All Key Digital products bought from HDTV Supply have a 30-day No-Hassle returns
All Key Digital products bought from HDTV Supply can be shipped blind to your customer
We have shipped >100s of Key Digital products throughout the world
HDTV Supply is located in the West coast and Key Digital is located on the East coast making for longer telephone phone support hours
Key Digital stocks extra accessories in case you misplace your remote we can get you a new one
HDTV Supply & Key Digital pride ourselves on confidentiality, any personal information that you may share with us is kept absolutely private.
Why not buy this Key Digital product from HDTV Supply today?
Key Digital KD-MC1000 Master Controller
Recently Viewed Items