Features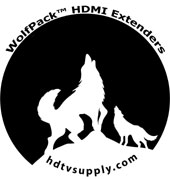 HDTV Supplys WolfPack
HDMI Extender Over CAT5
to 150 feet with Bidirectional Wideband Remote IR and HDMI Loop Out is the right way to send your HDMI signal over long distances. Instead of using expensive and problematic HDMI cables, this HDMI Extender Over CAT5 lets you use your existing Cat5e / 6 cables while also performing the same functions like transferring HDMI video and new lossless compressed (Dolby TrueHD, Dolby Digital Plus and DTS-HD Master Audio) digital audio, all with a bandwidth up to 165MHz upwards of 150 feet with CAT6 (preferred) or CAT5e UTP cabling.
This WolfPack HDMI Extender Over CAT5 has a 16 position switch on the rear panel to select EDID to solve problems with older TVs, Apple TVs, surround sound receivers and other issues. Refer to the COMPATIBILITY Tab for the EDID descriptions. And if that werent enough, you can use your existing remote to control your device through the optional IR blaster. Lastly, the transmitter of this HDMI Extender Over CAT5 has an optional HDMI Loop Out to connect to a local TV or cascade the HDMI source to additional far away widescreens.
WolfPack HDMI Extender Over CAT5 Features:
Extends both HDMI video and audio up to 150 feet
Uses only one (1) CAT5/5e/6 cable
16 User Adjustable EDID Settings For Problem Installs
Transmits an ARC signal from a source back to a "coax audio output at the HDMI extender receiver".
Use single UTP LAN cable (CAT-5E/6) to substitute HDMI cable to achieve long distance transmission.
UTP termination follows the standard of TIA/EIA-568-B.
Transfer Bidirectional Infrared control signal together with the HDMI signal..
Compliant with HDMI 1.3, HDCP 1.1 and DVI1.0 standards.
Supports digital video formats in 1080p and new lossless compressed (Dolby TrueHD, Dolby Digital Plus and DTS-HD Master Audio) Digital audio
Equalizes and recovers incoming ™DS data before re-transmitting it in high quality, regardless of the incoming signal quality.
Supports with 3D and an ARC function to a coax input on a AV receiver.
Super IR control system, IR transport channel can be forward or backward. The frequency of our wideband IR receiver is 20-60KHz.
The HDMI Extender over Single Cat5e/6 with Bi-directional IR and Audio Return Channel extends high definition video and audio signals and IR, at a distance of up to 150 feet over a single Cat5e/6 cable. Features of EDID management, which allows and encourages source and display handshake for seamless integration.
Equipped with an ARC ( Audio Return Channel) function, which allows the connected ARC equipped display to send audio data upstream to an ARC equipped A/V receiver or surround audio controller. The result is an easy and flexible installation eliminating the need for any separate S/PDIF audio connection. Also features of a digital audio breakout to extract audio, as well as an HDMI loop out for an additional HDMI output. With only one cost effective Cat5e/6 cable, high def sources with HDMI outputs can be connected to high definition displays with HDMI inputs over long distances. Deep color video, DTS-HD or Dolby TrueHD audio, and HDCP is supported and compatible with DVI. In addition, is also equipped with bi-directional IR pass-through which allows for source or display control.
The Extender includes two units: transmitting unit (TX) and receiving unit (RX). The transmitting unit is used to capture the HDMI input with IR signals and carries the signals via one cost effective Cat5e/6 cable. The receiving unit is responsible for equalizing the transmitted HDMI signal and reconstructing IR and serial control signals. They offers the most convenient solution for HDMI extension over a single Cat5e/6 with long distances.
Why not buy this WolfPack HDMI Extender Over CAT5 today?
Specs
HDTV Supply has created dozens of HDMI extenders over CAT5e/6 with various features for your needs. If this HDMI to single CAT5 doesn′t meet your needs see our
HDMI over CAT5e/6 comparison spreadsheet
for other HDMI to CAT5e/6 extenders with different features or call us right now at 800-841-9238 to discuss your requirements.
WolPack HDMI Extender Over CAT5 Features:
Transmitter Ports: 2 HDMI (Female type),1x Cat5e/6,2x3.5mm phone
Receiver Ports: 1x HDMI (Female type),1xRCA, 1x Cat5e/6,2x3.5mm phone
Supported Resolutions: 480i ~1080p50/60, VGA~UXGA
ESD Protection: Human Body model: 8 kV (air-gap discharge) 4 kV (contact discharge)
Power Supply: 5 V/1A DC
Dimensions: 65 mm (W) 118mm (D) 26mm (H)
Weight: 410 g (TX+RX)
Chassis Material: Metal
Color: Black
Operating Temperature: 0 蚓~40 蚓/ 32 蚌~104 蚌
Storage Temperature: −20 èš" ~ 60 èš"/−4 蚌 ~140 蚌
Relative Humidity: 20~90 % RH (non-condensing)
Power Consumption: 3.2W (Transmitter) and 2.2 w (Receiver)
HDMI Extender Over CAT5 Contents:
1 - HDMI Transmitter
1 - HDMI Receiver
2 - 5V/1A DC power adapter
1 - Operation Manual
2 - Wideband IR Transmitter
2 - Wideband IR Receiver
Why not buy this HDMI Extender Over CAT5 today?
Compatibility
TVs have always been able to receive multi-channel audio through an HDMI connection, and this is still a typical use-case, with the TV positioned "downstream" from content sources and any connected audio equipment. However, if a user had a TV with a built-in tuner or DVD player, and wanted to send content "upstream" from the TV back to the audio system, a separate connection had to be installed, typically an S/PDIF cable.
WolfPack HDMI Extender Over CAT5 EDID Settings:
Position EDID Description
0 1080p, 2CH AUDIO
1 1080p, DOLBY/DTS 5.1
2 1080p, HD AUDIO
3 1080i, 2CH AUDIO
4 1080i, DOLBY/DTS 5.1
5 1080i, HD AUDIO
6 3D,1080p, 2CH AUDIO
7 3D, 1080p,DOLBY/DTS 5.1
8 3D,1080p, HD AUDIO
9 Copy EDID from the Transmitter HDMI loop out
A Copy EDID from the Receiver HDMI out
B 1080p, 2CH AUDIO
C 1080p, 2CH AUDIO
D 1080p, 2CH AUDIO
E 1080p, 2CH AUDIO
F 1080p, 2CH AUDIO
Performance Rating
Category Cable Type:
Wiring
Shielding
CAT5
CAT5e
CAT6
Solid
Unshielded (UTP)
***
****
*****
Shielded (STP)
***
***
****
Stranded
Unshielded (UTP)
*
**
**
Shielded (STP)
*
*
**
Termination

Please use

EIA/TIA-568-B

termination (

T568B

)
Why not buy this HDMI Extender Over CAT5 today?
Q/A
Q: Does the WolfPack HDMI extender send ARC to my AV receivers HDMI output?
A:
The HDMI extender can't return the ARC to Transmitter. It can output the ARC audio from Receiver coaxial port only. If you open the ARC function, the TV audio will return to the HDMI extender Receiver and output to coaxial port.
Q: My picture is jumpy, what do I do?
A:
Try these
Set the source device resolution to the same resolution of the TV, like 1280x720p to 720p.
Set the EDID properly per the above manual.
Makes the CAT5e/6 cable per the above manual.
Use Cat5e/6 home runs and do not use internet hubs, wall plates and couplers.
See the Q/A Tab.
Q: ARC doesn't seem to be working, can you help?
A:
Try this:
Make sure you are installing HDMI 1.4 cables that include ARC, see our specs at HDMI cables with ARC
The TV must support ARC and it must be turned ARC ON
The unique TVs HDMI input must say it supports ARC
Wire the HDMI transmitter coax's output to the coax input of your AV receiver
Make sure CAT5e/6 STP connectors are put on "B"
Turn CEC ON
Leave EDID at its default.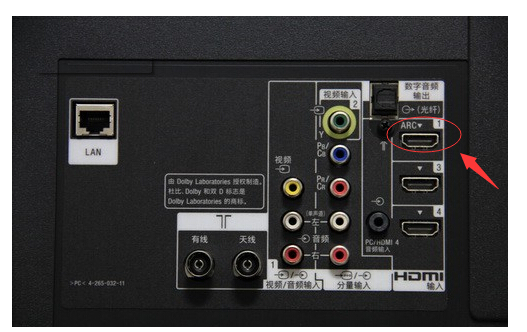 Q: What is ARC?
A:
The (ARC) Audio Return Channel in HDMI 1.4 enables a TV, via a single HDMI cable, to send audio data "upstream" to an A/V receiver or surround audio controller, increasing user flexibility. You will need a coax audio cable (not supplied) to connect the HDMI transmitter to to the coax audio input on your AV receiver.
Q: Do I need special HDMI cables for ARC?
A:
Yes, you need HDMI 1.4 or above HDMI cables that support internal Ethernet and ARC. See our above OPTIONS.
Q: I am in a church and don't want to see a "No Signal" on my display when the PC is turned off, how does this work?
A:
The picture will be black and blank without displaying any type of signal.
Q: Is it HDMI 1.4 or HDMI 1.3 as the manual says both?
A:
The HDMI loop out supports V1.4 if used with a short HDMI 1.4 cable and when it extends over a CAT6 cable it only supports HDMI 1.3
Q: Is it 164 feet with 3D and 1080p?
A:
Yes with this
CAT6 cable
.
Q: Will it do 1080p 3D with CAT5e stranded at 164 feet?
A:
Sometimes the quality of a CAT cable will affect transmission distance so we suggest customers to use a solid CAT6 cable.
Q: What are the AC adapter specs other than 5V/1a? Will it work worldwide?
A:
We use DC 5V 1A for the power supply. For worldwide use you will need an optional universal plug.
Q: If both TVs have ARC how does the ARC work?
A:
There is an ON/OFF switch for ARC on the receiver and it can only controls the ARC of the TV (which connects to the receiver). The HDMI loop out does not support ARC.
Q: If both TVs have different EDID, what are the EDID settings?
A:
The extender can copy EDID from TV and you can choose copy EDID from transmitter HDMI loop out or receiver HDMI out
Q: There are no 720p EDID settings, how is that handled?
A:
We can update software to get 720P EDID as required. Call us
Q: Can these units be cascaded.
A:
Yes, we managed to cascade 3 sets with solid CAT6 cables to over 400 feet.
Q: What is the IR frequency
A:
The frequency of our wideband IR receiver is 20-60KHz.
Q: I'm not getting 3D.
A:
Please set the EDID to the appropriate 3D and audio starting at Position 6.
Q: Will the Remote IR work with all remote controls?
A:
The IR repeater works well with 26 KHz single band remotes but may not work with multi-band remotes used on a few satellite boxes. Look for 2 emitters on the nose of the remote. If you are pre-wiring make sure to run a 3rd cat5 cable so you can add an IR system that can handle multi-band remotes. If you have multi-band remotes you might want to upgrade your remotes to UHF, which goes through walls. This will bypass the IR system completely on the extender or change to a universal remote control to handle all your devices.
Q: Does this HDMI over CAT5 cable extender support 4K?
A:
No, please see our
4K HDMI to CAT5 Extenders
.
Q: Does the remote IR work with a HDMI matrix switch or HDMI splitter?
A:
These HDMI extenders will send both HDMI video and audio from a matrix or splitter, etc but the remote IR is designed to be used with only one source, like a cable box, to one widescreen. There would be too many IR cables to attach on the sources IR window. See our HDMI switchers and splitters that have it integrated.
Why not buy this HDMI Extender Over CAT5 today?
Warranty

Click Here for Product Warranty
Ask a Question
Questions & Answers

Ask a question about the WolfPack HDMI Extender via CAT5 to 150′ w/Loopout, EDID, Coax ARC & IR - 1 Year Warranty or Call 833-WOLFPACK (833-965-3722)


FAQ
HDTV Supply created our unique line of
WolfPack line of products
which are born from a hungry, circling pack of high performance video and audio HDMI that surround our competition to devour them. The WolfPack family is sleek, unique & swift & even the smallest configuration wolf can adapt himself to many hostile environments.
The Wolfpack family can roam long distances even some up to 300 feet over HDBaseT trails and howl 4K whereas those who try to trap the WolfPack fails & runs away to the older devices.
You can only get this one-of-a-kind WolfPack product from HDTV Supply.
Reasons To Buy an HDTV Supply WolfPack Product:
All WolfPack products have FREE HDTV Supply U.S. based Live Telephone Lifetime Tech support
HDTV Supply has a dedicated TEXT support line at 805-409-0208 to support you
HDTV Supply has a dedicated Product Manager for WolfPack products to assist with any special needs
If there is a WolfPack firmware update for your product you will find it at our site
Many times we will list lower refurbished WolfPack products at our site
All WolfPack products are usualy in stock and ship the same week day if the order comes in by 12PM PST
You can buy WolfPack products from us with most any credit card, your Amazon account and PayPal
HDTV Supply has many videos to show the features of WolfPack products
You will find all WolfPack User Manuals and other manuals at our site
From time-to-time HDTV Supply runs Factory Authorized sales on WolfPack products
All WolfPack products bought from HDTV Supply are brand new and in unopened boxes.
All WolfPack products bought from HDTV Supply are shipped in double carton boxing.
All WolfPack products bought from HDTV Supply have full value shipping insurance
All WolfPack products bought from HDTV Supply have a 30-day No-Hassle returns
All WolfPack products bought from HDTV Supply can be shipped blind to your customer
HDTV Supply has shipped >1,000 WolfPack products throughout the world
HDTV Supply ships all WolfPack products from here in the U.S.
HDTV Supply stocks extra WolfPack accessories in case you misplace your remote or other unit
HDTV pride ourselves on confidentiality and any personal information that you may share with us is kept absolutely private.
Why not buy one of HDTV Supplys WolfPack products today?
OEM
This WolfPack product is part of HDTV Supplys WolfPack International OEM (Original Equipment Manufacturer) program that allows buyers who buy 5 or more devcies at once to get a discount larger then we already give.
What you get with our WolfPack International OEM Program:
5-year extended warranty to your customer starting when you ship the device to them, not when we ship it to you, less options
Permission to modify a generic users manual to make your own
Permission to put your own logo on a generic matrix
Lifetime U.S. Telephone Tech Support to you
An additional discount when you pay for 5 plus shipping and take delivery immediately
How you can participate in the WolfPack International OEM Program:
You support the end user with our behind the scenes support to you
You will never sell on-line below the discounted price on this site
You have experience installing complex HDMI matrix systems
You have an AV website that we can review
You have a Tax Resale document you can send us
If you are interested, send us an email at support @ hdtvsupply . com on your company, the area you support and your experience. Based upon a successful review, we will send you the additional discounts you can get by taking 5 or more of this product a once.
REFERENCE: 515-1020
Government
This product may be eligible to be purchased through the United States Governments SEWP program, similar to their GSA program.
The NASA SEWP (Solutions for Enterprise-Wide Procurement) provides the latest in Information and Communications Technology (ICT) and Audio-Visual (AV) products and services for all Federal Agencies and their approved contractors.
If you are a government agency and want to see whether HDTV Supply has this product in the SEWP database go to our
our SEWP Contract Holder RedHawk IT Solutions, LLC
to allow you to maybe order this product from the United States Governments SEWP program. It is very easy to place your order, go to the link above and enter HDTV Supply and there you will see a list of part numbers of what we currently have. If you do not see it than give us a call at 833-WOLFPACK (833-965-3722) and we may be able to enter it.
Our SEWP Contract Holder RedHawk IT Solutions partner has the following credentials:
DUNS: 801957023
TIN: 260452583
CAGE: 4TBM6
Their SEWP Federal Contracts are:
SEWP Contract Number: NNG15SD38B
Group: Group B_SDVOSB
NAICS: 541519
and
SEWP Contract Number: NNG15SD88B
Group: Group C
NAICS: 541519
The SEWP Program Office manages a suite of government-wide IT products and services contracts that enable NASA and all Federal Agencies to achieve their missions and strategic initiatives by providing streamlined access to critical technologies and solutions. The Program provides best value for the Federal Government and American taxpayer through innovative procurement processes, premier customer service and outreach, acquisition insight, and partnership with Government entities and Industry.
For a complete listing of HDTV Supply products from us, or our other vendors, call 833-WOLFPACK (833-965-3722).
Catalog
HDTV Supply WolfPack Product Catalog (2020)