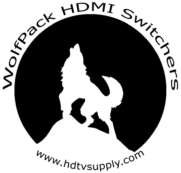 This WolfPack™
1080p DVI Output Card
is a 1080p compliant, 1-port output card designed to work with our WolfPack Matrix Switchers. The DVI Output Card provides resolutions at 1080p/60. The DVI Output Card is used with the matrix for true plug-and- play cross-point switching from any DVI input to any combination of DVI outputs. By having 1-port slide-in cards the matrix is very reliable as in the unlikely even there is a loss of signal you just replace the card with a spare you have purchased or order another from us. The complete matrix doesn't have to be sent to us for a repair.
This single-link DVI Output Card is used in our HDTV Supply WolfPack line of 9x9, 18x18 and 36x36 modular matrix switchers that feature one-slot card cages using either 9, 18 or 36 of these one-port DVI Output cards depending upon your system needs.
100ms Seamless Switching: This WolfPack™ Seamless card delivers 100ms instantaneous video switching. This high-performance engine processes signals by executing EDID hops and HDCP handshakes simultaneously at both the source input, the display outputs and scales the inputs for the best output resolution. It sets the output clock timing and uses a frame buffer to retain the input signal information for the fastest output.
Separate Embedded Audio In and De-embedded Audio Out: The Seamless card allows you to display video with separate audio coming from another audio source as it supports embedding the audio on the input cards 3.5mm audio connector and then de-embedding the audio on the HDMI output cards 3.5mm audio.
Hardware Scaling via DIP Switches on both in and out cards: The 8-pin DIP switch on the cards are for the manual scaling up/down. Each card has a 8-pin DIP switch to select multiple resolution settings to conform to your HDMI source devices and the HDMI destination devices.
DVI Output Card Features:
Supports one (1) DVI 1.1 Output
Scaling up & down on the card via a DIP switch on the card
De-embedded Audio Out
Supported resolutions: 1080p/60 4:4:4
Seamless switching speed of 100ms (0.1 sec)
No latency
Controllable via the matrices front panel buttons, RS232, WEB GUI and iOS/Android App
High bandwidth up to 10.2 Gbps
Built-in HDCP 1.4 internal management
Built-in EDID & DDC management
Plug & play
The WolfPack™ Modular HDMI Matrix Router allows switching between inputs with a clean video cut (frame-to-frame switching with no glitches). The WolfPack™ Modular HDMI Matrix Routers advanced processor allows it to process live signals simultaneously which means it can seamlessly and instantly switch (~100ms) between HDMI inputs and outputs. Most non-seamless matrix switchers require a delay of several seconds before they can switch between devices but with this WolfPack family that wait time is completely eliminated
This DVI Output Card can only be used with the following 1080p WolfPack Matrix Switchers seen at WolfPack DVI Matrix Switchers.
EDID Learning Instruction for the Card: The card is compliant to HDCP and supports EDID management from the card as it allows you to copy the EDID from its display to make sure there are no EDID errors. Once you have connected the matrix to the TV or Projector press the EDID key twice on the card to read the displays EDID. It is that easy.
NOTE: Do not combine or use our 4K/60 cards with this 1080p DVI card in the same matrix chassis. These DVI cards are designed to work only on 1080p based systems delivering pure 1080p resolutions and cannot be combined with any 4K/60 card HDMI Matrix system.
Why not buy this DVI Output Card today?
DVI Output Card Specs:
Output: 1 - DVI 1.1 (Female DVI)
Output signal: DVI-D full digital
Gain: 0 dB
Bandwidth: 6.75 Gbps
Resolution range: Up to 1080p at 60Hz
HDCP: Yes
Max. time-delay: 5ns (plus or minus 1ns)
Crosstalk: <-50 dB at 5MHz
DVI standards: DVI 1.1 and supports EDID and DDC
Why not buy this DVI Output Card today?
Control
When one is designing an HDMI Matrix Switch the most important initial specification is the number of inputs and outputs you will need in your facility. The next, and often forgotten, is how the user wants to control those inputs and outputs. HDTV Supply has your back when you're buying one of our WolfPack Family of Modular Matrix Switchers as we have dozens of way to control the inputs and outputs and are shown at
Controlling WolfPack Modular Matrix Systems
, as well as below:
For an up-to-date listing of all the methods to control our WolfPack Matrix Switchers go to
Ways to Control Our WolfPack Family Of Modular Matrix Systems.
Control Drivers
DirecTV Controller
HDTV Supply has successfully installed our WolfPack, WolfPackLite and our other DVI Matrix Switchers in Sports Bars, Restaurants, Bowling Alleys, Fitness Centers, Malls, Places of Worship, Data Centers, Gaming Rooms, Nail Salons, County Clubs, Casinos, Factories, Conference Rooms, Schools, Home Theaters or many other installations requiring DVI matrix switching. The reason, we are told by the users, is the number of features we offer compared to other companies they looked at.
This card used with our modular DVI matrix switchers can usually be integrated with many third party control systems using the RS232 port on the back of the matrix.
For experienced AV hardware and software professionals who want to write their own drivers for 3rd party control systems from:
AMX™
Control4™
Creston™
RTI™
DTVGameControl™
Elan g!™
Media Switcher™
OnControls™
Savant™
SimpleControl™
SwitchItUp™
SAVI Control™
URC Control™
...and we have created a simple and very easy to use RS232 script to write your own drivers.
EXAMPLE: If you want to switch input 8 to output 1, 8, 16, the RS232 command would be x1&8&16. and notice the command has a period (.) at the end of the string. The matrix even replies "OK" when the right command is received and shows "ERR" when receiving a wrong command. Here is the RS232 User Manual if you want to write your own drivers.
How to use the info:
END USER: If you are an end user and want to have a whole-house control system from any of the above 3rd party control houses but your budget can't support the price you were quoted, do the following:
Call us for a quote
Once you get our quote call a 3rd party control reseller or installer in your area and tell them "Here is the hardware I want to use, please give me a quote on writing the software and installing all of the hardware at my location." You usually can save $1,000s on larger systems.
CAVEAT:
We are not certified by any of the above 3rd party control systems companies nor have the necessary hardware to verify, troubleshoot and support the 3rd party writing of the code. We do warranty, though, that the RS232 script in the above RS232 Users Manual has and will work to control the matrix directly.
Also, CLICK HERE for our DirecTV™ & DVI Matrix Control Software for Bars & Restaurants
Why not buy this DVI Output Card today?
Q: What are the DIP switches on the card to be used for?
A:
Resolution changing
Q: Do you have any tips in the unlikely event the unit fails?
A: Turn it OFF and then disconnect the matrix from the AC power and all cables. Pull out each board from the rear and push back in. Plug all cables back in and turn it on.
Q: What are the HDCP options?
A: You can choose either to open or close the HDCP on the output card. A receiver that cannot support HDCP can also display the sources with HDCP.
Mix-n-Match combinations:
Non-HDCP source to a HDCP compliant TV
HDCP source to a non-HDCP compliant TV
Q: What is you test procedure?
A:
Our testing procedure is:
Assembling: Production line self-testing (Basic Functions)
Initial Testing: Includes every card, control software and front panel front buttons
24 Hours Aging: Gao Sheng Standard Aging Room
Final testing: All Functions
QC final Inspection: Sticker, serial number, etc
Packing: Pack and ship
Why not buy this DVI Output Card today?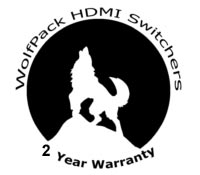 HDTV Supply includes a
2 Year WolfPackCare™ Advance Replace
Limited Warranty on this card. The warranty states that the card will perform in accordance with the accompanying materials for a period of 2 years from the date of the receipt of the order & that the card will be free from defects in materials & workmanship under normal use.
Slide-in Boards & HDBaseT Extenders: If a board or extender goes bad in the first 2-years & HDTV Supplys Tech Support team verifys the problem after a telephone call, HDTV Supply will send a new or like-new unit within the USA usually within 24-hours by USPS Air Priority at HDTV Supplys expense. We will ask for a credit card for payment in case the bad card is not sent back to us within 5-business days. You will need to provide us the tracking number as we will to you and you will need to pay for the cards return. In order to get a warranty replacement for a defective card HDTV Supplys Support Team will verify the product is eligible for a warranty. An RMA number will then be issued. Shipped replacements will be in like new conditions, tested and all components included.
HDTV Supply also sells a 3 or 5 Year warranty for this card. Please call us for a quote.
Why not buy this DVI Output Card today?