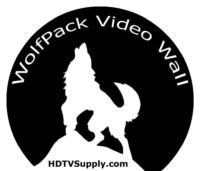 HDTV Supplys WolfPack 4K
4x4 Video Wall
is the easiest to configure and install 4x4 video wall on earth as we send all the hardware and software to you to make it near Plug-N-Play. Just install the WolfPack Transmitter at the video source, attach it to our our special Gigabit managed switch, plug the 16-WolfPack Receivers at each of the 16-screens (TVs not supplied). The 4x4 Video Wall is usually up and operating within an hour after hanging your 16-TVs, wiring the 17-CATx cables, plugging in the 17-HDMI cables & logging in with your wired browser to setup everything from your laptop and you′re done.
You will need 16-matched TVs and wall mounts (not supplied).
HDTV Supplys WolfPack 4x4 Video Wall uses Gigabit compression technology to send a visually lossless HDMI video signal up to a 4K2K image and 8-channel digital audio across a 1000BT LAN (UHD over IP) to 16-widescreens up to 400-feet away via one CAT6 cable per display. Use the 4x4 Video Wall in malls, sports bars, factories, conference rooms and similar without having to purchase expensive PCs and impossible-to-operate video wall processors.
Built-in up scaling and down scaling:
Using this 4K HDMI Over IP system you can have a mixture of 1080p and 4K TVs as the built-in scaler downscales 4K with HDCP 2.2 to 1080p for viewing on Full HD TVs. You can instantly switch between sources too, whereas a traditional matrices may not be able to.
What Sets Our WolfPack 4x4 Video Wall Apart From Others:
4K and HDCP Compliant
Browser based laptop control
High uptime with swappable transmitters & receivers, not one large processor
Supports CATx connection lengths up to ~400 feet without buying anything else
180 & 270 degree image rotation
Field expandable by buying additional transmitters/receivers/switches
Free Lifetime Telephone Tech Support from California
HDTV Supplys
WolfPack Windows based iSwitch software
allows UHD/FHD video to be sent over an IP network to create Many To Many matrix switchers as well as TV video walls. You now can connect multiple AV sources with many displays over IP‐Hosts/Clients as well as control them with iSwitch in the IT room.
WolfPack 4x4 Video Wall Features:
4K at 30 Hz compatible
PC controlled via a Web GUI (use a Google Chrome Web Browser)
Compliant with HDCP 1.4
Compliant with HDMI 1.4
Uses an included 10-port gigabit IP switch for extension and distribution
Field upgradeable to create larger video walls
Software control of cropping, scaling and rotation from your laptop
Extends 4K HDMI signals up to ~400 feet over a single UTP CAT5e/6 cable.
Video Wall Support:

Preconfigured to support one source device and 9-displays
Image rotate (180/270 degree)
Accurate frame gap compensation
Tearing free in single host mode

The 16-Receivers (RX) are Video Scalers converting a 4K input to a 1080p signal or converting a 1080p signal input signal to a 4K output (all at 30 Hz)
Video Rotation for 180/270 degree
Configurable to a KM over IP (for KVM application)
Configurable to a USB over IP (for all kinds of USB HID devices)
Configurable to an Audio over IP (automatically switches off the HDMI audio)
Line out HDMI audio extraction at the Transmitter (Client)
Configurable to an RS232 over IP
Scaling:
HDTV Supplys WolfPack 4x4 Video Wall system allows you to mix-n-match TVs with different resolutions. No need to upgrade every TV to 4K as our receiver in our 4K HDMI Over IP system features a built-in scaler that downscales 4K to 1080p for viewing on 1080p projectors or TVs. You can instantly switch between source devices also which many HDMI matrices cannot do.
Why not buy this 4x4 Video Wall today?