4K WolfPack 2x2 Video Wall System w/WEB GUI Control




WolfPack 4K 2x2 Video Wall System expandable to an 8x16 Video Wall

Send One Source to 4 - TVs Showing One Large Picture

HDMI over LAN Design Reaches 400 Feet

Control via a Google Chrome Web Browser (Web GUI)

Laptop control of Bezel Correction, Screen Rotation, Cropping & Scaling

180 & 270 degree image rotation

Part # 2x2WolfPack

Usually ships the same business day

Today's Price: $1,100.00
Features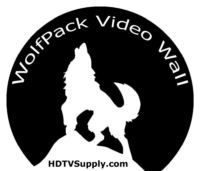 HDTV Supplys WolfPack 4K
2x2 Video Wall System
is the easiest to configure and install 2x2 video wall on earth as we send all the hardware and software to you to make it near Plug-N-Play. Just install the WolfPack Transmitter at the video source, attach it to our our special Gigabit managed switch, plug the 4-WolfPack Receivers at each of the 4-screens. The 2x2 Video Wall System is usually up and operating within an hour after hanging your 4-TVs, wiring the 5-CATx cables, plugging in the 5-HDMI cables & logging in with your browser to set everything from your laptop and you′re done.
You will also need 4-matched TVs and wall mounts (not supplied).
HDTV Supplys 2x2 Video Wall System uses Gigabit compression technology to send a visually lossless HDMI video signal up to a 4K2K image and 8-channel digital audio across a 1000BT LAN (UHD over IP) to 4-widescreens up to 400-feet away via one CAT6 cable per display. Use the 2x2 Video Wall System in malls, sports bars, factories, conference rooms and similar without having to purchase expensive PCs and impossible-to-operate video wall processors.
Built-in up scaling and down scaling:
Using this 4K HDMI Over IP system you can have a mixture of 1080p and 4K TVs as the built-in scaler downscales 4K with HDCP 2.2 to 1080p for viewing on Full HD TVs. You can instantly switch between sources too, whereas a traditional matrices may not be able to.
NOTE:
Optionally if you also need each one of the 4 - widescreens to display a different picture (like 4 - football games) you can buy the above 4 - transmitters and turn the 2x2 Video Wall into a 4x4 matrix also. You will also need 4 - HDMI sources like 4 - DirecTV receivers (not supplied) and 4-matched TVs (not supplied).
What Sets Our WolfPack 2x2 Video Wall System Apart From Others:
4K and HDCP Compliant
Browser based laptop control
High uptime with swappable transmitters & receivers, not one large processor
Supports CATx connection lengths up to ~400 feet without buying anything else
180 & 270 degree image rotation
Field expandable by buying additional transmitters/receivers/switches
Free Lifetime Telephone Tech Support from California
Optional 3 Year Extender Warranty
HDTV Supplys
WolfPack Windows based iSwitch software
allows UHD/FHD video to be sent over an IP network to create Many To Many matrix switchers as well as TV video walls. You now can connect multiple AV sources with many displays over IP‐Hosts/Clients as well as control them with iSwitch in the IT room.
WolfPack 2x2 Video Wall System Features:
4K at 30 Hz compatible
PC controlled via a Web GUI (use a Google Chrome Web Browser)
Compliant with HDCP 1.4
Compliant with HDMI 1.4
Uses an included 10-port gigabit IP switch for extension and distribution
Field upgradeable to create larger video walls
Software control of cropping, scaling and rotation from your laptop
Extends 4K HDMI signals up to ~400 feet over a single UTP CAT5e/6 cable.
Video Wall Support:

Preconfigured to support one source device and 9-displays
Image rotate (180/270 degree)
Accurate frame gap compensation
Tearing free in single host mode

The 4-Receivers (RX) are Video Scalers converting a 4K input to a 1080p signal or converting a 1080p signal input signal to a 4K output (all at 30 Hz)
Video Rotation for 180/270 degree
Configurable to a KM over IP (for KVM application)
Configurable to a USB over IP (for all kinds of USB HID devices)
Configurable to an Audio over IP (automatically switches off the HDMI audio)
Line out HDMI audio extraction at the Transmitter (Client)
Configurable to an RS232 over IP
Scaling:
HDTV Supplys WolfPack 2x2 Video Wall System allows you to mix-n-match TVs with different resolutions. No need to upgrade every TV to 4K as our receiver in our 4K HDMI Over IP system features a built-in scaler that downscales 4K to 1080p for viewing on 1080p projectors or TVs. You can instantly switch between source devices also which many HDMI matrices cannot do.
Why not buy this 2x2 Video Wall System today?
Specs
2x2 Video Wall System Features:
10-Ethernet Ports: UTP/STP 1000Mbps (8K Jumbo Frame required)
Protocol: IP, UDP, TCP, ICMP and IGMP
HDMI Port: 19 pin type A female
RS232 Port: DB-9 Male
DC Jack (Power): DC5V, 2A
Audio Jack (LINE IN/OUT): 3.5mm
USB Port:

1 - Transmitter: Type-B USB 2.0 and their AC adapter
4 - Receivers: Type-A USB 2.0 and their AC adapter

LAN Bandwidth: 850Mbps max. for each source
Max. Supported Timing: 2160p 30Hz @30fps
Max Distance 400 feet or 120M with UTP between 2 devices (Host/Client/Ethernet Switch)
Built-in Output Scaler: Downscales to 1/2 and Upscales from horizontal pixels <=1920
Video Wall Support:

Up to 8x16 displays
Image rotate (180/270 degree)
Accurate frame gap compensation
Tearing free in single host mode

USB Redirection: KM over IP is dedicated for an KVM application that doesnt support a touch screen and USB over IP that supports any kind of USB HID devices
HDMI Audio Redirection:

2 Channel LPCM
8 Channel LPCM
5.1 Channel NLPCM
7.1 Channel NLPCM

Receiver HDMI Audio Extraction: 2 Channel LPCM (32KHz~96KHz)
Stereo Audio Redirection: Transmitter LINE IN (switch off HDMI audio) and Receiver LINE OUT
RS232 Redirection: Transparent binary data transmission
HDMI 3D Support: HDMI 1.4b with 3D TnB, SbS and F.P.
Compression Technology: Patented visually lossless video compression algorithm
Certificate: CE/FCC
Power LED (Blue): Blinking means power on and the unit is booting up and when On means power on and the unit is active
Link LED (Yellow): Blinking means the unit is connecting with Host or Client and when the HDMI source is removed. When ON means all the connections are working.
Compliance HDMI 1.4b/HDCP 1.4/RoHS
Operating Temperature 0~70èš"
Operating Humidity 10~85% RH (no condensation)
Storage Temperature -10~80èš"
Storage Humidity 5~95% RH (no condensation)
Size 12.3x10.3x2.5(h) cm, 400g 12.3x10.3x2.5(h) cm, 400g
2x2 Video Wall System Contents:
1 - HDMI transmitter with its AC adapter
4 - HDMI receivers with their AC adapters
1 - 10-port gigabit IP switch with its AC adapter
Why not buy this 2x2 Video Wall System today?
Videos
Here is a Setup Video on setting up the video wall. Please make sure Jumbo Frames and IMGP Snooping is enabled on the Network Switch.

Depending upon your PC in some cases you may need Apple Bonjour to be installed on the PC.

Here is a video on setting up the network switch (only).
Q/A
Q: Can I use a Microsoft IE browser with this 2x2 Video Wall System?
A:
No, control the system via a Google Chrome Web Browse
Warranty
HDTV Supply
includes a 1 Year Limited U.S. Warranty on this 3x2 Video Wall. The U.S. warranty states that (a) its products will perform substantially in accordance with the accompanying written materials for a period of 1 year from the date of receipt & (b) that the 3x2 Video Wall will be free from defects in materials & workmanship under normal use & service for a period of 1 year. In order to get a warranty replacement for a defective item, HDTV Supplys Support Team will verify the product is eligible for warranty. An RMA number will then be issued. Shipped replacements will be in like new conditions, tested & all components included. A 30-day RETURN also comes with this warranty as well as Free Lifetime Tech Support.
HDTV Supply
also sells a 3 and 5 Year Extended U.S. Warranty for this 3x2 Video Wall. Please go to
Extended Warranties
or see the above Options to purchase it.
Why not buy this 3x2 Video Wall today?
Ask a Question
Questions & Answers

Ask a question about the 4K WolfPack 2x2 Video Wall System w/WEB GUI Control or Call 833-WOLFPACK (833-965-3722)


OEM
This WolfPack product is part of HDTV Supplys WolfPack International OEM (Original Equipment Manufacturer) program that allows buyers who buy 5 or more products at once to get a discount larger then we already give.
What you get with our WolfPack International OEM Program:
5-year extended warranty to your customer starting when you ship the device to them, not when we ship it to you, less options
Permission to modify a generic users manual to make your own
Permission to put your own logo on a generic matrix
Lifetime U.S. Telephone Tech Support to you
An additional discount when you pay for 5 plus shipping and take delivery immediately
How you can participate in the WolfPack International OEM Program:
You support the end user with our behind the scenes support to you
You will never sell on-line below the discounted price on this site
You have experience installing complex HDMI matrix systems
You have an AV website that we can review
You have a Tax Resale document you can send us
If you are interested, send us an email at support @ hdtvsupply . com on your company, the area you support and your experience. Based upon a successful review, we will send you the additional discounts you can get by taking 5 or more of this product at one time.
REFERENCE: 510-1015
4K WolfPack 2x2 Video Wall System w/WEB GUI Control
Scroll Left & Right To See 20 Of Your Recently Viewed Items Below