4K Media Player with 10 HDMI Outputs




10-Way Media Player

Supports HDMI 2.0 and HDCP 2.2

2.0 GHz Eight-core GPU/ Android 4.4 system

4Kx2K Streaming Media Player

Includes 2-USB inputs and one HDMI input

Includes 10-HDMI output connectors

Part # HDTVHDMIP10V20-5

Usually ships the same business day

Today's Price: $399.95
Features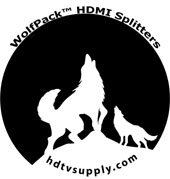 HDTV Supplys WolfPack™
4K Media Player with 10 Outputs
is a 2.0 GHz Eight-core GPU, 2G DDR3 RAM,Android 4.4 system. It can support the installation of live, on-demand, games, web browsing, music and other software with 2K, 4K Ultra HD play. This 10-ways media player is widely used in TV stores, project and other occasions.
HDTV Supply′s new HDMI 2.0 products are designed to support a new display technology called 4K. It was created to improve the contrast between light and dark images for a more realistic picture featured in new 4K TVs. The reason for the switch to HDMI 2.0 was that 4K TVs require more bandwidth to see the 4K picture. Since 4K is four times the resolution of 1080p, it required more bandwidth to support the extra data and that is why we have designed these HDMI 2.0a devices. HDMI 2.0, which is backwards compatible with earlier versions of the HDMI specification, significantly increases bandwidth and adds key enhancements to support market requirements for enhancing video and audio experience.
The older HDMI 1.4 compliancy supported 4K resolutions but only at 24 or 30 frames per second as well as HDMI 1.4 limits 4K content to 8-bit color. Our new HDMI 2.0 products can handle video up to a 4K assuring you of the finest 4K picture you can get. These HDMI 2.0 products are fully backward compatible with all previous HDMI version versions.
Wolfpack 4k Media Player with 10 Outputs Features:
Support HDMI 2.0 Version
Support resolution up to 4kx2k@30Hz
Support the max baud rate of 3G and max bandwidth of 300Mhz
Support WIFI, DLAN connection
Support 8/10/12 color space
Support AWG26 HDMI standard cable:input up to 8 meters, output up to 8 meters(4K/1080P)
Built-in Android 4.4 system,support screencast display
Support audio extraction, output by SPDIF
Support 2 USB 2.0 inputs,used for USB video playing and upgrading
Support 1Micro SD,used for SD card video playing
Support 10 ways HDMI output simultaneously
Supports an ATA hard disk plug and unplug without opening its lid (Not supplied)
Support IR control
Support resolution setting via IR or USB mouse
Net Weight: 1.6kg (without 500G Hard disk)
Dimension(L x W x H): 300x185x22mm
Why not buy this 4K Media Player with 10 HDMI Outputs today?
Specs
Package Accessories: 1: 10 ways media player x1 2: 12/2A power adapter x1 3: User manual x1 4:USB driver x1 5: remote control x1 6: 500G hard disk (optional) x1
Videos


HDCP or 'High Bandwidth Digital Content Protection' is a signal standard designed to protect HD content from piracy and copying. Learn more about it in the below video.


Why not buy this 4K Media Player with 10 HDMI Outputs today?
Ask a Question
Questions & Answers

Ask a question about the 4K Media Player with 10 HDMI Outputs or Call 833-WOLFPACK (833-965-3722)


4K Media Player with 10 HDMI Outputs
Scroll Left & Right To See 20 Of Your Recently Viewed Items Below