Features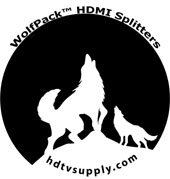 HDTV Supplys WolfPack™
4K Media Player with 10 Outputs
is a 2.0 GHz Eight-core GPU, 2G DDR3 RAM,Android 4.4 system. It can support the installation of live, on-demand, games, web browsing, music and other software with 2K, 4K Ultra HD play. This 10-ways media player is widely used in TV stores, project and other occasions.
HDTV Supply′s new HDMI 2.0 products are designed to support a new display technology called 4K. It was created to improve the contrast between light and dark images for a more realistic picture featured in new 4K TVs. The reason for the switch to HDMI 2.0 was that 4K TVs require more bandwidth to see the 4K picture. Since 4K is four times the resolution of 1080p, it required more bandwidth to support the extra data and that is why we have designed these HDMI 2.0a devices. HDMI 2.0, which is backwards compatible with earlier versions of the HDMI specification, significantly increases bandwidth and adds key enhancements to support market requirements for enhancing video and audio experience.
The older HDMI 1.4 compliancy supported 4K resolutions but only at 24 or 30 frames per second as well as HDMI 1.4 limits 4K content to 8-bit color. Our new HDMI 2.0 products can handle video up to a 4K assuring you of the finest 4K picture you can get. These HDMI 2.0 products are fully backward compatible with all previous HDMI version versions.
Wolfpack 4k Media Player with 10 Outputs Features:
Support HDMI 2.0 Version
Support resolution up to 4kx2k@30Hz
Support the max baud rate of 3G and max bandwidth of 300Mhz
Support WIFI, DLAN connection
Support 8/10/12 color space
Support AWG26 HDMI standard cable:input up to 8 meters, output up to 8 meters(4K/1080P)
Built-in Android 4.4 system,support screencast display
Support audio extraction, output by SPDIF
Support 2 USB 2.0 inputs,used for USB video playing and upgrading
Support 1Micro SD,used for SD card video playing
Support 10 ways HDMI output simultaneously
Supports an ATA hard disk plug and unplug without opening its lid (Not supplied)
Support IR control
Support resolution setting via IR or USB mouse
Net Weight: 1.6kg (without 500G Hard disk)
Dimension(L x W x H): 300x185x22mm
Why not buy this 4K Media Player with 10 HDMI Outputs today?
Government
This product may be eligible to be purchased through the United States Governments SEWP program, similar to their GSA program.
The NASA SEWP (Solutions for Enterprise-Wide Procurement) provides the latest in Information and Communications Technology (ICT) and Audio-Visual (AV) products and services for all Federal Agencies and their approved contractors.
If you are a government agency and want to see whether HDTV Supply has this product in the SEWP database go to our
our SEWP Contract Holder RedHawk IT Solutions, LLC
to allow you to maybe order this product from the United States Governments SEWP program. It is very easy to place your order, go to the link above and enter HDTV Supply and there you will see a list of part numbers of what we currently have. If you do not see it than give us a call at 833-WOLFPACK (833-965-3722) and we may be able to enter it.
Our SEWP Contract Holder RedHawk IT Solutions partner has the following credentials:
DUNS: 801957023
TIN: 260452583
CAGE: 4TBM6
Their SEWP Federal Contracts are:
SEWP Contract Number: NNG15SD38B
Group: Group B_SDVOSB
NAICS: 541519
and
SEWP Contract Number: NNG15SD88B
Group: Group C
NAICS: 541519
The SEWP Program Office manages a suite of government-wide IT products and services contracts that enable NASA and all Federal Agencies to achieve their missions and strategic initiatives by providing streamlined access to critical technologies and solutions. The Program provides best value for the Federal Government and American taxpayer through innovative procurement processes, premier customer service and outreach, acquisition insight, and partnership with Government entities and Industry.
For a complete listing of HDTV Supply products from us, or our other vendors, call 833-WOLFPACK (833-965-3722).