Features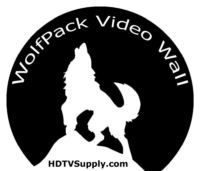 HDTV Supplys WolfPack
4 Output Video Wall
Display is a powerful and fully real time data/video processor for 4-flat panel displays or projectors. With the most flexibility on the input side, the unit accepts one VGA, DVI, CVBS, S-Video, and YPbPr signal and splits that input onto the connected 4 displays showing one large picture. The 4 screen wall processor is an advanced video device for multimedia presentations. It has four HDMI outputs to go to 4 - widescreens showing one large picture.
You will also need 4-matched TVs and wall mounts (not supplied).
Subtitle Function:
With our WolfPack 4 Output Video Wall you can scroll sub-title words like ABC Company on a USB drive and plug the USB drive to the USB port and turn on the 4 Output Video Wall Processor. Press number 0 on the remote control and then follow below steps: MENU --> ROLL TET --> OK, its that easy. You can even adjust the word size, color, background and the scrolling speed.
The 4 Output Video Wall allows you to manipulate input videos to a position and size you want for viewing. The embedded scalar converts signals from input sources to match the native resolution of monitors, flat panel displays, projectors.
The 4 Output Video Wall sends the resulting mixed video thru HDMI interface to the connected 4 - widescreens or projectors based on the display layout. The layout can be readily modified to fit your applications and optimize visual effects. Typical applications include digital signage, and broadcasting/education/ surveillance systems etc.
WolfPack 4 Output Video Wall Features:
Selects between and sends HDMI, DVI, USB or VGA to 4 HDMI outputs
Incorporates a Sub-title scrolling function
More than 10 different operation languages to choose from
Operate by a remote control and Front buttons
Supports 2X2, 1x2, 1X4, 4X1, etc splicing
Select between one Input:

USB2.0: Supports sub-title function in a .mkv video
VGA + 3.5mm audio: Supports 1920x1080/60HZ and below
CVBS: Supports PAL and NTSC
HDMI: Supports 1080p and below 1080p

Four HDMI Outputs:

3.5mm Audio: de embedded from the HDMI or 3.5mm VGA Audio input
HDMI: Up to 1080p

Mirror function: Can rotate the image 180 degrees
Controls: Remote control, DIP switch and front buttons
Language: Support more than 10 languages to choose
Four HDMI outputs
Each HDMI output has an independent controllable display area
Functions perfectly as video screen splitter, video converter and video switcher.
Titles, borders and single color background
Image parameters and layouts are automatically saved in memory and can be used later
Several image parameters and layouts can saved and can be loaded for later use
Video parameters adjustable
User selectable output settings
Why not buy this 4 Output Video Wall today ?
OEM
This WolfPack product is part of HDTV Supplys WolfPack International OEM (Original Equipment Manufacturer) program that allows buyers who buy 5 or more products at once to get a discount larger then we already give.
What you get with our WolfPack International OEM Program:
5-year extended warranty to your customer starting when you ship the device to them, not when we ship it to you, less options
Permission to modify a generic users manual to make your own
Permission to put your own logo on a generic matrix
Lifetime U.S. Telephone Tech Support to you
An additional discount when you pay for 5 plus shipping and take delivery immediately
How you can participate in the WolfPack International OEM Program:
You support the end user with our behind the scenes support to you
You will never sell on-line below the discounted price on this site
You have experience installing complex HDMI matrix systems
You have an AV website that we can review
You have a Tax Resale document you can send us
If you are interested, send us an email at support @ hdtvsupply . com on your company, the area you support and your experience. Based upon a successful review, we will send you the additional discounts you can get by taking 5 or more of this product at one time.
REFERENCE: 510-1015
Government
This product may be eligible to be purchased through the United States Governments SEWP program, similar to their GSA program.
The NASA SEWP (Solutions for Enterprise-Wide Procurement) provides the latest in Information and Communications Technology (ICT) and Audio-Visual (AV) products and services for all Federal Agencies and their approved contractors.
If you are a government agency and want to see whether HDTV Supply has this product in the SEWP database go to our
our SEWP Contract Holder RedHawk IT Solutions, LLC
to allow you to maybe order this product from the United States Governments SEWP program. It is very easy to place your order, go to the link above and enter HDTV Supply and there you will see a list of part numbers of what we currently have. If you do not see it than give us a call at 833-WOLFPACK (833-965-3722) and we may be able to enter it.
Our SEWP Contract Holder RedHawk IT Solutions partner has the following credentials:
DUNS: 801957023
TIN: 260452583
CAGE: 4TBM6
Their SEWP Federal Contracts are:
SEWP Contract Number: NNG15SD38B
Group: Group B_SDVOSB
NAICS: 541519
and
SEWP Contract Number: NNG15SD88B
Group: Group C
NAICS: 541519
The SEWP Program Office manages a suite of government-wide IT products and services contracts that enable NASA and all Federal Agencies to achieve their missions and strategic initiatives by providing streamlined access to critical technologies and solutions. The Program provides best value for the Federal Government and American taxpayer through innovative procurement processes, premier customer service and outreach, acquisition insight, and partnership with Government entities and Industry.
For a complete listing of HDTV Supply products from us, or our other vendors, call 833-WOLFPACK (833-965-3722).