4 Output Video Wall w/Sub-Title Scrolling - 1 In to 4-Outs & 180 Degree Flipable




One input to 4-Displays show one large picture

180 degree flipable of each display

Supports Sub-Title Scrolling

One Switchable Input to 4 - HDMI outputs

Uses World leading Faroudja Image Processing Technology

37-Button Remote Control to easily operate the Video Wall

Supports 2X2, 1x2, 1X4, 4X1, etc splicing
Features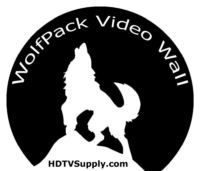 HDTV Supplys WolfPack
4 Output Video Wall
Display is a powerful and fully real time data/video processor for 4-flat panel displays or projectors. With the most flexibility on the input side, the unit accepts one VGA, DVI, CVBS, S-Video, and YPbPr signal and splits that input onto the connected 4 displays showing one large picture. The 4 screen wall processor is an advanced video device for multimedia presentations. It has four HDMI outputs to go to 4 - widescreens showing one large picture.
You will also need 4-matched TVs and wall mounts (not supplied).
Subtitle Function:
With our WolfPack 4 Output Video Wall you can scroll sub-title words like ABC Company on a USB drive and plug the USB drive to the USB port and turn on the 4 Output Video Wall Processor. Press number 0 on the remote control and then follow below steps: MENU --> ROLL TET --> OK, its that easy. You can even adjust the word size, color, background and the scrolling speed.
WolfPack 4 Output Video Wall Features:
Selects between and sends HDMI, DVI, USB or VGA to 4 HDMI outputs
Incorporates a Sub-title scrolling function
More than 10 different operation languages to choose from
Operate by a remote control and Front buttons
Supports 2X2, 1x2, 1X4, 4X1, etc splicing
Select between one Input:

USB2.0: Supports sub-title function in a .mkv video
VGA + 3.5mm audio: Supports 1920x1080/60HZ and below
CVBS: Supports PAL and NTSC
HDMI: Supports 1080p and below 1080p

Four HDMI Outputs:

3.5mm Audio: deembedded from the HDMI or 3.5mm VGA Audio input
HDMI: Up to 1080p

Mirror function: Can rotate the image 180 degrees
Controls: Remote control, DIP switch and front buttons
Language: Support more than 10 languages to choose
Four HDMI outputs
Each HDMI output has an independent controllable display area
Functions perfectly as video screen splitter, video converter and video switcher.
Titles, borders and single color background
Image parameters and layouts are automatically saved in memory and can be used later
Several image parameters and layouts can saved and can be loaded for later use
Video parameters adjustable
User selectable output settings
The 4 Output Video Wall allows you to manipulate input videos to a position and size you want for viewing. The embedded scalar converts signals from input sources to match the native resolution of monitors, flat panel displays, projectors.
The 4 Output Video Wall sends the resulting mixed video thru HDMI interface to the connected 4 - widescreens or projectors based on the display layout. The layout can be readily modified to fit your applications and optimize visual effects. Typical applications include digital signage, and broadcasting/education/ surveillance systems etc.
Why not buy this 4 Output Video Wall today ?
Specs
WolfPack 4 Output Video Wall Specs:
RGB input Connector: HD15
Pixel clock: 165MHz
Resolution: 640x480/85HZ to 1920x1200/60HZ
Color depth: 24bit
HDMI input: Connector HDMI
DVI input: Connector DVI
Resolution: 640x480/85HZ to 1920x1200/60HZ
Color depth: 24bit
Video Standard: NTSC, PAL or SECAM
Output Connector: HDMI(DVI)
Resolution: 640x480/85HZ to 1920x1200/60HZ
Color depth: 24bit
Control connector: RS232
Power: AC 90-240V/50-60HZ
Power consumption: 4W/channel
Input HDMI Cable length up to 15 feet if using our high speed AWG24 HDMI Cable seen in the ACCESSORIES TAB
Output HDMI Cable length up to 35 feet if using our high speed AWG24 HDMI Cable seen in the ACCESSORIES TAB
Input voltage: 100VAC to 260VAC, 50/60 Hz, DC 5V power adapter
Rack mounted: Come with a pair of rack ears
Dimension(mm): 5.9x17.3x1.7 / 150 mm (W)x 440 mm (D) x 44 mm (H)
Weight: 4.4lb/ 2Kg
Operating Temperature: 0 C~40 C/32 F~104 F
Storage Temperature: −20 C~60 C/−4 F~140 F
4 Display Video Wall Processor Package Contents:
1 - 1x4 TV Wall Processor
1 - Remote control
1 - Power adapter
1 - Pair of Rack ears
1 - Users Manual
Why not buy this 4 Output Video Wall today?
Accessories
WOLFPACK 4K HDMI CABLES



4K WolfPack HDMI HDBaseT Extender upwards to 220 Feet w/RS232 & IR

$150.00

4K WolfPack HDBaseT Extender to 330 Feet w/IR & POE

Price: $399.95

Today's price:

$199.95

(You Save: 50%)

WolfPack HDMI to Coax Adapter - Send 1080p to a TV via an existing house coax

Price: $300.98

Today's price:

$99.95

(You Save: 67%)
Refurbished
We have a unit that was used in our lab that has a scratch on the bottom that works flawlessly for $300, shipped. Call Kent at 800-841-9238 if you are interested.
Videos
Setting up HDTVTVWALL104-5 for a 2x2 video wall
Warranty

Click Here for Product Warranty
Ask a Question
Questions & Answers

Ask a question about the 4 Output Video Wall w/Sub-Title Scrolling - 1 In to 4-Outs & 180 Degree Flipable or Call 800-841-9238


OEM
This WolfPack product is part of HDTV Supplys WolfPack International OEM (Original Equipment Manufacturer) program that allows buyers who buy 5 or more products at once to get a discount larger then we already give.
What you get with our WolfPack International OEM Program:
5-year extended warranty to your customer starting when you ship the device to them, not when we ship it to you, less options
Permission to modify a generic users manual to make your own
Permission to put your own logo on a generic matrix
Lifetime U.S. Telephone Tech Support to you
An additional discount when you pay for 5 plus shipping and take delivery immediately
How you can participate in the WolfPack International OEM Program:
You support the end user with our behind the scenes support to you
You will never sell on-line below the discounted price on this site
You have experience installing complex HDMI matrix systems
You have an AV website that we can review
You have a Tax Resale document you can send us
If you are interested, send us an email at support @ hdtvsupply . com on your company, the area you support and your experience. Based upon a successful review, we will send you the additional discounts you can get by taking 5 or more of this product at one time.
REFERENCE: 510-1015
4 Output Video Wall w/Sub-Title Scrolling - 1 In to 4-Outs & 180 Degree Flipable
Recently Viewed Items