WolfPack 4K/60 2x3 Video Wall Processor




4K/60 2x3 Video Wall Processor

Displays 3840x2160@30Hz diagonally across 6 - 4K TVs

Select 1 of 3 source & Distribute to 6 displays

Each output can flip 180 degrees

4K@60 4:4:4 @ 18Gbps Compatible using 6-1080p TVs

Part # HDTV-2x3VW4K

Usually ships in 2-3 business days

Today's Price: $1,200.00
Features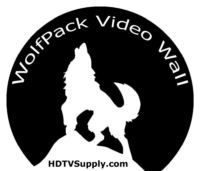 HDTV Supplys WolfPack
4K 2x3 Video Wall
Processor is a 4K based video wall processor which allows one HDMI input to be arranged on six 4K displays. It offers bezel correction support with a simple and easy to use control application. The rack mount video wall controller supports video output timings up to 1080p@60Hz. It sends one source to 6 - TVs showing one large picture. This 4K 2x3 Video Wall has the following switch selectable inputs of HDMI, DP and MHL.
The 4K 2x3 Video Wall Processor can be used with a single source or multiple sources by manually switching the corresponding port on the remote control. The 4K 2x3 Video Wall supports an HDMI 1.4 input with a maximum support of 3840x2160@30Hz and is backwards compatible. When using an MHL to HDMI cable it can be compatible with MHL output devices such as a MHL phone and pad, etc.
NOTE:
4K@60Hz means the whole video wall resolution. For example, a normal 1080p 2x3 video wall means the whole 6-TVs are only 1080p but our 4K 2x2 is 4K@60Hz. across all TVs.
WolfPack 4K 2x3 Video Wall Processor Features:
Inputs: 1-HDMI (HDMI 2.0), 1-Displayport and 1-MHL source (HDMI 1.4)
HDCP 2.2 & HDMI 2.0 Compliant
4K@60 4:4:4 @ 18Gbps Compatible
Supports 180 degree image flip function for each screen.
Supports separate audio out
Supports direct-play from an USB disk with all kinds of Audio / Video media format
Front panel buttons for input source selection, output port configuration, bezel adjustment & setup
Supports 180 degree rotation for bottom-thick bezel screens
Controllable via front panel buttons and a supplied IR remote control
19" rack mountable
The WolfPack 4K 2x3 Video Wall processor can function as a 2x3 video wall controller so if you have 6-widescreens you can make up one giant video image. You will need 6-matched TVs and wall mounts (not supplied).
Why not buy this 4K 2x3 Video Wall Processor today?
Specs
The 4K 2x3 Video Wall offers solutions for digital entertainment centers, HDTV retail and show sites, HDTV, STB, DVD and projector factory, noise, space and security concerns, data center control, information distribution, conference room presentations, school and corporate training environments.
Why not buy this 4K 2x3 Video Wall Processor today?
Accessories

4K HDMI CABLES



18GBPS 4K/60 HDMI over CAT6/6A/7 with IR
Price: $200.00


Today's price:

$164.95

(You Save: 18%)
Manuals
User Manual
Why not buy this 4K 2x3 Video Wall Processor today?
Ask a Question
Questions & Answers

Ask a question about the WolfPack 4K/60 2x3 Video Wall Processor or Call 833-WOLFPACK (833-965-3722)


WolfPack 4K/60 2x3 Video Wall Processor
Scroll Left & Right To See 20 Of Your Recently Viewed Items Below