Features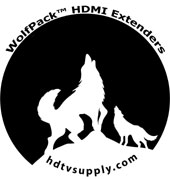 HDTV Supplys WolfPack 1X8 HDMI Splitter HDBaseT comes from the HDBaseT technology, which enables the extension and distribution of HDMI signals over CAT6 cables. The 1X8 HDMI Splitter HDBaseT enables users to send a single source to 8-displays as far away as 175 feet at 4K 60 4:4:4 at 18GBPS and with HDR. The HDBaseT 1X8 splitter comes with optional receivers and you pick them based upon your resolution needs and instance that you want to go. They all support HDCP 2.2, HDMI 2.0, and go upwards of 330 feet at 1080p. The optional receiver family allows you to pick different specs in different quantities based upon your needs and not forcing you to buy a complete 1X8 HDBaseT splitter when you need only three outputs.
This 1X8 HDMI Splitter HDBaseT is suitable for a wide variety of scenarios some of which include trade shows whereby one plans to display his or her products on various HD displays, in sports bars or recreation centers that have multiple HDTV's for customers to watch big games or news events or in case a person wants to have a TV in each room of their house. The 1X8 HDMI HDBaseT Splitter offers the perfect solution for people who wish to distribute a video signal through a number of displays. The device takes one HDMI input, which it then splits into four Ethernet signals that it transmits over a single CAT5e/6 cable. The receiver unit that is at the end converts the signal back to HDMI in order for its use by the display.
HDTV Supplys implementation of the HDBaseT technology and this product adds virtually zero latency to the HDMI audio and video signal, less than 7 microseconds (0.000007 sec) over 220 feet of CAT6 cable. At 100 feet you are talking about 3 microseconds (0.000003 sec). This means for example, in a factory, church or auditorium, the speakers lips and audio are always in synch on all the TVs and projectors 100's of feet away.
HDTV Supply, Inc. is an HDBaseT.Org Approved Adopter of HDBaseT™ Products.
1X8 HDMI Splitter HDBaseT Features:
Incorporate HDBaseT technology
Supports HDMI 2.0, HDR at 18G
Includes and HDMI Loop Out
Supports an HDMI output up too 4K@60 Hz & YUV 4:4:4
Transmits up to 100M at 1080p and 70M at 4K 60
Supports high bit-rate audio formats like Dolby True-HD & DTS Master Audio
Support RS232 and EDID management
Compliant with HDCP 1.4 and 2.2
POC allows all HDbaseT Receivers to be powered by the splitter
Supports cascading to 8 layers with the HDMI Loop Out
HDCP 2.2 and 1.4 compliant
Support Dolby TrueHD, DTS-HD Master Audio
With wide-band Bi-Direction IR control (38 ~ 56 kHz) (IR extension from Sender to Receiver or from Receiver to Sender)
HDBaseT output 1 supports RS232 and Ethernet pass through
Support CEC and 3D
Support POC (Receiver powered by HDBaseT Splitter)
Extends and distributes HDMI signal to 8 remote HDMI displays over CAT5e/6 cable.
Uncompressed high definition video
Why should I want a 1X8 HDMI Splitter with CEC? Consumer Electronics Control (CEC) allows your TVs remote to manage up to ten devices that are connected via HDMI (such as Blu-ray Disc players or home theater receivers) and no special programming is needed. You can use your TVs remote to turn on your TV, your player, and your receiver at the same time and adjust the system volume with one button. All devices must have the CEC option, though, as this splitter does.
Why not buy this 4K 60 1X8 HDMI Splitter HDBaseT & HDR today?
Q/A
Q:
This product has CEC, what is CEC? A:
This product features CEC (Consumer Electronics Control) allowing your HDTV's remote to manage up to ten devices that are connected via HDMI (such as Blu-ray Disc players or home theater receivers) with no special programming needed. For example, you can use your remote to turn on your TV, your player, and your receiver at the same time, and adjust the system volume with one button. All devices must support CEC, though.
Most major TV manufacturers now support CEC, and an HDTV with HDMI 1.3 will likely have the technology. Manufacturers call it by different names; LG Electronics, for instance, calls its implementation SimpleLink, whereas Toshiba calls its version CE-Link. Interoperability isn't mandatory, so some manufacturers limit control to their own products; Sony, for one, allows only Sony-to-Sony communication.
Government
This product may be eligible to be purchased through the United States Governments SEWP program, similar to their GSA program.
The NASA SEWP (Solutions for Enterprise-Wide Procurement) provides the latest in Information and Communications Technology (ICT) and Audio-Visual (AV) products and services for all Federal Agencies and their approved contractors.
If you are a government agency and want to see whether HDTV Supply has this product in the SEWP database go to our
our SEWP Contract Holder RedHawk IT Solutions, LLC
to allow you to maybe order this product from the United States Governments SEWP program. It is very easy to place your order, go to the link above and enter HDTV Supply and there you will see a list of part numbers of what we currently have. If you do not see it than give us a call at 833-WOLFPACK (833-965-3722) and we may be able to enter it.
Our SEWP Contract Holder RedHawk IT Solutions partner has the following credentials:
DUNS: 801957023
TIN: 260452583
CAGE: 4TBM6
Their SEWP Federal Contracts are:
SEWP Contract Number: NNG15SD38B
Group: Group B_SDVOSB
NAICS: 541519
and
SEWP Contract Number: NNG15SD88B
Group: Group C
NAICS: 541519
The SEWP Program Office manages a suite of government-wide IT products and services contracts that enable NASA and all Federal Agencies to achieve their missions and strategic initiatives by providing streamlined access to critical technologies and solutions. The Program provides best value for the Federal Government and American taxpayer through innovative procurement processes, premier customer service and outreach, acquisition insight, and partnership with Government entities and Industry.
For a complete listing of HDTV Supply products from us, or our other vendors, call 833-WOLFPACK (833-965-3722).