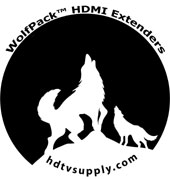 HDTV Supply's WolfPack™
4K 60 HDR SDVoE HDMI Over IP
is a SDVoE network AV encoder/decoder system with both HDMI & DisplayPort female connector inputs that support up to 4K 60Hz 4:4:4, 18 GBPS & HDR. It is designed for SDVoE HDMI/DP transmissions over an IP SDVoE network with external audio & control signals at distances up to 330 feet over CAT5e/6 copper cables (call for fiber) from the Ethernet switch. It works with one control PC (Wake on LAN) & 10GbE Switchers to control its variety of its built-in functions. Use with a 10 GBPS SDVoE Ethernet Switch (Not Supplied).
The WolfPack™ 4K/60 SDVoE HDR HDMI Over IP series features uncompressed video with zero-latency from encoder to decoder, seamless switching, Video wall functions, 1G Ethernet, IR, RS232, audio embedding/de-embedding, audio down-mixing, and more. The control PC merges all the functions into a Web-GUI meaning that the user control system functions over multiple OS which then can support any browser anywhere on the same local area network. Compared with traditional HDBaseT matrix AV Switching, the WolfPack™ SDVoE 4K/60 HDR HDMI Over IP features easy installation, more interoperability and increased flexibility. It is ideal for distributing AV over a 10 Gigabit Ethernet SDVoE switch in enterprises and other large-scale installations.
The WolfPack™ SDVoE 4K/60 HDR HDMI Over IP series provides one of the most advanced IP Streaming solutions on the market utilizing AptoVision BlueRiver™ NT+ technology, which synergizes various IP/AV standards to work together as one. It combines a variety of 4K IP technologies and features under one unified protocol controlled by a simplified single WEB GUI.
EXAMPLE: 4K/60 SDVoE 8x16 Network HDMI Matrix Switch:
Let us say you have an application where you need to send 8-4K 60 sources sent to 16-4K @ 60 Hz TVs in any combination. The sources are 6 feet away from the Ethernet switch and the TVs are 200 feet away from the Ethernet switch. This is a 4K/60 8x16 Network HDMI switch and here is what you need to buy from above:
8 - 4K/60 SDVoE HDMI Transmitters (TX) + their AC Adapters
16 - 4K/60 SDVoE HDMI Receivers (RX) + their AC Adapters
1 - SDVoE SDVoE IGMP 10-Gigabit Ethernet Switch (Not Supplied)
Field expandable by simply buying more TVs, sources and SDVoE RXs and SDVoE TXs
WolfPack™ 4K/60 HDR SDVoE HDMI Over IP Features:
The most advanced SDVoE IP Streaming solutions on the market utilizing AptoVision BlueRiver™ NT+ technology.
True 4K/60 4:4:4 and Dolby Vision transmission, HDMI 2.0b and DP 1.2 standard.
HDCP 2.2 complaint.
4K with zero compression and zero latency.
Uses a SDVoE 10Gbps network switch (not supplied)
Seamless switching with selectable output resolutions from 720p~4K scaling ability.
Video wall processing with bezel correction.
Audio embedding, de-embedding and down-mixing
Two-way IR and RS232 control.
Integrated Web Server for Device control.
Streams uncompressed video with zero-latency, audio and control, with the flexibility of transmitting them together or to separate network destinations.
Supports HDMI 2.0 and video resolutions up to 4K@60Hz 4:4:4 8bit and 1080P 3D.
18Gbps high bandwidth and supports HDR 10 and Dolby Vision.
Automatically detects and switches HDMI and DP inputs.
Transmits and receives RS232 and IR to any units by using an Unicast or Broadcast IPV4 protocol or local control by an API server.
Our WolfPack family is HDCP 2.2 compliant from encoder (TX) to the decoder (RX).
Allows a video source to be stretched across multiple displays.
Seamless switching between different encoder with selectable output resolutions up to 4K 60 & with a scaling ability.
Encoder route HDMI audio, external audio as an independent streaming for decoder embedding.
BlueRiver NT+ Series is compatible with SDVoE, offering zero-latency AV-over-IP with true 4K/60 and video processing.
AptoVision BlueRiverTM NT+ technology. NT1000 chip is implemented in the transmitter and NT2000 chip is implemented in the receiver.
About 10G Networks:
Unlike traditional AV extension technology such as HDBaseT where transmitters and receivers are connected point to point or joined together using a custom matrix switch, SDVoE transmitters (TX) and SDVoE receivers (RX) units based on BlueRiver NT and NT+ technology are interconnected using standard of the shelf 10G Layer 2/3 network switches. This flexibility in signal routing enables multiple applications including: matrix switching, scalers and video-walls.
Through this architecture all signals are now packed into data packets that are independently routed. Not only does this allow sending data from one transmitter to one receiver (1 to 1) or one transmitter to many receivers (1 to many). An added benefit of packet data transmission is that each signal type (video, audio,RS232 etc.) is routed independently and not necessary to the same destination. As an example, HDMI video received by particular Transmitter goes to 4 Receivers, while the audio goes to all receivers.
Why not create a WolfPack™ SDVoE 4K/60 HDR HDMI Over IP today?