1x24 HDMI Splitter




1x24 HDMI Splitter

Supports Up To 4K at 30 Hz 4:2:0

OFF/ON Switch in Rear

Sends 4K Up To 50 feet at 10.2 Gbps

Sends 1080p Up To 75 feet at 2.25 Gbps

Part # 1x24-hdmi-splitter

Usually ships in 5-7 business days

Today's Price: $850.00
Features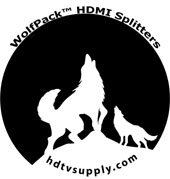 HDTV Supplys WolfPack™ 4K
1x24 HDMI Splitter
use a single HDMI source and sends it up to 24-HDMI TVs. The HDMI outputs have the ability of buffering and amplifying all the HDMI signals and can achieve long distance transmission of HDMI signals up to 50 feet (15 meters). This 1x24 HDMI Splitter is designed with a high bandwidth chip to support high performance image processing and distortion compensation along with long HDMI cable lengths
HDTV Supplys WolfPack 1x24 HDMI Splitter is a perfect solution for anyone who needs to send one source of digital high definition video to 24-displays at the same time. It supports all HDMI equipment, such as DVD players and satellite set top boxes and all HDMI displays.
What sets this HDMI Splitter apart from the competition is its 4K×2K, 4K for short, resolution that supports today's 1080p resolution as well as 4,096 lines wide by 2,160 lines high or roughly four times the resolution of a 1080p display and is double the number of lines of a typical HD picture, and more than double the number of pixels across the screen – so over four times the resolution. This HDMI Splitters have been designed to support 4K and have four times the resolution and signal bandwidth and memory for today's needs and future 4K products.
WolfPack 1x24 HDMI Splitter Features:
Distribute 4K/30 HDMI video and audio signals to up to 24 outputs
Supports 480p, 720p, 1080i, 1080p, 1920x1200 and 4Kx2K resolutions
In & Out HDMI Cable distances with 24-AWG HDMI cables:

4K - 50 feet at 10.2 Gbps
1080p - 75 feet 2.25 Gbps

HDMI 2.0 compliant
HDCP compliant
Supported Video Color Format: Color depth 24 bit /36 bit
Supported audio formats: lpcm, Dolby-ac3, dts7.1, dsd;
Supports data rates up to 10.2 Gbps
Supports full 4K/30
Conforms to High Speed HDMI specifications - (Deep color, HD lossless audio formats & Lip Sync)
Supports Dolby Digital, DTS-HD and Dolby True HD audio
EDID & HDCP compliant
Front-panel lights
Rack-mountable metal enclosure
External power supply included
Why not buy this1x24 HDMI Splitter today?
Specs
WolfPack 1x24 HDMI Splitter Specs:
Input: HDMI x 1
Output: HDMI x 24
Operating temperature range: -15 to +65℃
power consumption: 70w power supply: ac100 ~ 220v, 50/60hz power format: ac 100v ~ 220v(50hz/60hz)
2u chassis size: 480×250×88mm(length × width × height)
Input DDC signal: 5V (peak-to-peak)
Warranty: 1 Year parts and labor
Ask a Question
Questions & Answers

Ask a question about the 1x24 HDMI Splitter or Call 833-WOLFPACK (833-965-3722)


1x24 HDMI Splitter
Scroll Left & Right To See 20 Of Your Recently Viewed Items Below