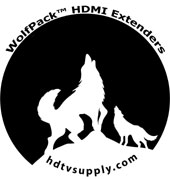 This WolfPack™
Rugged HDMI Over CAT5 Extender
extends your HDMI source device to an HDTV display up to 330 feet with a single CAT5 cable without any video loss and time delay...and in hostile environments.
By utilizing POE technology both HDMI audio and video signals and power can be sent to a device via standard CAT5e/6/6a cabling. This means you do not need to install a power outlet at the device location and you can use readily available, relatively low cost, Ethernet cabling with this Rugged HDMI Over CAT5 Extender.
The Sturdy HDMI Over CAT5 Extender can also be split with an Ethernet switch and sent to dozens of more TVs with the above optional receivers and Ethernet switch. This HDMI Over CAT5 Extender sends a 1080p FULL HD HDMI signal up to 330 feet over a single CAT5 cable without any video loss and time delay...and in hostile environments.
NOTE:
The Rugged HDMI Over CAT5 Extender only supports 480p, 720p or 1080p progressive signals so set your source device to one of those resolutions. These adapters do not work with 480i or 1080i source resolutions or 480i or 1080i displays or any interlaced (i) device or any other resolution like 1280x1024, etc.
Rugged HDMI Over CAT5 Extender Applications:
Outdoor pool areas
Open door factories
Outdoor trade shows
Outdoor patios
Installations where CAT5 cables are already installed
The units are not waterproof and must be protected from any water getting on them
WolfPack Rugged HDMI Over CAT5 Extender Features:
HDMI Over CAT5 Extender to 330 Feet For Hostile Environments
Anti-rust Industrial Aluminum Alloy Shielding
Operating Temperature from 0 to 150 degrees F
Stainless Hexcon Assembly Screws & BNC Connectors
Zero Latency & Zero Transmission Loss
RF Interference Protection
Operating Temperature: -20C to 70C
Storage Temperature: -40C to 80C
Humidity: 20% ~ 90% RH (Non-condensing)
Extends a FULL 1080p HD HDMI signal to 330 feet using CAT5e or CAT6 cables
Wide range 117VAC to 5VDC to 12VDC power supply
Resolutions Supported:

1080p@60Hz
1080p@50Hz
1080p@30Hz
1080p@25Hz
720p@60Hz
720p@50Hz
480p@60Hz
It does not support 1080i, 720i, 480i or any interlaced resolutions

Supports digital video formats in Deep Color Mode at up to 12bits/color
Supports full HDMI audio and video
Easy to install and simple to use
FCC, CE and RoHS Compliant
Why not buy this Rugged HDMI Over CAT5 Extender today?