HDTV Supplys WolfPack™
4K 60 HDMI Extender Set with ipcolor
is a Zero Latency 4K@60Hz HDMI 2.0 Point-to-Point Extender. The cornerstone of this 4K 60 HDMI Extender is it uses HDTV Supplys WolfPack™ ipcolor technology supporting Atmos, HDR, zero latency, ultra high definition video transmission using low-cost Ethernet cables.
The core of HDTV Supplys WolfPack™ 4K 60 HDMI Extender Set uses our ipcolor technology supporting zero latency, 4K resolution lossless transmission through 10G Ethernet by using Ethernet cables. 8K ultrahigh-definition video transmission technology is under research, other latest technologies such as 5G are also being planned.
4K 60 HDMI Extender with ipcolor Features:
Supports 4K60Hz 4:4:4 18Gbps
HDMI 2.0 and HDCP2.2
Extends 220 feet with CAT6/6a/7 cables
Extends 125 feet with CAT5/5e cables
Supports HDMI ARC, HDR & Dolby audio
POT - Power Over Transmitter
Needs only one AC Adapter which is supplied
Includes both the HDMI transmitter (TX) & the HDMI Receiver (RX)
Zero latency and lossless compression (Solving problems that normal extenders are facing)
Innovative cascade design (support one to 10 from the RX)
HDMI Loop-out from the TX
Lightning protection, surge protection and ESD protection
Low power consumption: Save 57% power consumption than the traditional baluns
Another unique feature of the 4K 60 HDMI Extender with ipcolor is its bidirectional IR:
You can control the video source device from the TV location, or
Turn the TV OFF & ON from where the video source is
What is ipcolor? HDTV Supply WolfPack™ ipcolor is a global leading and innovative technology for ultra high definition video digital transmission and connectivity. ipcolor has become the optimal video digital transmission technology for video walls, projectors and other screens used in hospital, government, education, enterprise, and consumer application, etc.
Why not buy this 4K 60 HDMI Extender with ipcolor today?
4K 60 HDMI Extender with ipcolor Features:
Zero latency transmission with new generation ipcolor protocol.
Supports 4K@60Hz, YUV4:4:4 and 18Gbps bandwidth.
Innovative cascade design.
Supports the ARC function.
Supports bi-directional IR pass back control.
Supports HDMI 2.0 and compatible with HDCP 2.2.
Supports HDR and Dolby audio (Dolby TrueHD、Dolby Digital).
The receiver can extract the digital audio from the transmitter through the S/PDIF port.
The receiver can be powered by the transmitter through a network cable and can adapt to different resolution screen.
The transmitter supports one HDMI loop out.
Industrial grade design: lightning protection, surge protection and ESD protection.
Supports CE/FCC/RoHS certification standards.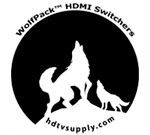 Reasons To Buy an HDTV Supply WolfPack Product
Q: What markets and applications can benefit from ipcolor technology?
A:
All video transmission applications that demand zero-latency, lossless compromised video can benefit from ipcolor technology. It offers substantial cost savings and greater system flexibility than traditional approaches. Markets include monitor room, control and command center, broadcast, conference room, multimedia classroom, exhibition, rail transit, data center, consumer, entertainment, commercial, medical, etc.
Q: How does ipcolor technology relate to other industry standards and protocols?
A: ipcolor technology does not replace other industry standards such as HDMI, HDCP, HDR, BT.2020, etc. It just makes transporting them easier as users and product developers do not have to think much about them. ipcolor technology relies on many global IT standards such as TCPIP, Ethernet, etc.