Features
Key Digital KD-DA1x8 1x8 4K/18G HDMI Distribution Amplifier, HDR10, HDCP2.2This Key Digital KD-DA1x8 Distribution Amps
is designed and engineered to offer the best in quality, performance, and reliability, while providing a cost-effective, ultra-slim HDMI distribution solution. The KD-DA1x8 provide one input to 8-outputs HDMI distribution without signal degradation. The KD-DA1x8 HDMI Distribution Amp supports all SD, HD, VESA and Ultra HD/4K video standards, including UHD/4K, 1080p/60, 1920x1200, 3D and support of HDCP 2.2 and HDR10.
Key Digital KD-DA1x8 1x8 4K/18G HDMI Distribution Amplifier, HDR10, HDCP2.2
Digital Distribution: 1 HDMI Source to 4 HDMI Displays
Ultra HD/4K Resolution: 4096x2160 or 3840x2160 30Hz at 4:4:4 and 60Hz at 4:4:4
HDCP Licensing: Compliancy up to HDCP 2.2 and backward compliant
18 Gbps Bandwidth: High Speed / Performance for latest HDMI standards
HDR10 (High Dynamic Range): More life-like images through a greater range of luminance levels
3D Ready: Capability to pass 3D stereoscopic signal formats
Resolution Support: SD, HD, and VESA up to UHD/4K
Deep Color Support: Up to UHD/4K 30Hz 4:4:4/12 bits or 60Hz 4:4:4/8 bit
EDID Control: Internal library with 15 EDID handshakes in addition to native EDID data of output/display 1
Full Buffer System: Manages TMDS re-clocking / signal re-generation, HDCP source & display authentication, Hot Plug Management and EDID Control handshake
Lossless Compressed Digital Audio: Dolby TrueHD, Dolby Digital Plus, DTS-HD Master Audio and Dolby Atmos
Deep Color Support: Up to 12 Bit at UHD/4K 24/25/30Hz 4:4:4
HDMI and HDCP Licensing: Fully licensed and compatible with HDCP 2.2 and HDMI
I2C Communication: EDID and HDCP buffering from Display to Source
CEC Disconnect: Prevents all device communication signals via CEC, ARC, and HDMI Ethernet channels
Why not buy this Key Digital KD-DA1x8 1x8 4K/18G HDMI Distribution Amplifier, HDR10, HDCP2.2 today?
Warranty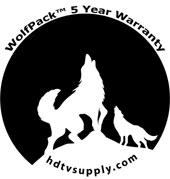 HDTV Supply
includes a
WolfPackCare
5 Year U.S. Limited Extended Warranty on this product. There are two bundled parts to this 5 year warranty. The 5 year warranty is only for the main device you purchased and does not include any product options or additional products you purchased at the same time.
FIRST THROUGH THIRD YEAR:
The first part of the warranty is a 3-year warranty direct with Key Digital ay 855-539-3444. The warranty states that the Product will perform substantially in accordance with the supplied written materials and Product information located on this Product web site page for a period of 3-years from the date of shipment of the Product and that the Product will be free from defects in materials & workmanship under normal use & service for a period of 3-years from date of shipment.
In order to get a warranty replacement for a defective item within the 3-years call Key Digital at 855-539-3444.
4th THROUGH 5th YEAR:
The 4th through 5th year are direct with
Consumer Priority Extended Warranty Service (CPS)
as they are HDTV Supplys extended warranty provider. They are a large 3rd party repair company with facilities throughout the U.S. and offer our U.S. customers unparalleled product coverage and repairs. If after calling HDTV Supply, at 800-841-9238, we find we can't fix the issue over the phone, and you need a repair, you will henceforth deal directly with CPS for the repairs via their toll free phone number (800) 905-0443 Option 3 during the 4th and 5th year.
Read
HDTV Supplys Warranty Terms and Conditions
and
Key Digitals Warranty Terms and Conditions
for more.
You can also
email CPS
and
email HDTV Supply
and
email KEY DIGITAL
as well as call us a 800-841-9238 if you have any questions with this 5 year bundled warranty.