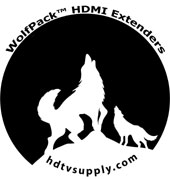 HDTV Supplys WolfPack
HDMI to RF Modulator
sends a 480i or 480p (only) HDMI signal to one or many number of TVs over existing or new coax cables. This HDMI to RF Modulator has one HDMI input & one RF coax output & a Channel 3 or 4 switch to be set on your TV or VCR.
This HDMI to RF Modulator allows you to use newer equipment with ONLY HDMI connectors and connect them to older TVs and equipment with only coaxial connectors. It can also be used with a coaxial splitter and sent to multiple TVs.
NOTE:
This WolfPack HDMI to RF Modulator does NOT work in reverse (connecting an old coax video source to the input of a HDMI TV) or work at any other resolution other than 480i or 480p & your source device must be set at that resolution & the TV to CH3 or CH4.
No 480i or 480p...No Picture!
This HDMI to RF Coax Adapter allows you to convert digital signals from an HDMI source to VHF analog TV signals and allows you to watch videos and play games on channel 3 or 4 on older Analog tube TV models, VCRs and other non-HDMI devices.
The HDMI to RF Modulator can be used in:
Mobile homes
Campers
Trailers
Outdoor TVs
Garages
Patios
Retirement homes
Older homes
Class rooms
Hotels
Retail stores
Hospitals
...and more that have coax installed
Send an HDMI satellite receiver via this HDMI to Coax Adapter to a VCRs coaxial input and then via coaxial through to the TV. This device has been tested to be compatible with many HDMI devices including an Apple TV (4th Generation with proper settings), Sony PlayStation PS4, Sony PlayStation PS3, Microsoft Xbox One, Microsoft Xbox 360, Nintendo Switch and several others. If your source device doesn't have either a 480i or 480p setting this HDMI to RF Modulator will not work. 3rd generation AppleTVs don't have it so they won't work. No 480i/p...No Picture!
WolfPack HDMI to RF Modulator Features:
Easy to Install and Simple to Use
Supports HDMI stereo audio and 480i and 480p HDMI video
Equalizes and recovers incoming TMDS data before re-transmitting it in high quality, regardless of the incoming signal quality.
Works with HDMI 1.3 and HDCP 1.1 Compliant Devices
Supports High Definition audio and video Resolutions to 480i/p
HDMI Connector: 19-Pin Type-A Female
HDMI Input Video Signal: 0.5 - 1.0V p-p
Supported Resolution: 480i/480p
Analog RF Output Level: 68+/- 5dBuV @ 75 Ohms Loaded
Impedance: 75 Ohms
UL-Listed AC Adapter: 117VAC to 5V DC
Connecting the HDMI to RF Modulator to your system:
Before connecting the converter to your devices make sure all devices are turned off.
Connect the Converter.
Turn On the source device
FORCE the output resolution of your source device to 480i or 480p and no other resolutions.
Plug the AC adapter cable into the converter's power port and the adapter into a standard wall outlet. The LED indicator turns red.
Connect the RF output jack TO TV of the converter to your TV or other non-HDMI devices like a VCR with a coaxial cable (not included).
Connect the HDMI cable (not included) to the HDMI port of the HDMI device, and the other end of the cable to the HDMI IN port on the converter.
Set the CHANNEL switch to channel 3 or 4 and then select the same channel on your TV.
Turn on the HDMI device and the LED indicator turns green
You now should see a picture.
Why not buy this HDMI to RF Modulator today?