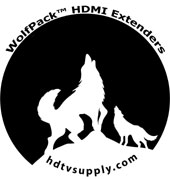 HDTV Supplys WolfPack
HDMI to Coax Converter
sends a HDMI signal to one or many number of TVs over existing or new coax cables. If you just got a new cable box or satellite box and it doesn't have a coax output this HDMI to Coax Converter is for you. You can now route the coax going throughout your house that you were using before when you have a satellite/cable box that had a coax output.
This WolfPack HDMI to Coax Converter will convert an HDMI video & HDMI audio signal to a coax signal made up of a video signal and its right & left stereo audio signal. The HDMI to Coax Converter allows HDMI devices to be connected to older 4x3 CRT TVs, DVRs and other coax input devices. It supports the Amazon Fires, Vudu, Roku, DVD players, Google TVs, AppleTVs, etc. so you can watch Netflix, etc streaming video on a TV with only a coax input.
The HDMI to Coax Adapters output picture quality will be lower due to it being a 480i/p RF analog signal with a 4x3 aspect ratio meaning there will be side black bars when used on a 16x9 widescreen. It should be not used for critical viewing on a very large TVs and to improve it use the remote control to adjust the output screen amplitude up and down and adjust the TVs brightness, sharpness, contrast and chroma to get a better picture.
HDMI to Coax Converter Features:
TV/RF Output Signal Frequency: 61.25MHZ
Supported Input HDMI Resolutions:

480i
480p
576i
576p
720p
720I
1080i
1080p

Supported Output HDMI Resolutions:
Supported Output Formats:

NTSC-M which is used in the USA
PAL-BG
PAL-l
PAL-DK
The HDMI to Coax Converter can be used in:
Mobile homes
Campers
Trailers
Outdoor TVs
Garages
Patios
Retirement homes
Older homes
Class rooms
Hotels
Retail stores
Hospitals
...and more that have coax installed
How to use this HDMI to Coax Converter:
With the RF cable in the package, connect the RF OUT interface and TVs coax tuner antenna-in and connect the power adapter, turn on then red light on and connect this converter to HDMI source.
By searching the TV program can connect the converter signal(color screen);
HDMI signal into the state of green light. The TV will display the signal of the computer or other HDMI output devices. lf there is TV noise, use the remote control by the SYS key to adjust the sound. Set the TVs sound to PCM or stereo and the source to the same.
Indicator lights: Red light...Power on and HDMI no signal. Green light: Good HDMI signal.
Please use the channel search on TV to get the signal, then press SYS to switch PAL / NTSC to match your TV signal until the picture and sound on the TV is clear.
NOTE:
This WolfPack HDMI to Coax Converter does NOT work in reverse like connecting an coax video source to the input of a HDMI TV. Also, please check your TV supported formats before placing an order because this converter only outputs PAL-BG, PAL-l, PAL-DK & NTSC-M. NTSC-M is the only system used in the U.S. If your TV does NOT support one of these 4, the HDMI to Coax Converter will not work!
Why not buy this HDMI to Coax Converter today?