Features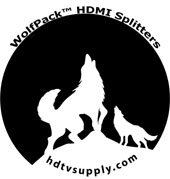 HDTV Supplys WolfPack 1x4 HDMI splitter over CAT5/6 can display a single source on up to 4 or more displays using a Single CAT5/6 cable for each display. 4-HDMI receivers are bundled so you do not have to buy any. This 1x4 HDMI splitter over CAT5/6 is an HDMI splitter with 4-RJ45 outputs. It distributes the input of the HDMI signal into the four identical outputs simultaneously. Four HDMI Extender Receivers by CATx receive the distributed signal from the splitter and transmit to displays individually.
Each receiver works with the splitter as a full functional module. Only by the most inexpensive CAT5e/6 cable the full functional module extend the HDTV display up to 125 feet for 1080p. The 1X4 HDMI Splitter over CAT5/6 set has 4 x RJ45 (Cat6) connectors, one for each display and 1-HDMI output to be used for local monitoring or a loop-out for cascading multiple splitters. The 1X8 HDMI Splitter over CAT5/6 Set is capable of HDTV resolutions up to 1080p @ 100 feet.
The 1x4 HDMI Splitter offers solutions for digital entertainment center, HDTV retail and show site, HDTV, STB, DVD and Projector factory, noise, space and security concerns, data center control, information distribution, conference room presentation, school and corporate training environments.
1x4 HDMI Splitter over CAT5/6 Features:
Allows 1 HDMI Source to be Connected to 4-HDMI Displays Devices over a single Cat5e/Cat6 Cables
Transmission Range: Extends 1080p resolutions up to 125 ft over Cat5e/6 Cables
High Speed Chip Set that Supports to 1080p at 60 Hz
HDCP Compliant
Supports Digital Audio Format, DTS-HD/Dolby-True HD/LPCM7.1/AC3/DTS/DSD
Tested for Compatibility with all leading HD Video brands
Tested with Dolby 7.1 Home Theater Systems
HDMI V1.3 & HDCP 1.2 protocol compliant.
Support HDMI digital audio format: LPCM/Dolby-AC3/DTS7.1/DSD/Dolby true HD/DTS-HD master Audio.
Built-in Amplifier and Equalizer enables the 1x4 splitter to support long HDMI cable lengths
Perfect compatibility with any HDMI application.
Great working stability.
Power supplies included
Government
This product may be eligible to be purchased through the United States Governments SEWP program, similar to their GSA program.
The NASA SEWP (Solutions for Enterprise-Wide Procurement) provides the latest in Information and Communications Technology (ICT) and Audio-Visual (AV) products and services for all Federal Agencies and their approved contractors.
If you are a government agency and want to see whether HDTV Supply has this product in the SEWP database go to our
our SEWP Contract Holder RedHawk IT Solutions, LLC
to allow you to maybe order this product from the United States Governments SEWP program. It is very easy to place your order, go to the link above and enter HDTV Supply and there you will see a list of part numbers of what we currently have. If you do not see it than give us a call at 833-WOLFPACK (833-965-3722) and we may be able to enter it.
Our SEWP Contract Holder RedHawk IT Solutions partner has the following credentials:
DUNS: 801957023
TIN: 260452583
CAGE: 4TBM6
Their SEWP Federal Contracts are:
SEWP Contract Number: NNG15SD38B
Group: Group B_SDVOSB
NAICS: 541519
and
SEWP Contract Number: NNG15SD88B
Group: Group C
NAICS: 541519
The SEWP Program Office manages a suite of government-wide IT products and services contracts that enable NASA and all Federal Agencies to achieve their missions and strategic initiatives by providing streamlined access to critical technologies and solutions. The Program provides best value for the Federal Government and American taxpayer through innovative procurement processes, premier customer service and outreach, acquisition insight, and partnership with Government entities and Industry.
For a complete listing of HDTV Supply products from us, or our other vendors, call 833-WOLFPACK (833-965-3722).