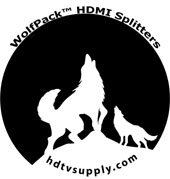 HDTV Supplys WolfPack
1X4 HDMI Splitter over CAT5
cables has 4-RJ45 outputs & distributes an HDMI input into 4 identical outputs simultaneously with only one CAT5e/6 cable per output to distances up to ~100 feet. This 1X4 HDMI Splitters over CAT5 chip-set includes a chip to makes sure the sound and the picture are in sync with all 4 displays and no delays occur between them. The 1X4 HDMI Splitter over CAT5 has an HDMI loopout for a local HDMI Monitor. If you need to go to ~150 feet with the 5th output see the above option.
Simply locate the the 1X4 HDMI Splitter over CAT5 at the high definition source, locate each of the four receivers at the monitors. Now each the monitors may be connected using a single run of CAT5e or CAT6 cable, each with a maximum length of ~100 feet. No more HDMI cable length limitations, no more pulling delicate, bulky pre-terminated cable and hoping it is not damaged in the process.
WolfPack 1X4 HDMI Splitter Over CAT5 Features:
One HDMI input distribute and extend to four displays using CAT5e/6 cables
The 1080p distance can be up to ~125 feet using CAT6A solid cables and ~100 feet using CAT5e cables
Supports HDMI 1.3 protocol
Supports HDCP 1.2 protocol
Study EDID function
Supports 3D
Supporst HDMI local output for a local TV
Supports video input : 24/50/60fs/1080p/1080i/720p/576p/576i/480p/480i
Signal type: Single cat5e or cat6(recommended)
Supported video output: 24/50/60fs/1080p/1080i/720p/576p/576i/480p/480i
Audio format support : DTS-HD/Dolby-trueHD/LPCM7.1/DTS/Dolby-AC3/DSD.
No loss of quality
Easy to Use: Plug-n-Play, installs in seconds, no need of any settings.
Supports a Video Amplifier Bandwidth up to 1.65Gpbs/165MHz
New EDID chip set to prevent another TV turning off when you turn another TV off.
It supports 1080p TV′s at 24/30/60/100/200/240 Hz and above as well as Blu-rays at 24 FPS
Unused outputs do not upset the other wired outputs as many other splitters do
Supports both HDMI audio and HDMI video
Supports DVI with a DVI to HDMI cable or adapter.
Only one CAT5e/6 cable needed to substitute for an HDMI audio and video cable to achieve long distance transmissions
Follows the IEEE-568B standard .
FCC CE Certified
NOTE 1:
The 4-CAT5 to HDMI receivers, and their universal AC adapters are included. Those install at the TV end. See the front and back pictures in the More Pictures TAB. The supplied eight HDMI Extender CAT5 Receivers receive the distributed signal from the splitter and transmit to displays individually. The 4 receivers each come with the required AC adapters. All devices are HDCP compliant. Each receiver works with the splitter as a full functional module to extend the HDTV display up to ~150 feet for 1080p. It supports 1080p TV′s at 24/30/60/100/200/240 Hz and above as well as Blu-rays at 24 FPS. This 1X4 HDMI splitter over CAT5 cable cannot be cascaded to achieve more outputs. Call us if you need more.
Connecting the 1X4 HDMI Splitter Over CAT5:
Connect the single HDMI source (such as HD-DVD, PS3, STB ) to the main HDMI input using an HDMI cable.
Connect each CAT-5e/6 cable to both of the outputs of the 1X4 HDMI Splitter Over CAT5 and input of the Receiver.
Connect outputs of Receivers to the displays
Plug the power supply into the HDMI 4 Port Splitter Amplifier and the 5V power suppliers to each Receiver individually.
NOTE 2:
We recommend strongly that you use good CAT5e / 6 cables with any CAT5 / 6 converting products like this one. Most of our "no picture" support calls are due to poor quality and cheap or poorly made cables. Since it is high definition video we only recommend CAT5/6 cables with specs like our CAT-5 /6 cables either bought from us or another high quality supplier. We also recommend, if possible, pre-made cables that are factory tested vs. field made cables due to the advanced testing methods used.
Why not buy this HDMI Splitter Over CAT5 today?