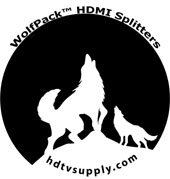 HDTV Supplys WolfPack
1X4 HDMI Splitter
family is a four-way HDMI splitter with User Adjustable EDID and distributes the one input HDMI signal to up to 4-identical HDMI outputs. The HDMI Splitter with an EDID chip-set includes another chip to makes sure the sound and the picture are in sync and no delays occur between them.
A
16-level User Adjustable EDID learning function
is added to increase its compatibility to any HDTV, unlike cheaper units that you have to guess or drops their EDID that causes problems with older TVs, HDMI to CAT5 extenders, long boosted HDMI cables and mixed TV resolutions.
The WolfPack 1x4 HDMI Splitter with EDID is easy and hassle-free to install with no software installation required and the EDID management ability fully maximizes the display units compatibility. EDID learning is only found in professional HDMI switchers and never less than $300. Extended Display Identification (EDID) Data is a VESA standard data format that contains basic information about a HDTV and its capabilities, including vendor information, maximum image size, color characteristics, factory pre-set timings, frequency range limits, and character strings for the monitor name and serial number. Here are just a few of the global user adjustable EDID modes available:
EDID Full-HD (1080p@60) - 24bit 2D video & 7.1ch audio
EDID Full-HD (1080p@60) - 24bit 2D video & 2ch audio
EDID Full-HD (4K2K@30) - 24bit 2D video & 7.1ch audio
EDID Full-HD (4K2K@30) - 24bit 2D video
EDID HD (1080p@30)(1080i@60)(720p@ 60) - 24bit 2D video & 2ch audio
WolfPack 1X4 HDMI Splitter with EDID Features:
4K/30, 2D and 3D compatible
Supports both HDMI video and HDMI audio
Easy to Use: Installs in seconds
One HDMI input with 4 identical HDMI outputs.
This new chip set increases compatibility with HDMI cables with built-in boosters and HDMI over CAT5 converters.
New EDID chip set to prevent another TV turning off when you turn another TV off.
They support 1080p TV′s at 24/30/60/100/200/240 Hz and above as well as Blu-rays at 24 FPS
Unused outputs do not upset the other wired outputs as many other splitters do
VESA: 640x480, 800x600, 1024x768, 1280x1024, 1600x1200, 1920x1200 and 4K
DTV/HDTV: 480i/576i/480p/576p/720p/1080i/1080P/720p/4K and other standard video formats, and both PAL and NTSC.
16-Customer selectable DIP switch settings to set User Adjustable EDID info.
HDMI V1.4 and 4K compatible.
The WolfPack 1X4 HDMI Splitter with User Adjustable EDID contains pre-emphasis and equalization circuitry to assure long cable lengths can be achieved. Multiple 1X4 HDMI Splitters with EDID can be stacked (cascaded) to achieve long distance transmission of HDMI signals up to more than 15 meters.
NOTE:
The booster in this HDMI splitter will not interfere with HDMI cables with a built in booster.
The information is stored in the display and is used to communicate with the system through a Display Data Channel (DDC ), which sites between the monitor and the source device. The system uses this information for configuration purposes, so the HDTV and system can work together.
Why not buy one of a the WolfPack 1x4 HDMI Splitter with EDID today?