4K/60 1x4 HDMI Splitter with EDID




Ultra slim with a thickness if only 14mm

Supports HDMI 2.0 4K@60Hz (YUV 4:4:4)

Full 3D Pass-through

16 - EDID Modes for problem installs

Free Lifetime Telephone, CHAT, TEXT, FAX & Email Tech Support
Features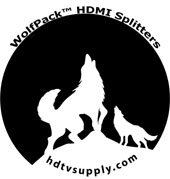 HDTV Supplys 4K/60 1x4 HDMI Splitter with EDID
a single HDMI input to 4 HDMI outputs. It provides high performance audio and video output through HDMI cables up to 4K@60Hz (YUV 4:4:4) resolution and is capable of provide high quality of audio and video performance. It supports high resolution digital audio formats such as LPCM 7.1CH, Dolby TrueHD, Dolby Digital Plus, Dolby Atmos and DTS-HD Master Audio, audio sampling rate up to 192kHz.
The 4K/60 1x4 HDMI Splitter with EDID is ideally used for home theaters, entertainment rooms, lecture rooms, hall presentations, show rooms, demo room and public commercial displays.
4K/60 1x4 HDMI Splitter with EDID Features:
Ultra slim as the thickness is only 14mm
Supports HDMI 2.0 4K@60Hz (YUV 4:4:4)
HDCP 2.2/HDCP1.x and DVI compliant
Supports UHD TV resolutions up to 4K2k (3840x2160@24/25/30/50/60 & 4096x2160 @24/25/30/60)
Displays any of 1 UHD source on 2 UHD TV displays simultaneously
Full 3D pass-Through
Supports LPCM 2/5.1/7.1CH, Dolby Digital 2~5.1CH, DTS 2~5.1CH, Dolby TrueHD, Dolby Atmos and DTS-HD Master Audio
With EDID Management
With Mini-USB port for firmware upgrade.
4K/60 1x4 HDMI Splitter with EDID Features:
Video Bandwidth: 600MHz/6Gbps per Color
Input Ports: 1 - HDMI
1 - Mini USB (Firmware upgrade)
Output Ports: 4 - HDMI
Resolutions: Up to 4K@50/60Hz, (YUV 4:4:4), Full 3D Pass-through
HDMI Cable Distance: 5m for 1080p@60Hz, 3m for 4K@60Hz (YUV 4:4:4)
Power Supply: 5V/2A DC
Power Consumption: 3W
ESD Protection: Human body model:
±8 kV (air-gap discharge)
±4 kV (contact discharge)
Dimensions: 196mm (W) x 80mm (D) x14mm (H)
Weight: 120g
Chassis Material : Aluminum
Chassis Color: Black
Operating Temperature: 0˚C~40˚C/32˚F~104˚F
Storage Temperature: −20˚C~60˚C/−4˚F~140˚F
Relative Humidity: 20~90% RH (non-condensing)
Why not buy this 4K / 60 1x4 HDMI Splitter with EDID today?
3D

HDTV Supply is a leader in supplying 3D equipment for this new, fast growing 3DTV market. Our test lab includes the latest equipment for designing, testing and supporting 3D video equipment. The chips sets we use support many of our 4K, HDMI 1.3 and HDMI 1.4 compliant devices. The 3D viewing results were awesome in our lab and did not have any picture or audio degradation. The normal and standard (2D) results equally exhibited a superb picture quality.
We not only test this device with lab equipment we also test many of our 3D devices with 3D products you are likely to use. The products used for the test are:
Sony PS3 with the 3D 3.41 firmware
Samsung model PN50C7000YF 3DTV
Samsung model BD-C6900 3D Blu-ray player FORCED to 1080p
Samsung model SSG-P2100T 3D glasses
DirecTV models HR21-100 and the HR24 high definition receiver.
It works with all HDMI devices including the new 3D units.
Why not buy this product that supports 3D today?
Ask a Question
Questions & Answers

Ask a question about the 4K/60 1x4 HDMI Splitter with EDID or Call 800-841-9238


4K/60 1x4 HDMI Splitter with EDID
Recently Viewed Items