WolfPack HDMI over CAT5 with EDID & Audio Breakout to go to Soundbar




WolfPack HDMI over CAT5 with Audio Breakout

The Receiver breaks out the R/L audio to go to a sound bar or amp

Ultra slim design only half-inch thick for back of the TV

Supports 1080p@60Hz up to 150 feet

Bi-directional wideband 30-55KHz IR control

4 - EDID Modes for Problem Installs

5 Year Warranty & Free Lifetime U.S. Telephone Tech Support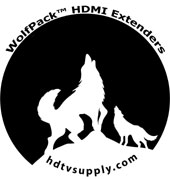 HDTV Supplys WolfPack
HDMI over CAT5 with Audio Breakout
designed to carry HDMI signals distances beyond the capability of standard HDMI cables. It extends video (1080p@60Hz) and audio over a single CAT5e/6 cable up to 150 and is compliant with HDCP. In addition, the extender supports L/R audio breakout on the Receiver unit. It also has Bi-directional IR to control the source device as well as turn off the remote TV.
Our WolfPack HDMI over CAT5 with Audio Breakout includes two units: a transmitting unit and a receiving unit. The transmitting unit (TX) is used to capture the input HDMI signals with IR control packets and carry the signals via one cost effective CAT5/5e/6 cable. The receiving unit (RX) is responsible for equalizing the transmitted HDMI signal and reconstructing IR and serial control signals. The transmission distance between the sending and receiving units can be up to 150 at Full HD 1080p. With an 4-level EDID control on the receiving unit users can adjust the EDID for problem installs and older TVs.
WolfPack HDMI over CAT5 with Audio Breakout Features:
Ultra slim design with ~1/2" thickness
Aluminum chassis, weight only 1/2 lb/unit
Supports 1080p@60Hz, 3D
Supports 1080P@60Hz up to 150 feet
Supports L/R audio breakout
Supports bi-directional wideband IR (30-55KHz) control
Supports EDID management
HDCP 1.4 compliant
When should I consider a HDMI over CAT5 with EDID extender that has user adjustable EDID:
If your TVs have mixed HDMI resolutions like some 720p and some 1080p, aand some 1080i, etc
If your TVs have mixed audio like some stereo and some Dolby Digital, etc
If you have TVs greater than 5 years old
If you have off brand cheaper TVs like Westinghouse, etc
If you have a lot of devices in series with the source device, like an amp, matrices, boosters, splitters, etc.
20~60kHz Wideband Bi-Directional IR:
The HDMI over CAT5 with Audio Breakout is also equipped with a bi-directional IR pass-through path making IR control possible through only single CAT5/5e/6 cable as well as the HDMI cables. Over the same CAT5e/6/7 cable you can send commands from a control system to the TV as well as simultaneously control DVD players, cable boxes and other source equipment from the TV location. The IR works in only stand alone applications with one source and one TV.
Why not buy this WolfPack HDMI over CAT5 with Audio Breakout today?
HDMI over CAT5 with Audio Breakout Specs:
Bandwidth: 2.65Gbps per Color
Video input ET0101-SE3
1XHDMI Type A, female ET0101-SE4A 1xRJ45
Video output: ET0101-SE3
1xRJ45, ET0101-SE4A
1XHDMI Type A, female
IR input: 1x3.5mm stereo jack
IR output: 1x3.5mm stereo jack
Power Supply: 5V/1A DC
Power Consumption: 2.5W
Audio: Passes up to Dolby TrueHD or DTS-HD Master Audio
Resolution: Up to 1080p@60Hz,3D
Distance: 150 feet
Dimensions: 97x57x15mm
Weight: 160g (Pair)
Temperature Operating: 32蚌 to 104蚌 (0蚓 to 40蚓) Storage and -4蚌 to 140蚌 (20蚓 to 60蚓)
HDMI over CAT5 with Audio Breakout Contents:
1 - HDTVET0101SE3 Transmitter
1 - HDTVET0101SE4A Receiver
2 - 5V/1A DC Power Supplys
1 - IR Transmitter,
1 - IR Receiver.
1 - Pair of small mounting ears.
Why not buy this HDMI over CAT5 with Audio Breakout today?

Our HDMI over CAT5 with Audio Breakout is ideally used for home theater, classrooms, bars, small office and churches where there is a need to remotely extend HDMI sources such as a STB, Blu-ray player, or HDMI laptop to an HD 1080p display.
Why not buy this HDMI over CAT5 with Audio Breakout today?
WolfPack™ SlimLine 3/4" HDMI Extender to 150 Feet w/Bi-directional IR

Price: $249.95

Today's price:

$99.95

(You Save: 60%)

4K WolfPack SlimLine 3/4" HDMI Extender to 330′ w/POE, HDBaseT, RS232 & IR

Price: $599.95

Today's price:

$174.95

(You Save: 71%)
Why not buy this HDMI over CAT5 with Audio Breakout today?
HDTV Supply is a leader in supplying 3D equipment for this new, fast growing 3DTV market. Our test lab includes the latest equipment for designing, testing and supporting 3D video equipment. The chips sets we use support the below 3D formats and work with many of our HDMI 1.3 and HDMI 1.4 compliant devices. This device supports these 3D formats:
Side-by-Side 3D Format
Top-and-Bottom 3D Format
Blu-ray 3D Format
Frame packing
and more
We not only test this device with lab equipment we also test many of our 3D devices with 3D products you are likely to use. The products used for the test are:
Sony PS3 with the 3D 3.41 firmware
Samsung model PN50C7000YF 3DTV
Samsung model BD-C6900 3D Blu-ray player FORCED to 1080p
Samsung model SSG-P2100T 3D glasses
DirecTV models HR21-100 and the HR24 high definition receiver.
It works with all HDMI devices including the new 3D units.
The 3D viewing results were awesome in our lab and did not have any picture or audio degradation. The normal and standard (2D) results equally exhibited a superb picture quality.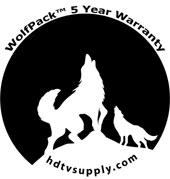 HDTV Supply
includes a 5 Year U.S. Limited Extended Warranty on this product. There are two bundled parts to this 5 year warranty. The 5 year warranty is only for the main device you purchased and does not include any product options or additional products you purchased at the same time.
FIRST YEAR:
The first year is direct with with HDTV Supply at 800-841-9238. The warranty states that the Product will perform substantially in accordance with the supplied written materials and Product information located on this Product web site page for a period of 1 year from the date of shipment of the Product and that the Product will be free from defects in materials & workmanship under normal use & service for a period of 1 year from date of shipment.
In order to get a warranty replacement for a defective item within the first year call HDTV Supplys Tech Support Team with your order number at 800-841-9238 and they will verify the product is eligible for a warranty repair. An RMA number will then be issued via email. Shipped replacements will be in like new condition, tested and all components included. Please read
HDTV Supplys Warranty Terms and Conditions
for more.
2ND THROUGH 5TH YEAR:
The 2nd through 5th year are direct with
Consumer Priority Extended Warranty Service (CPS)
as they are HDTV Supplys extended warranty provider. They are a large 3rd party repair company with facilities throughout the U.S. and offer our U.S. customers unparalleled product coverage and repairs. If after calling HDTV Supply, at 800-841-9238, we find we can't fix the issue over the phone, and you need a repair, you will henceforth deal directly with CPS for the repairs via their toll free phone number (800) 905-0443 Option 3 during the 2nd through 5th year.
You can also
email CPS
and
email HDTV Supply
as well as call us a 800-841-9238 if you have any questions with this 5 year bundled warranty.
Questions & Answers

Ask a question about the WolfPack HDMI over CAT5 with EDID & Audio Breakout to go to Soundbar or Call 800-841-9238


WolfPack HDMI over CAT5 with EDID & Audio Breakout to go to Soundbar
Recently Viewed Items