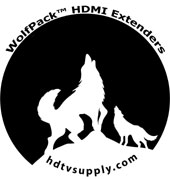 HDTV Supplys WolfPack
HDMI over CAT5 with Audio Breakout
designed to carry HDMI signals distances beyond the capability of standard HDMI cables. It extends video (1080p@60Hz) and audio over a single CAT5e/6 cable up to 150 and is compliant with HDCP. In addition, the extender supports L/R audio breakout on the Receiver unit. It also has Bi-directional IR to control the source device as well as turn off the remote TV.
Our WolfPack HDMI over CAT5 with Audio Breakout includes two units: a transmitting unit and a receiving unit. The transmitting unit (TX) is used to capture the input HDMI signals with IR control packets and carry the signals via one cost effective CAT5/5e/6 cable. The receiving unit (RX) is responsible for equalizing the transmitted HDMI signal and reconstructing IR and serial control signals. The transmission distance between the sending and receiving units can be up to 150 at Full HD 1080p. With an 4-level EDID control on the receiving unit users can adjust the EDID for problem installs and older TVs.
WolfPack HDMI over CAT5 with Audio Breakout Features:
Ultra slim design with ~1/2" thickness
Aluminum chassis, weight only 1/2 lb/unit
Supports 1080p@60Hz, 3D
Supports 1080P@60Hz up to 150 feet
Supports L/R audio breakout
Supports bi-directional wideband IR (30-55KHz) control
Supports EDID management
HDCP 1.4 compliant
When should I consider a HDMI over CAT5 with EDID extender that has user adjustable EDID:
If your TVs have mixed HDMI resolutions like some 720p and some 1080p, aand some 1080i, etc
If your TVs have mixed audio like some stereo and some Dolby Digital, etc
If you have TVs greater than 1 years old
If you have off brand cheaper TVs like Westinghouse, etc
If you have a lot of devices in series with the source device, like an amp, matrices, boosters, splitters, etc.
20~60kHz Wideband Bi-Directional IR:
The HDMI over CAT5 with Audio Breakout is also equipped with a bi-directional IR pass-through path making IR control possible through only single CAT5/5e/6 cable as well as the HDMI cables. Over the same CAT5e/6/7 cable you can send commands from a control system to the TV as well as simultaneously control DVD players, cable boxes and other source equipment from the TV location. The IR works in only stand alone applications with one source and one TV.
Why not buy this WolfPack HDMI over CAT5 with Audio Breakout today?