Standalone HDMI Network Matrix Switch




Standalone HDMI Network Matrix Switch

Used in our Network HDMI Matrix Switcher System

Used our w/Network HDMI Transmitters & Receivers (not supplied)

Part # HDTVSXEX22Switch

Usually ships the same business day

Today's Price: $200.00
Features
HDTV Supplys WolfPack Standalone HDMI Network Matrix Switch together with the our optional HDMI transmitters and receivers operates as an HDMI Extender, HDMI Splitter and HDMI Matrix Switcher depending upon your needs. If used as a matrix switcher the Standalone HDMI Network Matrix Switch allows any input to be routed to any output; or the same input to be routed to all outputs, or any combination if used a as a matrix. It is controlled by a PC or MAC only via its LAN port with the supplied Browser Based GUI and a Browser.
HDTV Supplys Wolfpack HDMI over IP products, using this Ethernet switch, allow many combinations of HDMI inputs and HDMI outputs that can be easily expanded for additional HDMI sources and HDMI TVs and projectors. This Standalone HDMI Network Matrix Switch is used with these
WolfPack Network HDMI Matrix Switchers
.
Standalone HDMI Network Matrix Switch Features:
PC controlled
Compliant with HDCP 1.2.
Uses off-the-shelf gigabit IP switches for extension and distribution.
Extends 1080p HDMI signals up to 300 feet over a single UTP Cat5e/6 cable.
Flexible and scalable HDMI 1080p Video Wall Broadcasting with Gigabit Ethernet LAN.
Multicasting and broadcasting architecture, adding more displays without adding LAN bandwidth loading .
Support Point-to-Point, Point-to-Many and Many-to-Many network configuration.
With IR Control function as it allows you to control back the source at the end of destination.
Why not buy this Standalone HDMI Network Matrix Switch today?
Specs
Standalone HDMI Network Matrix Switch Specs:
Supports default configuration which can be restored to overwrite the current configuration which is working on via Web UI and Reset button of the switch.
Supports user management and limits one user to login.
8K MAC addresses.
Full-duplex flow control (IEEE802.3x) and half-duplex backpressure.
Supports Unknown Unicast / Broadcast / Multicast Storm Control.
Videos
HDTV Supply has this Standalone HDMI Network Matrix Switch in stock in our California warehouse so place your order at the above ADD TO CART button by 11AM PST and it can ship today or call us at 800-841-9238 to place your order.

See the below videos on how to setup your smart network matrix as well as controlling the various inputs being sent to various outputs. It also includes how to rename the inputs to what your devices are.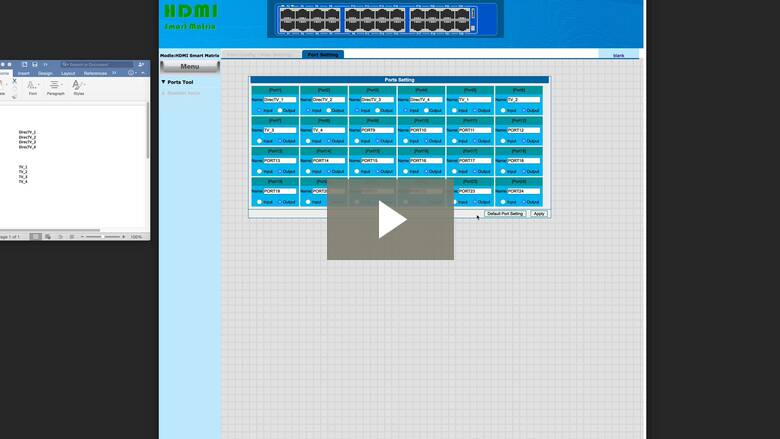 Q/A
Q: I don't see a picture, what do I do?
A:
Did you change the MAC addresses of the transmitters and receivers? Also in the switch do you have the ports setup to inputs and outputs?
Q: I cannot get logged into the matrix switch. I've assigned an IP address as described in the instructions but cannot get the GUI to load on the browser.
A:
We have found Firefox works best to get to the GUI.
Q: Does a HDMI Over IP Network Matrix come with a remote control or front panel switches?
A:
No, it is controlled by a PC or a MAC only via its LAN port.
Warranty

HDTV Supply
includes a 1 Year Limited U.S. Warranty on this product. The U.S. warranty states that (a) its products will perform substantially in accordance with the accompanying written materials for a period of 1 year from the date of receipt & (b) that the Product will be free from defects in materials & workmanship under normal use & service for a period of 1 year. In order to get a warranty replacement for a defective item, HDTV Supplys Support Team will verify the product is eligible for warranty. An RMA number will then be issued. Shipped replacements will be in like new conditions, tested & all components included. A 30-day RETURN also comes with this warranty as well as Free Lifetime Tech Support.
HDTV Supply
also sells a 3 and 5 Year Extended U.S. Warranty for this product. Please go to
Extended Warranties
or see the above Options to purchase it.
Ask a Question
Questions & Answers

Ask a question about the Standalone HDMI Network Matrix Switch or Call 833-WOLFPACK (833-965-3722)


Standalone HDMI Network Matrix Switch
Scroll Left & Right To See 20 Of Your Recently Viewed Items Below