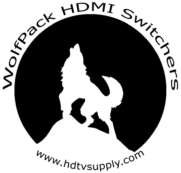 HDTV Supplys WolfPack
6x2 HDMI Matrix Switcher
has six HDMI inputs & two HDMI outputs which can show any of the 6 inputs in any combination to any of the 2-HDMI outputs. Connect your HDMI source devices like a Blu-ray DVD, cable & satellite receiver and a video game to the inputs and the outputs connect to the two displays. The built-in signal compensation allows either display to be up to 35 feet from the matrix (using 22 AWG cables), on both the input & output side of the matrix.
The 18-key remote control lets you change inputs, outputs, audio settings and more. It outputs both optical and stereo audio on separate connectors along with the HDMI audio and video in parallel. The audios EDID feature allows you to force the Audio output to Auto (same as source) 2.1ch, 5.1ch, or 7.1ch to the output display over writing the displays EDID.
PIP: The 6x2 has 5-mode Picture-in-picture (PIP) modes that lets you view all inputs at once on one widescreen as well as you can connect your smartphone or tablet to Video Input-6 for big-screen enjoyment thanks to the MHL connector. It is boxes, not a side-by-side split, and the windows are small rectangle boxes. See the MORE PICTURES Tab for additional pictures of the PIP function.
Most 4K displays have only one 4K input so if you have multiple 4K source devices like a 4K DVD player or a 4K media player you will need a 4K switch.
What sets this 6x2 HDMI Switcher apart from others:
5 - 4K Ultra HD HDMI female inputs
1 - Dual purpose MHL female input for hooking up phones and tablets
2 - 4K Ultra HD HDMI Female Outputs
Supports small, non-steaming, Picture-In-Picture (PIP) displays for all the inputs (see the More Pictures TAB)
1 - HDMI (Shared MHL) Female connector on HDMI Input 6 for smart phone photos, music & TV movie connection - An MHL to HDMI adapter is not supplied.
1 - Optical Toslink Output to go to a surround sound amp
1 - 3.5mm analog audio output for either an headphone or stereo amp
All the connectors on the back. Some switches have connectors on the sides also which makes placement difficult
A remote control with 18-discrete buttons
Advanced EDID handling
4Kx2K compatible
ARC compliant
CEC 1.4 compliant
HDMI 1.4a compatible
2D and 3D complaint
Built-in IR sensor with remote control
It has front-panel control buttons if you don't want to use the remote
It has prominent power/reset buttons on the front to reset the unit if you lose the displays EDID or HDCP handshake for some unknown reason
CAUTION:
Mobile High-Definition Link (MHL) is a new standard for use with some tablets and smartphones. It transmits video and audio via the micro USB connector and converts it to an HDMI signal. Some tablets and smartphones have 11-pin MHL outputs and some have 5-pin so we do not include any cable including an MHL to HDMI cable. They are commonly available so check you smart device to buy the proper MHL to HDMI cable.
The matrix can automatically read your input devices' EDID (Extended Display Identification Data) parameters, sync them, and select the suitable output parameters. The (PIP) small Picture-in-Picture mode lets you view two inputs at once and you can connect your smartphone or tablet to port-6 for big-screen enjoyment due to the MHL support. Also, due to the HDMI 1.4 support, you can enjoy cutting-edge 4K video in addition to 1080p, 3D, digital surround audio and up to 16-bit color depth.
6x2 HDMI Switcher Features:
6-HDMI inputs and 2 HDMI outputs, all in the rear
Compliant with HDMI 1.4a, CTS 1.4a, DVI 1.0.
HDMI 1.4 support: Audio Return Channel (ARC), 3D TV support, CEC1.4.
Supports 3D Video & 4Kx2K, 8, 10, 12 & 16 bits per color depth.
Support MHL input, Share your smart phone photos, music and movies on the TV.
Audio support: HDMI 1.4 compatible audio interface Dolby TrueHD DTS-HD Master Audio 7.1CH
Full audio input and output support
HDCP 1.2 compliant
Bandwidth: 2.22 Gbps per channel, 6.65 Gbps total
Supports Full HD 1080p 24fps, 60Hz
Supports deep color 30 bit and 36 bit
Supports resolution up to 1920 x 1200
Supports standard 24 bit color (RGB/YPbPr) and xvYCC color space
Supports DTS-HD, true-HD, LPCM7.1, AC3, DTS and DSD audio formats
IR remote control included
Simple and easy one-key switching
Metal case for quick heat dissipation and durable construction
It has two 4K-HDMI outputs and six-4K HDMI inputs with one of the inputs is MHL-enabled. It also features independent switching (so changing the output on one display will not cause any blanking or other interruption of the output to the second display).
This 6x2 HDMI Switcher is equipped with six HDMI inputs and 2 HDMI outputs. The six inputs accommodate the simultaneous connection of up to two high definition video sources, such as satellite systems and HD DVD players. The two outputs send the high definition audio/video signals to up to 2 high definition displays and can show any two of the six inputs.
Why not buy this 6x2 HDMI Matrix Switcher today?
This 6x2 HDMI Matrix Router has 5 HDMI inputs and one MHL input and 2 HDMI outputs. It is a true HDMI matrix and can distribute any one of 6 sources to either of 2 displays and can work as a splitter to show the same source on 2 displays simultaneously or in any combination. It supports 3D HDMI and HDMI 1.4 (4kx2K).
6x2 HDMI Matrix Switcher Specifications:
Supports 4Kx2K @ 30 Hz
Supports 1080p @ 120 Hz
Supports 3D 1080p @ 60Hz
2D and 3D HDMI compliant
HDMI 1.4a and HDCP 1.2 compliant
CEC only compatible on HDMI OUTA port
Supports Blue-Ray 24/50/60fs and above/xvYCC
Single Link Range: 1080p / 1920x1200
Input Video Signal: 1.2 Volts p-p
Input DDC Signal: 5 Volts p-p (TTL)
HDMI Input connectors (5): Type A, 19-pin male and one MHL
HDMI Output connectors (2): Type A, 19-pin male
Bandwidth: 2.97Gbps
Input: 6x HDMI, 5V/1A power (5W max.)
Output: 2x HDMI, 1x Toslink, 1x 3.5mm AUX
HDMI audio output: PCM2, 7.1CH, Dolby Digital 5.1, DTS 5.1, Dolby TrueHD, DTS-HD
Dimensions: 250 x 110 x 26 mm, Weight: 720g
Power Supply: 5V/1A DC (US/EU standards, CE/FCC/UL certified)
ESD Protection: Human Body Model: +- 8kV (air-gap discharge); +- 4kV (contact discharge)
Dimensions (mm): 250(D) x110 (W) x 26(H)
Weight (g): 720
Power Consumption(max): 5W
Operating Temperature: 0C to 40C / 32F to 104F
Storage Temperature: -20C to 60C / -4F to 140F
6x2 HDMI Matrix Switcher Contents:
1 - HDMI 1.4 6x2 Matrix
1 - 5V DC Power Adapter
1 - Remote Control
1 - User's Manual
No cables
Why not buy this 6x2 HDMI Matrix Switcher today?
To ensure 3D Blu-ray or 4K content is routed via the Matrix, High Speed HDMI cables must be used and any connected non-3D or non-4K compatible display must not have an "active" HDMI output (i.e. powered off or in standby mode). The 4K or 3D source player must not be able to "see" a 2D or non-4K only display connected to the Matrix.
Read more at WHAT I NEED TO KNOW ABOUT EDID
HDTV Supply has created dozens of HDMI extenders over CAT5e/6 with various features for your needs.
If this HDMI over CAT5 with ARC doesn't meet your needs see our HDMI over CAT5e/6 comparison spreadsheet for other HDMI to CAT5e/6 extenders with different features or call us right now at 800-841-9238 to discuss your requirements.
Its Audio EDID features allows you to force the Audio output to Auto (same as source) 2.1ch, 5.1ch, or 7.1ch to the output display. Auto EDID switch setting (1111) setting worked perfectly - i.e. it will automatically set the lowest video/audio resolution setting of connected output devices
How the 6x2 HDMI Matrix Switcher Works: Connect up to six Hi-Def sources to the HDMI inputs on the matrix using HDMI cables. Connect up to two Ultra HD displays to the HDMI outputs. Using a TOSLINK cable connect up an A/V Receivers to the Optical outputs.
Connect the included power supply to the matrix and to an available electrical outlet. Apply power to the source and displays. The HD sources can now be routed to the displays using the front panel push-buttons or the 18-key IR remote control.
This 6x2 HDMI Matrix Switcher works with the following devices:
Any high definition Dish Network and DirecTV receiver with HDMI outputs
High definition TiVo's with HDMI outputs
Any high definition cable receiver with HDMI outputs
Canadian Rogers, Shaw, Bell ExpressVu and Star Choice receivers with HDMI out, or DVI out with a converter
Any "Over The Air" (OTA) high definition receiver with HDMI outputs
Sony PS3, HD DVD and Blu-ray DVD players
Any Xbox360 with HDMI outputs
Any upconverting DVD player with HDMI outputs
Any DVHS VCR with HDMI outputs
An APPLE TV with HDMI outputs
A VuDu with HDMI outputs
Many PC video cards with HDMI outputs
Any high definition camcorder with an optional type C to standard HDMI cable
Many A/V surround sound receivers with HDMI switching that include the proper chip set. Call your AV receiver supplier to discuss your application or us.
Any HDCP compliant HDTV, monitor and projector. If the source is HDCP compliant and your TV is not, you will not get a picture. Please check your TV manual or the manufacturers web site.
and other similar devices.
Why not buy this 6x2 HDMI Matrix Switcher today?
Q: ARC doesn't seem to be working, can you help?
A:
Try this:
Make sure you are installing HDMI 1.4 cables that include ARC, see our specs at HDMI cables with ARC
The TV must support ARC and it must be turned ON ARC ON
The unique TVs HDMI input must say it supports ARC
Set the AV receivers or other device to ARC ON
Make sure CAT5e/6 STP connectors are put on "B"
Turn CEC ON
Leave EDID at its default.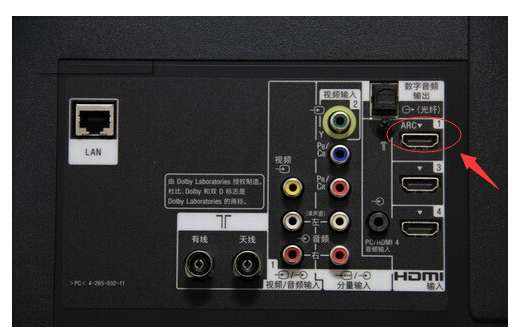 Q: Does this HDMI Matrix Switch support remote IR?
A: No. We recommend using RF remote controls, see the ACCESSORIES Tab.
Q: I see the the HDMI extenders come with 2-remote IR cables, will the remote IR work with this matrix?
A: No, the cables are used when the application has one source and one widescreen. They can't be used with this matrix and need to be set aside and not used.
Q: I want to pass audio from source via HDMI to a SoundBar and also via 3.5mm to Headphones. Is audio pass-thru active on the HDMI out and the 3.5mm connector at same time?
A: Yes. Ran HDMI to a projector (with internal speaker) and 3.5mm to a mixer/PA, audio was received by both.
Q: Does the PIP show real time video?
A: No, it is static and not moving and has a random picture of the unit.
Q: How does the audio output work?
A: It has a toslink audio out and lets you flip between 2 ch, 5.1 and 7.1 with its EDID switch
Q: Tell me more about the 4K compatibility.
A: Of course, being limited to 4K over HDMI 1.4 means you???e limited to 4Kp24 frame rates. The 3D support will be for 1080p 3D content.
Q: What is ARC on this 6x2 HDMI Matrix Switcher?
A: The (ARC) Audio Return Channel in HDMI 1.4 enables a TV, via a single HDMI cable, to send audio data???pstream??o an A/V receiver or surround audio controller, increasing user flexibility and eliminating the need for any separate S/PDIF audio connection.
TVs have always been able to receive multi-channel audio through an HDMI connection, and this is still a typical use-case, with the TV positioned???ownstream??rom content sources and any connected audio equipment. However, if a user had a TV with a built-in tuner or DVD player, and wanted to send content???pstream??rom the TV back to the audio system, a separate connection had to be installed, typically an S/PDIF cable.
Q: This 6x2 HDMI Matrix Switcher has CEC, what is CEC?
A: This product features CEC (Consumer Electronics Control) allowing your HDTV's remote to manage up to ten devices that are connected via HDMI (such as Blu-ray Disc players or home theater receivers) with no special programming needed. For example, you can use your remote to turn on your TV, your player, and your receiver at the same time, and adjust the system volume with one button. All devices must support CEC, though.
Most major TV manufacturers now support CEC, and an HDTV with HDMI 1.3 will likely have the technology. Manufacturers call it by different names; LG Electronics, for instance, calls its implementation SimpleLink, whereas Toshiba calls its version CE-Link. Interoperability isn't mandatory, so some manufacturers limit control to their own products; Sony, for one, allows only Sony-to-Sony communication. CEC needs to be on both TVs, also.
Why not buy this 6x2 HDMI Matrix Switcher today?