WolfPack 4x1 Quad Video Wall Processor




4x1 Quad Video Wall Processor

5 - Different Video Modes

4 - HDMI Inputs to 1 - HDMI output

10 - Button Remote Control

5 Year Warranty

Part # 4x1-quad-video-wall-processor

Usually ships in 5-7 business days

Today's Price: $250.00
Features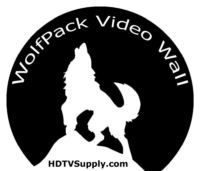 HDTV Supplys WolfPack™
4x1 Quad Video Wall Processor
is a high performance 4 by 1 Quad Multi-Viewer couple with as fast seamless switch. The WolfPack 4 by 1 Quad Multi-Viewer supports four High definition input sources display on one screen and has 5 - multi-view effect mode. As a switcher, it can also seamlessly switch the four HD inputs quickly. The product can be controlled by the front button or the supplied 10 - button IR remote control. It has four HDMI inputs to go to 1 - widescreen or projector.
The 4x1 Quad Video Wall Processor sends the resulting mixed video thru HDMI interface to the connected widescreens or projector based on the display layout you select. Any input can be set as the primary with easy toggling between it and the other inputs, from the IR remote control. The layout can be readily modified to fit your applications and optimize visual effects. Typical applications include digital signage, and broadcasting/education/ surveillance systems, etc.
4x1 Quad Video Wall Processor Features:
Supports 4 HDMI input ports.
Supports 1 HDMI output port.
Compliant with HDMI 1.3a and HDCP 1.2.
Supports multiplexed HDMI 4-input and 1-output.
Supports up to 1080p High Definition resolution.
Supports 4by1 Quad Multi-viewer and seamless switch.
Supports 720p and 1080p output resolution.
Supports Audio Switch.
Supports fast switching.
Supports Equalizer TMDS Output: 25MHz / 225MHz TMDS clock.
Supports Blue-Ray 24/50/60fps/HD-DVD/xvYCC.
Supports 1080p input up to 15 meters and output up to 20 meters ( cable standard AWG26).
Inputs can be switched with the IR remote control or from the front panel
Extends the transmission distance and improves transmission signal.
Compatible with DVI with a HDMI to DVI adapter.
Supports hot plug-and-play.
LED indicate signal and power mode.
No loss of quality.
Installs in minutes.
Why not buy this 4x1 Quad Video Wall Processor today?
Specs
4x1 Quad Video Wall Processor Specs:
Maximum Single Link Range: 1080P/60Hz
HDMI version: HDMI 1.3, HDCP 1.2
HDMI input resolution: 24/50/60fps/480i/480p/576i/576p/720p/1080i/1080p
HDMI output resolution: 720p/1080p/60Hz
Supports video color formats: 24bit/deep color 30bit, 36bit
Vertical Frequency Range: 720p/1080p@60Hz
Max bandwidth: 225MHz
Max baudrate: 6.7Gbps
Input/Output TMDS signal: 0. 5~ 1. 5Volts p- p( TTL)
Input/Output DDC signal: 5Volts p- p ( TTL)
1080P Input cable distance: 15m AWG26 HDMI standard cable
1080P Output cable distance: 20m AWG26 HDMI standard cable
Max working: 1A
Operating Temperature: (-15 to +55℃)
Operating Humidity range: 5 to 90%RH (No Condensation)
Dimension (L x W x H): 200x95x20mm
Weight: 460g
Ask a Question
Questions & Answers

Ask a question about the WolfPack 4x1 Quad Video Wall Processor or Call 833-WOLFPACK (833-965-3722)


Government
This product may be eligible to be purchased through the United States Governments SEWP program, similar to their GSA program.
The NASA SEWP (Solutions for Enterprise-Wide Procurement) provides the latest in Information and Communications Technology (ICT) and Audio-Visual (AV) products and services for all Federal Agencies and their approved contractors.
If you are a government agency and want to see whether HDTV Supply has this product in the SEWP database go to our
our SEWP Contract Holder RedHawk IT Solutions, LLC
to allow you to maybe order this product from the United States Governments SEWP program. It is very easy to place your order, go to the link above and enter HDTV Supply and there you will see a list of part numbers of what we currently have. If you do not see it than give us a call at 833-WOLFPACK (833-965-3722) and we may be able to enter it.
Our SEWP Contract Holder RedHawk IT Solutions partner has the following credentials:
DUNS: 801957023
TIN: 260452583
CAGE: 4TBM6
Their SEWP Federal Contracts are:
SEWP Contract Number: NNG15SD38B
Group: Group B_SDVOSB
NAICS: 541519
and
SEWP Contract Number: NNG15SD88B
Group: Group C
NAICS: 541519
The SEWP Program Office manages a suite of government-wide IT products and services contracts that enable NASA and all Federal Agencies to achieve their missions and strategic initiatives by providing streamlined access to critical technologies and solutions. The Program provides best value for the Federal Government and American taxpayer through innovative procurement processes, premier customer service and outreach, acquisition insight, and partnership with Government entities and Industry.
For a complete listing of HDTV Supply products from us, or our other vendors, call 833-WOLFPACK (833-965-3722).
WolfPack 4x1 Quad Video Wall Processor
Scroll Left & Right To See 20 Of Your Recently Viewed Items Below