Features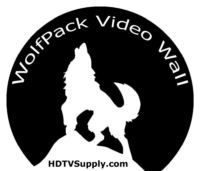 HDTV Supplys WolfPack
4K 3x3 Video Wall
Processor is a 4K based video wall processor which allows one HDMI input to be arranged on to nine displays. It offers bezel correction support with a simple and easy to use control application. The rack mount video wall controller supports video output timings up to 1080p@60Hz. It sends one source to 9 - TVs showing one large picture. This 4K 3x3 Video Wall has the following switch selectable inputs of HDMI, DP and MHL.
The 4K 3x3 Video Wall Processor can be used with a single source or multiple sources by manually switching the corresponding port on the remote control. The 4K 3x3 Video Wall supports an HDMI 1.4 input with a maximum support of 3840x2160@30Hz and is backwards compatible. When using an MHL to HDMI cable it can be compatible with MHL output devices such as a MHL phone and pad, etc.
NOTE:
A 4K@60Hz resolution means the whole diagonal video wall resolution. For example, a normal 1080p 3x3 video wall means the 9-TVs are only 1080p diagonally but our 4K 3x3 Video Wall Processor it is 4K@60Hz diagonally across all 9-TVs. You can even use 1080p TVs and get 4K/60 across the 9-TVs.See the above picture.
WolfPack 4K 3x3 Video Wall Processor Features:
Inputs: 1-HDMI (HDMI 2.0), 1-Displayport and 1-MHL source (HDMI 1.4)
HDCP 2.2 & HDMI 2.0 Compliant
Supports 4K@60 4:4:4 @ 18Gbps diagonally across 9-screens
Supports a 1920x1080p 4:4:4 at 60 Hz output individually to each TV
Supports screen splicing to 1x2, 2x2, 2x3, 3x2, 2x4 , 3x4, 2x5 and more
Supports separate R/L audio audio out
Supports direct-play from an USB disk with all kinds of Audio / Video media format
Front panel buttons for input source selection, output port configuration, bezel adjustment & setup
Supports 180 degree rotation for bottom-thick bezel screens on each output
Controllable via front panel buttons and a supplied IR remote control
19" rack mountable
The WolfPack 4K 3x3 Video Wall processor can function as a 3x3 video wall controller so if you have 9-widescreens you can make up one giant video image. You will need 9-matched TVs and wall mounts (not supplied).
Why not buy this 4K 3x3 Video Wall Processor today?
Specs
The 4K 3x3 Video Wall offers solutions for digital entertainment centers, HDTV retail and show sites, HDTV, STB, DVD and projector factory, noise, space and security concerns, data center control, information distribution, conference room presentations, school and corporate training environments.
Why not buy this 4K 3x3 Video Wall Processor today?
Government
This product may be eligible to be purchased through the United States Governments SEWP program, similar to their GSA program.
The NASA SEWP (Solutions for Enterprise-Wide Procurement) provides the latest in Information and Communications Technology (ICT) and Audio-Visual (AV) products and services for all Federal Agencies and their approved contractors.
If you are a government agency and want to see whether HDTV Supply has this product in the SEWP database go to our
our SEWP Contract Holder RedHawk IT Solutions, LLC
to allow you to maybe order this product from the United States Governments SEWP program. It is very easy to place your order, go to the link above and enter HDTV Supply and there you will see a list of part numbers of what we currently have. If you do not see it than give us a call at 833-WOLFPACK (833-965-3722) and we may be able to enter it.
Our SEWP Contract Holder RedHawk IT Solutions partner has the following credentials:
DUNS: 801957023
TIN: 260452583
CAGE: 4TBM6
Their SEWP Federal Contracts are:
SEWP Contract Number: NNG15SD38B
Group: Group B_SDVOSB
NAICS: 541519
and
SEWP Contract Number: NNG15SD88B
Group: Group C
NAICS: 541519
The SEWP Program Office manages a suite of government-wide IT products and services contracts that enable NASA and all Federal Agencies to achieve their missions and strategic initiatives by providing streamlined access to critical technologies and solutions. The Program provides best value for the Federal Government and American taxpayer through innovative procurement processes, premier customer service and outreach, acquisition insight, and partnership with Government entities and Industry.
For a complete listing of HDTV Supply products from us, or our other vendors, call 833-WOLFPACK (833-965-3722).