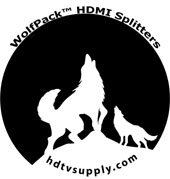 HDTV Supplys WolfPack
1X8 HDMI to CAT5 Splitter
allows you to send both an HDMI audio and an HDMI video signal from one end of a room to the other or one floor to another with standard, inexpensive and reliable CAT5e or CAT6 cables and distribute out to different rooms. See the above 1X8 HDMI to CAT-5 Splitter front and back pictures.
This WolfPack 1X8 HDMI to CAT5 Splitter is an HDMI splitter with eight RJ45 outputs. It distributes the input of the HDMI signal into the eight identical outputs simultaneously. Eight supplied HDMI Receivers by Cat5 receive the distributed signal from the splitter and transmit to displays individually. Also, the transmission distance is 125 feet even for a 1920x1200 resolution and also 125 feet for 5.1CH or 7.1CH audio. Straight cable runs with no electrical interference, bends, kinks, patch panels need to provided.
WolfPack 1X8 HDMI to CAT5 Splitter Features:
Allows you to send 1 HDMI audio and video source device to 8 HDMI equipped devices. The picture will be the same on both HDTV′s.
Distribute 1 HDMI signal to 8 identical UTP outputs synchronously and with one looping HDMI output
Transmits over 50m single Cat5e/6 cable
Can be cascaded for 4 layers
Wide-band Bi-Direction IR control (38 ~ 56 kHz) (IR extension from Sender to Receiver or from Receiver to Sender)
Support Full HD 1080p, VESA resolution: 1920x1200
Supports Dolby TrueHD, DTS-HD Master Audio
Supports 3D
Supports HD resolutions up to 1080p at a range of ~125 feet.
Supports 1080p TV′s at 24/30/60/100/200/240 Hz and above as well as Blu-rays at 24 FPS
Compact chassis for easy installation.
Supports both HDMI audio and HDMI video
Easy to Use: Installs in seconds, no settings.
One pair as a full functional modules,
One CAT-5e/6 cable can substitute for an HDMI cable to achieve long distance transmission
Follows the standard of IEEE-568B.
Transmission distance can be up to 125 feet for 1080p using a CAT6 Cable.
Supports HDMI 1.3
Supports DVI with a DVI to HDMI cable or adapter.
HDCP compliant
Supports highest video resolution 1080p.
Supports 165MHz/1.65Gbps per channel (4.95Gbps all channel) bandwidth.
Supports 8bit per channel (24bit all channel) deep color.
Supports uncompressed audio such as LPCM
NOTE 1:
The eight CAT-5 to HDMI receivers are included that install at the TV end. AC adapters come with them that must be plugged in to an AC outlet.