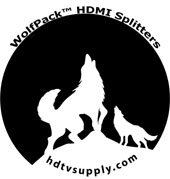 HDTV Supplys WolfPack
1X8 HDMI Splitter over CAT5 Splitter
can send 8-HDMI signals up to ~145 ft using CAT5e/6. This product is a great option for anyone looking to expand their electronics and hook multiple units up to the same machine. There are 8 receivers included which allow convenience to those who want the best quality – 1920 x 1080p resolution. Rather than constantly having to disconnect one device in order to use another one, the WolfPack 1x8 HDMI Splitter over CAT5 has the ability to leave up to 8 electronics hooked up with HDMI cables at the same time.
This can be extremely beneficial for those who have a 2-story house or a basement. Depending on the distance, the cords just have to be run through each floor to the appropriate location. Another useful feature is the large temperature range in which this product can be stored. So there's no need to worry about whether the basement or upper levels are too hot or too cold; the splitter can be placed anywhere.
For its cost and convenience, the WolfPack 1x8 HDMI Splitter over CAT5 is a very easy-to-use product that allows anyone the ability to extend their audio and video signals on all of their HDMI or DVI-equipped products. Nothing else beats having to mess around with multiple wires and cords, trying to figure out which ones are plugged in to each device. This product takes away the mess, as well as eliminates the need to buy other products. Nothing else can compare to the simplicity and ease of this unit.
WolfPack 1x8 HDMI Splitter over CAT5 Features:
Distribute HDMI over Single Cat5/6 - High Resolution audio and video
Supports data rates up to 1.65 Gbps per channel
Supports full HD 1080p (1920 x 1080@60Hz)
Supports 5.1, 7.1 Digital Audio and uncompressed LPCM
HDCP compliant
Full EDID pass-through support
Supports 8bit per channel (24bit all channel) deep color
Easy installation and set up
This WolfPack 1x8 HDMI Splitter over CAT5 offers an ideal, cost effective means for extending digital video and multi-channel audio signals from HDMI or DVI-equipped devices. Each receiver works with the splitter as a fully functional unit enabling a full 1920x1080p resolution. This professional HDMI to CAT5e/6 splitter is optimized for a variety of installation environments including digital signage, classroom and medical imaging markets.
Why not buy this WolfPack 1x8 HDMI Splitter over CAT5 Outputs today?