WolfPack 1x8 HDMI Splitter over CAT5 to 145 feet




1x8 HDMI Splitter with CAT5/6 Outputs

Display up to 8- outputs to 145' w/CAT6

8 - HDMI Receivers Included plus their AC Adapters

Front Panel Off/On Switch

HDCP compliant

Part # HDTVAWHSP0108E

Usually ships in 3-4 business days

Today's Price: $300.00
Features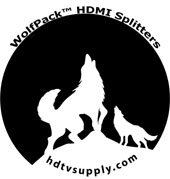 HDTV Supplys WolfPack
1X8 HDMI Splitter over CAT5 Splitter
can send 8-HDMI signals up to ~145 ft using CAT5e/6. This product is a great option for anyone looking to expand their electronics and hook multiple units up to the same machine. There are 8 receivers included which allow convenience to those who want the best quality – 1920 x 1080p resolution. Rather than constantly having to disconnect one device in order to use another one, the WolfPack 1x8 HDMI Splitter over CAT5 has the ability to leave up to 8 electronics hooked up with HDMI cables at the same time.
This can be extremely beneficial for those who have a 2-story house or a basement. Depending on the distance, the cords just have to be run through each floor to the appropriate location. Another useful feature is the large temperature range in which this product can be stored. So there's no need to worry about whether the basement or upper levels are too hot or too cold; the splitter can be placed anywhere.
For its cost and convenience, the WolfPack 1x8 HDMI Splitter over CAT5 is a very easy-to-use product that allows anyone the ability to extend their audio and video signals on all of their HDMI or DVI-equipped products. Nothing else beats having to mess around with multiple wires and cords, trying to figure out which ones are plugged in to each device. This product takes away the mess, as well as eliminates the need to buy other products. Nothing else can compare to the simplicity and ease of this unit.
WolfPack 1x8 HDMI Splitter over CAT5 Features:
Distribute HDMI over Single Cat5/6 - High Resolution audio and video
Supports data rates up to 1.65 Gbps per channel
Supports full HD 1080p (1920 x 1080@60Hz)
Supports 5.1, 7.1 Digital Audio and uncompressed LPCM
HDCP compliant
Full EDID pass-through support
Supports 8bit per channel (24bit all channel) deep color
Easy installation and set up
This WolfPack 1x8 HDMI Splitter over CAT5 offers an ideal, cost effective means for extending digital video and multi-channel audio signals from HDMI or DVI-equipped devices. Each receiver works with the splitter as a fully functional unit enabling a full 1920x1080p resolution. This professional HDMI to CAT5e/6 splitter is optimized for a variety of installation environments including digital signage, classroom and medical imaging markets.
Why not buy this WolfPack 1x8 HDMI Splitter over CAT5 Outputs today?
Specs
WolfPack 1x8 HDMI Splitter over CAT5 Specifications:
Interface:
Input: HDMI x1 / Cat5e x8
Output: HDMI x1 / Cat5e x1 per receiver
Operating Frequency:

Video Amplifier Bandwidth: 1.65 Gbps per Channel

Vertical Frequency Range: 50/60Hz

Color Depth: 8bit per channel
Resolutions (HDTV): 480i/576i/480p/576p/720p/1080i/1080p
Warranty: 1 Year limited
Compatibility
This WolfPack 1x8 HDMI Splitter over CAT5 works with the following devices:
Any high definition Dish Network and DirecTV receiver with HDMI outputs
High definition TiVo's with HDMI outputs
Any high definition cable receiver with HDMI outputs
Canadian Rogers, Shaw, Bell ExpressVu and Star Choice receivers with HDMI out, or DVI out with a converter
Any "Over The Air" (OTA) high definition receiver with HDMI outputs
Sony PS3, HD DVD and Blu-ray DVD players
Any Xbox360 with HDMI outputs
Any upconverting DVD player with HDMI outputs
Any DVHS VCR with HDMI outputs
Both APPLE-TV's with HDMI outputs
A Boxee with HDMI ouputs
A VuDu with HDMI outputs
A Hulu with HDMI outputs
A Roku with HDMI outputs
Many PC video cards with HDMI outputs
Any high definition camcorder with an optional type C to standard HDMI cable
Many A/V surround sound receivers with HDMI switching that include the proper chip set and output amp. Call your AV receiver supplier to discuss your application or us.
Any HDCP compliant HDTV, monitor and projector. If the source is HDCP compliant and your TV is not, you will not get a picture. Please check your TV manual or the manufacturers web site.
and other similar devices.
Q/A
Q: What type of Cat5 cable do you recommend to use with the HD8PSPE? UTP or STP?
A:
We recommend UTP CAT5e or CAT6 with TIA 568B for termination.
Warranty

HDTV Supply
includes a 1 Year Limited U.S. Warranty on this WolfPack 1x8 HDMI Splitter over CAT5. The U.S. warranty states that (a) its products will perform substantially in accordance with the accompanying written materials for a period of 1 year from the date of receipt and (b) that the 1x8 HDMI Splitter with Cat5/6 Outputs will be free from defects in materials & workmanship under normal use & service for a period of 1 year. In order to get a warranty replacement for a defective item, HDTV Supplys Support Team will verify the product is eligible for warranty. An RMA number will then be issued. Shipped replacements will be in like new conditions, tested and all components included. A 30-day RETURN also comes with this warranty as well as Free Lifetime Tech Support.
HDTV Supply
also sells a 3 and 5 Year Extended U.S. Warranty for this 1x8 HDMI Splitter with Cat5/6 Outputs. Please go to
Extended Warranties
or see the above Options to purchase it.
Ask a Question
Questions & Answers

Ask a question about the WolfPack 1x8 HDMI Splitter over CAT5 to 145 feet or Call 833-WOLFPACK (833-965-3722)


WolfPack 1x8 HDMI Splitter over CAT5 to 145 feet
Scroll Left & Right To See 20 Of Your Recently Viewed Items Below