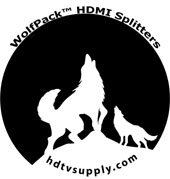 HDTV Supplys WolfPack
1x4 HDMI Splitter with POC
is used for splitting and extending your HDMI signal over long distances to a 4-compatible displays. Our 1x4 HDMI Splitter with POC is designed to convert the HDMI signal and transmit by 4-inexppensive internet cables. Our 1x4 HDMI Splitter with POC (Power Over Cable) also supports an Infrared control signal so you can control the Source from the widescreen locations.
The 1x4 HDMI Splitter with POC uses our latest User Adjustable EDID chipset which increases the compatibility with more HDMI devices. Many PC′s, laptops and surround receivers have major problems outputting to devices other than short HDMI cables and this 1x4 HDMI Splitter with POC should solve those problems.
1x4 HDMI Splitter with POC Features:
HDMI Splitter Input: 1-HDMI Female port
HDMI Splitter Output: 1-HDMI Female port and 4-RJ45 Ethernet connectors
Frequency Bandwidth: 1.485Gbps
Power Supply: HDMI Splitter DC 5V 2A & Receivers are DC 5V 1A
Compliant with HDMI 1.3, HDCP 1.2 and DVI 1.0.
Full HD support: 1080p @ 60Hz @ 24 bit/pixels.
Supports LPCM 7.1CH, Dolby True HD, and DTS-HD Master Audio.
Operates at ™DS clock frequencies up to 148.5MHz.
Use single UTP LAN cable (CAT5e/6) to substitute for a long HDMI cable to achieve long distances transmission.
UTP cable termination follows the standard of IEEE-568B.
Supports EDID control via a EDID DIP switch selector.
Transfers Infrared control signals together with the HDMI signal.
An
User Adjustable EDID learning
function is added to increase its compatibility to any HDTV, unlike cheaper units that you have to guess their compatibility. EDID learning is only found in professional HDMI switchers and never less than $500, as this costs.
User Adjustable Extended Display Identification
(EDID) Data is a VESA standard data format that contains basic information about a HDTV and its capabilities, including vendor information, maximum image size, color characteristics, factory pre-set timings, frequency range limits, and character strings for the monitor name and serial number. Please refer to the user manual that is on the CD that comes with your devices. The information is stored in the display and is used to communicate with the system through a Display Data Channel (DDC ), which sites between the monitor and the source device. The system uses this information for configuration purposes, so the HDTV and system can work together.
Why not buy this 1x4 HDMI Splitter with POC today?